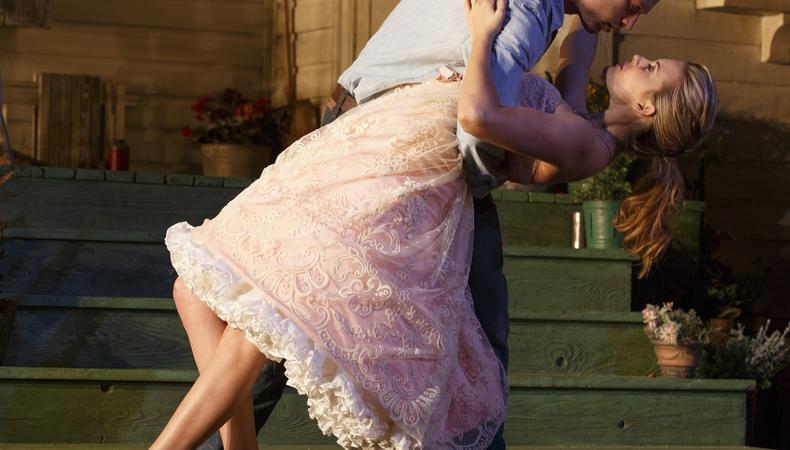 William Inge's 1953 Pulitzer Prize–winning "Picnic" is indisputably an American classic, but that doesn't mean the play is foolproof. An ensemble piece, its mercurial moods and shifting subtext require careful orchestration. Unfortunately, that's exactly what it's not getting from director Sam Gold at Roundabout Theatre Company's American Airlines Theatre. Coarse, excessively anxious for laughs, and deficient in the repression rampant in 1950s small-town Kansas, the production strands its 12 actors in several very different plays.
As Hal, the handsome, muscular drifter from the wrong side of the tracks whose sudden arrival vigorously stirs the pot, and Madge, the prettiest girl in town who has snagged the upper-class Alan for a boyfriend despite her humble origins, Sebastian Stan and Maggie Grace are in the bodice-ripping network-TV adaptation. Both work largely on the surface and are too much of the current century. Stan's tortured sensitivity when Hal confesses his self-loathing and pariah status to Madge is all wrong, and the actor's delivery of the Act 2 curtain line as Hal carries Madge off in mutual sexual heat deserves a rim shot. Grace never finds a way to suggest the kind of inner fortitude that would make Madge's climactic decision to follow Hal believable. She is too mild in Madge's cruelties toward her younger sister, the whip-smart but considered-plain Millie (Madeleine Martin, whose self-possession undercuts Millie's bone-deep hurt), and Grace neglects the opportunities she has to stress Madge's own sense of being an outcast, which should draw the lovers together.
Elizabeth Marvel seems to be in the downtown deconstructed version, harshly stylizing spinster schoolteacher Rosemary right away as goggle-eyed with longing for Hal's buff body, something Rosemary should be furtive about. Marvel delivers Rosemary's vicious Act 2 attack on the young man well, but as we've already seen her Rosemary out of control, it doesn't register as it should due to the lack of contrast. As Rosemary's shopkeeper boyfriend Howard, Reed Birney takes a more naturalistic approach, but he's stuck in Marvel's world, which saps Howard's humanity, turning him into little more than a punch line.
The best work comes from Ben Rappaport, as Alan; Ellen Burstyn, as widowed neighbor Helen Potts; and especially the terrific Mare Winningham, as Madge and Millie's anxious mother, Flo. Rappaport ably captures Alan's light self-confidence and straight-arrow wholesomeness alongside his unappealing but unconscious objectification of Madge. Burstyn's Helen is appropriately self-effacing and sweetly rejuvenated as Hal's presence reminds her that she can still experience feelings she thought were gone forever. Flo anchors the play, and Winningham is sturdy and steadfast in tempering Flo's boundless love for her daughters with her constant worry that they will do something foolish and destroy their chances for happiness. When Flo clings for dear life to the departing Madge's suitcase, Winningham's mixture of desperation and resignation is heartbreaking.
The looming back wall of Andrew Lieberman's set has the effect of cutting the town out of the picture, when that town should be virtually another character. It's just one more tin-eared miscalculation from the usually on-key Gold.
Presented by Roundabout Theatre Company, in association with Darren Bagert and Martin Massman, at the American Airlines Theatre, 227 W. 42nd St., NYC. Jan. 13–Feb. 24. (212) 719-1300 or www.roundabouttheatre.org. Casting by Jim Carnahan and Carrie Gardner.
Critic's Score: C-