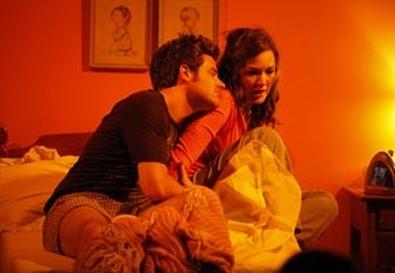 I confess to approaching Michael Mitnick's new play "Sex Lives of Our Parents" with more than a touch of skepticism. That old cliché of not wanting to think about your parents in the sack hardly seemed enough to hang a play on. But from the delightful opening pantomime, set to a recording of Frank Sinatra singing "If I Had You," of a young couple meeting, courting, and deciding to marry, it's clear that a refreshingly original sensibility is at work. Mitnick has a lot more on his mind than obvious laughs in this consistently inventive and surprising comedy-drama.

Handsome Jeff and beautiful Virginia seem tailor-made for each other. But as their nuptials approach, Virginia is visited by a series of unwanted waking dreams in which she is made privy to scenes from her mother Charlotte's life. These bring into question both the reserved and proper Charlotte's true character and her seemingly happy marriage to Virginia's father, goodhearted lug Christopher. This leads an increasingly destabilized Virginia to begin questioning her own commitment to the more and more bewildered Jeff, who has his own problems looking out for his insecure roommate Elliot, a self-described "lisping alcoholic" with self-confidence issues whose girlfriend has just dumped him.

Ben Rappaport and Virginia Kull are a persuasive couple as Jeff and Virginia, he a mass of genial testosterone cut with a dutiful sensitivity, she disarmingly guileless and uncomplicated, with just a hint of an edge when around her parents. Lisa Emery and Daniel Jenkins are an equally convincing pair as Charlotte and Christopher, creating what appears to be a happy marriage of opposites. The luminous Emery gets to play Charlotte at various points in her youth, thanks to Virginia's waking dreams, and is razor-sharp in delineating Charlotte's different ages, as well as conveying a passionate and willful spirit that the present-day Charlotte can increasingly be seen repressing. Jenkins stresses Christopher's decency and straightforwardness and is absolutely splendid portraying the young version of his character, a blue-collar Long Island lad whose nose is pressed to the glass as he longs to be noticed by the untouchable Charlotte.

Teddy Bergman is a scene-stealer as the neurotic Elliot, infusing the role with a sweet sadness that leavens the humor and employing a flawless lisp. He also doubles effectively as a genial nurse in a retirement home, while Rappaport also gets a chance to show range by doubling as Rodney, a snarky teenage friend of Charlotte's. Mark Zeisler rounds out the company as Lucas Schroeder, the teenage Charlotte's repressed, much older music teacher, who is also briefly her lover. Zeisler brings an unsettling emotional isolation to the underwritten role, and he's an absolute riot as the offstage voice of Charlotte's father, Henry, as he loudly prepares for sexual climax with her mother while unaware that they are being observed by their entranced 4-year-old daughter.

Andromache Chalfant's blue-and-white set featuring repeating Wedgewood cameo designs on the walls and floor is a bit obvious but still makes for a striking environment, and Chalfant is very good with Virginia's childhood bedroom, subtly suggesting how our youthful environs seem smaller once we're grown. Two gauzy white curtains moving laterally are a good idea but too often have minds of their own. Tyler Micoleau's lighting helpfully differentiates between present and past, and Jessica Ford's costumes are spot-on, with her 1970s garb for Christopher as cringeworthy as it is right.

Director Davis McCallum's pitch-perfect work is right in tune with Mitnick's open-ended sensibility, allowing ideas and emotions to resonate without ever becoming self-indulgent. One of the most satisfying things about "Sex Lives" is that it doesn't try to answer all the questions about love and commitment that it raises. We are left to think for ourselves by this insinuatingly entertaining, wondrously touching work.

Presented by Second Stage Theatre Uptown at the McGinn/Cazale Theatre, 2162 Broadway, NYC. June 22–July 3. Tue.–Sat., 7:30 p.m.; Wed. and Sat., 2 p.m.; Sun., 3 p.m. (212) 246-4422 or www.2st.com. Casting by MelCap Casting.