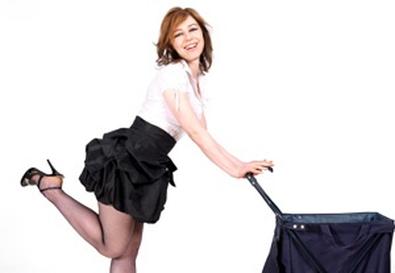 Anna Fishbeyn says little about mothers and sexuality in "Sex in Mommyville," her one-woman play currently running at the Flea Theater, that we haven't heard before. But she speaks with such gusto, wisdom, and sexual frankness, making us feel so warm as she does it, that we're content to stop and hear it again.
Fishbeyn plays Artemis, a married mother faced with a looming deadline for an article she's writing called "Sex in Mommyville." As she makes notes for it, she tells us about her life, which she's using as the article's basis, focusing primarily on her attempts to have sex with her husband, Zeus—all of the characters are named after Greek gods—over the course of a weekend. Children, parents, and housecleaning conspire to thwart Artemis, until a quick consummation at the tail end of the weekend leaves her blissful and ready to finish the article.
In other hands, Artemis could have come across as a caricature of a horny homemaker or as an exhausted housewife railing over lost youth and sexuality, but Fishbeyn doesn't slip into those clichés. By drawing Artemis as a smart, self-aware character, she walls off her creation from stereotype. At the same, by letting her be kooky, sincere, and altogether normal, she renders Artemis funny and recognizable, qualities that will appeal to this play's ideal audience: women (and men) with children.
Fishbeyn is not a trained or experienced performer. At times she seems more like a spirited lecturer than an actor. This could have been a problem, because plays of this stripe depend upon the talent and/or charm of the performer. Luckily, Fishbeyn has charm to burn, as well as charisma, intelligence, and a wholesome sexiness. In fact, her very lack of slickness makes her more endearing. Her slightly accented English gives her a dash of the exotic, and though her singing is weak, her simple but lively dancing is fun to watch. No doubt director Sande Shurin has helped Fishbeyn shape her performance, adding modulation and pacing to both acting and script. I also suspect that Fishbeyn's performance will grow night to night as she gains confidence and experience.
John McDermott's set and Tim Pickerill's lights are simple and elegant, but the projections used in the show, though fairly humorous, are less professionally designed and executed. The few songs that Fishbeyn performs are weak and for me stopped the show in the wrong way.
Those who want their theater to explore new territory, proclaim provocative ideas, or delve deep into character won't get what they want here. But those who wish to feel part of a homey community will. Providing comfort is as appropriate a job for the theater as any other.
Presented by AF Productions at the Flea Theater, 41 White St., NYC. Aug. 20–29. Wed.–Sun., 7 p.m. (212) 352-3101, (866) 811-4111, www.theatermania.com, www.sexinmommyville.com, or www.theflea.org.