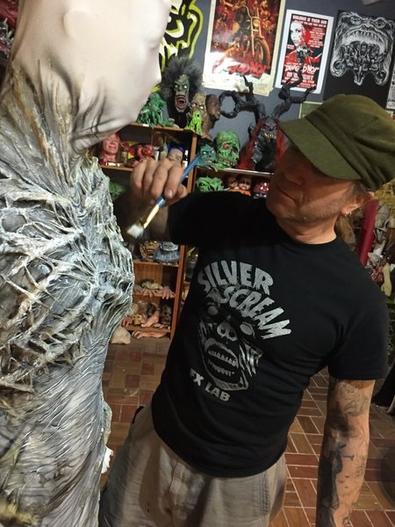 Georgia's capital may be considered the new Hollywood to many, but special effects artist Shane Morton has helped make Atlanta the Horrorwood of the South since the 1980s. Having had monstrous success as a tattoo artist and rock musician, Morton parlayed his love of horror into the Silver Scream SpookShow, a variety show featuring magic, go-go dancers, and a classic horror film screening.
Hosted by Professor Morté (who, aside from the green skin and shocking locks, bears more than a slight resemblance to Morton) at the Plaza Theatre for more than five years, the SpookShow returns on May 8 with the self-proclaimed "ghost host with the most" emceeing the Creepy Costume Ball at the 25th Annual World Horror Convention.
"The World Horror Convention is one the most prestigious horror conventions in the world," says Morton as he works on a Bigfoot costume in his lab just south of Atlanta. "It's a literary convention, so it's a pretty stuffy affair. Not to say that people who read books aren't fun to hang around with, but they don't usually know how to throw a party. So they hired my good friend Professor Morté to host the costume contest and throw a big party on Friday night. He'll be providing magic tricks and some fun surprises. Atlanta is Professor Morté's home away from home, so he's looking forward to coming back and putting on a show that will scare the yell out of you!"
Having just wrapped production on his fifth Mastodon video, and now starting production for "Frankenstein Created Bikers," Morton remains busy preparing for his next creature feature. As art director for Adult Swim's "Your Pretty Face Is Going to Hell" (and the virally successful "Too Many Cooks" short), Morton is excited about the second season of "Your Pretty Face," which begins airing this summer.
"Getting to do the art direction and help create the world of "Your Pretty Face" and all the giant monster suits that [puppeteer/costume designer] Chris Brown and I designed and built for this show, it's really going to be a game changer for me and put us on the map as one of the top effects houses in the country," says Morton, whose first big budget foray was casting and outfitting hundreds of extras for the Phantom Jam seen in Rob Zombie's "Halloween II" in 2008. "I finally had to get serious because so many jobs were coming through." The Silver Scream FX Lab website launches in June.
Of course Halloween is always a busy season for Morton, whose immersive Atlanta Zombie Apocalypse Halloween attraction (which spawned the award-winning "Atlanta Zombie Apocalypse: The Movie" last year) returns in a much different form this year. Until then, he says the World Horror Convention is the best place to see his creative efforts for now.
"I'll have a Silver Scream FX booth up," he says. "Professor Morté gave me a hint about what he's going to do this Friday and it's got something to do with resurrecting the great dead writers and getting them to work on a project together. He told me he purchased a very large Ouija board that he's having shipped via Scaremail.
"Professor Morté was also approached by some people who work in politics and they've started this campaign for him to run for President of the United States of America," Morton continues. "They're going to have buttons, T-shirts and posters at the Con this weekend and it looks like he's actually going to be on the ballot next year."
Green Party?
"He's actually a Doomacrat."
Inspired by this post? Check out our Atlanta audition listings!