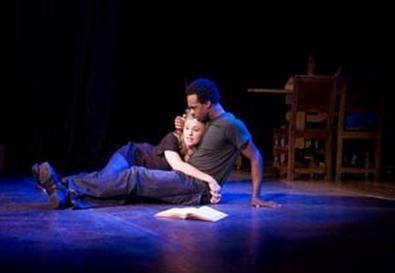 When the talented Anika Larsen arrives on stage in Shafrika, the White Girl, you wonder how the set of images being presented will be transformed into a full evening's entertainment. These images—a collection of hip-hop Britney Spears moves set to a title song Larsen wrote with Joshua Henry—establish her as a character called Shafrika, a lily-white girl with more ethnicity in her soul than her looks would suggest. However, it turns out Shafrika is a bit of a wink: Larsen rarely plays her from that point on; instead, she plays herself. Shafrika is really about Larsen's experience of being raised as one of 10 children, the majority of them adoptees of Asian, African, or Central American descent.

Co-conceived and directed by April Nickell, Shafrika trades on a wearingly ubiquitous device: metatheatrics. The sparkling, high-energy 17-member cast plays each member of Larsen's family except for Larsen, and a fair chunk of the evening involves how the cast hijacks Larsen's ideas for a show that would explore the challenges of coming of age in such an unusual, enlightened household. The cast often illustrates—and truncates—many of the anecdotes she relates, with Larsen shuttled to the sidelines.

Interspersed throughout the evening are songs—some original, some not—that aren't intended to thrust the narrative ahead but punctuate it. This can be very hit-or-miss. For example, the sight of all 10 rambunctious Larsen "children" in a van heading off with their parents for vacation is frighteningly out of The Brady Bunch. Yet when they sing "Ebony and Ivory," that dose of Paul McCartney treacle, the arrangement turns out to be so divine and Nickell's staging so pure-hearted that the moment transcends the utter corn of the song itself. Indeed, it illustrates through musical harmony how two determined parents strove to create familial harmony and with a few exceptions succeeded.

Still, I yearned for more inspired musical moments such as that one and less aimless frivolity. While the two songs with music by Tim Acito (who wrote Zanna, Don't!, the tuner that put Larsen on the map) rock, a long segment celebrating the schoolyard chant "Shake Ya Booty," despite Luis Salgado's choreography, is unnecessary if diverting.

Larsen writes in such a way that it feels spontaneous whenever a cast member leaps up offering to play this sibling or that parent. And with large photos of her siblings in frames along the back wall of Josh Zangen's utilitarian set (nice projections by Ben Demarest), interest in every child's background never diminishes. From the moment she arrives on stage, the show is as much a story about Larsen herself and her once-tenuous sense of identity—hence the idea of an ethnic alter ego. Smartly, she knows we don't need to see Shafrika very much, because she doesn't need her. Larsen has become an individual all her own.

Presented by Jaradoa Theater
at the Vineyard Theatre, 108 E. 15th St., NYC.
June 21–28. Mon., Thu., and Fri., 8 p.m.; Sat., 2 and 8 p.m.; Sun., 3 p.m.
(212) 868-4444 or www.smarttix.com.