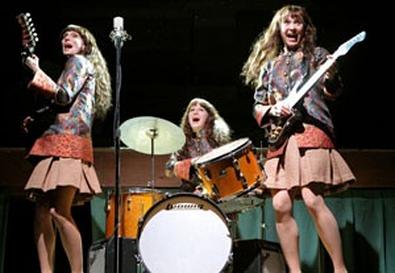 A bizarre combination of "Gypsy" and "The House of Blue Leaves," the new musical "The Shaggs: Philosophy of the World" is an edgy examination of the American obsession with fame and our endless capacity for self-delusion. A co-production of Playwrights Horizons and New York Theatre Workshop, it follows the true story of the title group—a trio of talent-free teenage sisters, Dot, Betty, and Helen Wiggin, whose driven father, Austin, yanks them out of school in the insane belief that their nonexistent musical skills will be the family's ticket out of their depressing New Hampshire town. In the 1980s, the Shaggs' sole, execrable album—"Philosophy of the World," recorded in 1969—was praised by the likes of Kurt Cobain and Frank Zappa as an authentic example of outsider music, granting the group a degree of cult coolness. But it was too late for Austin, who died of a heart attack in 1974. The girls seldom played after their dad's death, and they never left their working-class community. In a final, eerily sad-funny sequence, the deserted Wiggin home is burned down during an exercise by the local fire department while the Shaggs' songs are finally played on the radio.

The score, featuring fascinatingly sweet-and-sour rock music by Gunnar Madsen and raggedly poetic lyrics by Madsen and book writer Joy Gregory, mostly comprises interior monologue songs expressing the characters' frustrated ambitions. As in the moving finale of the play "Souvenir," about the famously dreadful soprano Florence Foster Jenkins, these numbers reflect how the Shaggs and the other characters wished they sounded. When the real songs of the Shaggs are warbled in the group's off-key screeches, the contrast is stunning and heartbreaking. Director John Langs, who conceived the story with Madsen and Gregory, stages the show with just the right balance of ironic humor and insightful compassion. Langs' production, Ken Roht's witty choreography, and Gregory's book never laugh at the Wiggins but find the tragedy in their pitiful dreams.

Peter Friedman's Austin is a scary and pathetic stage parent who makes Momma Rose look like Mary Poppins. He transforms this angry little man into a musical version of Willy Loman, ill-equipped to realize his ambitions of wealth himself and pinning all his hopes on his children. Annie Golden is a sad-eyed Madonna as the long-suffering mother, Annie. She's especially heart-stopping rendering a tender escape-illusion song called "Flyin'." Jamey Hood, Sarah Sokolovic, and Emily Walton sensitively depict the Shaggs' adolescent yearnings, their cockeyed career goals, and their love-hate relationship with their father. As the eldest daughter, Dot, Hood imbues her one solo, "Don't Say Nothing Bad About My Dad," with an aching simplicity, delivering a lifetime of subtext in a few lines. Sokolovic gives the middle child, Betty, a savvy wisdom, and Walton endows the mostly mute Helen with subterranean passion. Cory Michael Smith makes an appropriately gawky and kind Kyle, Helen's secret boyfriend. Completing the cast, Steve Routman and Kevin Cahoon lend comic punch to multiple roles.

Mimi Lien's set fuses the characters' fantasy world with realistic details, as do Emily Rebholz's costumes and Geoff Korf's lighting. Special kudos to Darron L. West's sound design and Aaron Gandy's music direction for re-creating the Shaggs' original tunes and facilitating the score's weirdly beautiful take on them.

This is not a perfect musical. The book and the score could use some trimming, particularly a few of Austin's rage-filled ballads in Act 2, which are repetitive and overlong. But it possesses a raw, authentic energy and powerfully depicts real lives.

Presented by Playwrights Horizons and New York Theatre Workshop at Playwrights Horizons, 416 W. 42nd St., NYC. June 7–July 3. Tue., 7 p.m.; Wed.–Fri., 8 p.m.; Sat., 2:30 and 8 p.m.; Sun., 2:30 and 7:30 p.m. (212) 279-4200 or www.ticketcentral.com. Casting by Alaine Alldaffer.