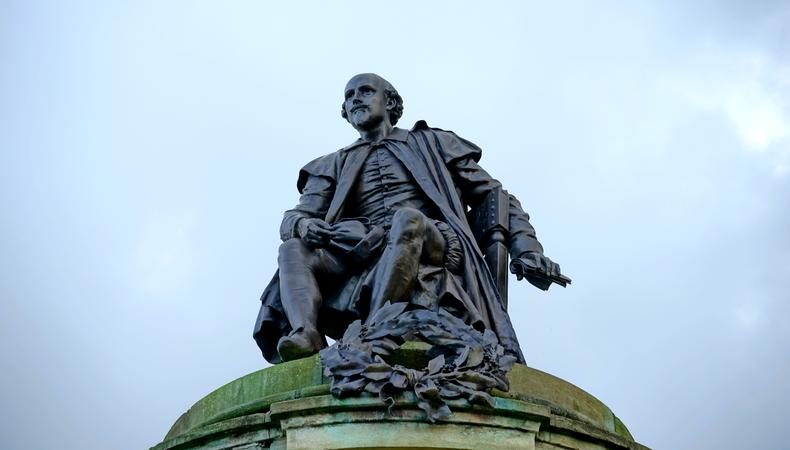 When choosing a Shakespeare monologue as a male actor, find one that resonates deeply with you. Shakespeare explores incredible themes, heightened situations, and the times in our lives that change us forever. Whether comedy or tragedy, whether you choose a prince, tyrant, clown, or shepherd, find a monologue that you can commit to wholeheartedly. Below you will find six exciting, challenging, and moving Shakespeare monologues for men.
1. Hamlet, "Hamlet": Act I, Scene 2
"O that this too too sullied flesh would melt"
In Shakespeare the words are everything. There's no subtext as there often is in modern plays. This monologue is a beautiful example of the power that speaking holds in Shakespeare's plays. Speaking brings Hamlet into his presence. It brings him into understanding that something is amiss and confirms why he is feeling the way he is feeling. Hamlet was away at school when his father died and his mother married his uncle a month later (in what was at the time considered incestuous). No one said anything. Now his uncle is King of Denmark and publicly telling Hamlet to stop mourning for his father. As much as we might not want to admit a painful truth to ourselves, once we speak something out loud we can no longer ignore it. Tip: Don't give in to the temptation to slow down the text. Ride all of the changes and twists and turns in this monologue at the speed of Hamlet's thought.
2. Antigonus, "The Winter's Tale": Act III, Scene 3
"Come poor babe"
What happens when we're tasked with impossible, inhumane, soul-wrenching tasks by our leaders? Antigonus, a lord, is bound by oath to do the bidding of his king, Leontes. Leontes has ordered him to leave a newborn baby out in the wild to die. Not only that, but he threatens to kill both Antigonus and his wife Paulina if Antigonus doesn't follow his bidding. What would any of us do? Antigonus makes some very interesting choices. Tip: This is a longer monologue so make sure you check the time limit if you're using this for auditions.
3. Richard III, "Richard III": Act I, Scene 2
"Was ever woman in this humor wooed?"
In Shakespeare's stunning portrait of a sociopathic tyrant, this monologue is a rare moment of change for Richard III. He has what he thinks is an amazing realization in this monologue: maybe he isn't as ugly or misshapen as he thought. He reasons that because Lady Anne finds him so, maybe he is a "proper man." He then decides to buy a mirror and to find a tailor who can make clothes that will fit him. This is quite a change from his first monologue in the play where Richard laments that he is "deformed, unfinished, sent before my time into this breathing world, scarce half made up, and that so lamely and unfashionable that dogs bark at me as I halt by them." Tip: If you live through each moment of this monologue, act on the line, ask real questions, and speak the words fully, you'll feel the energy of his realizations.
4. Egeus, "Midsummer Night's Dream": Act I, Scene I
"Full of vexation come I, with complaint"
We often skid over the more difficult and darker moments in "Midsummer Night's Dream." In this monologue Egeus has brought his daughter Hermia, Lysander, and Demetrius before Theseus, the Duke of Athens. Egeus is angry with Hermia because she won't marry Demetrius, the man he has chosen for her, and instead she chooses Lysander. Egeus invokes the ancient law in Athens that if Hermia doesn't do as he wishes he can kill her. One could argue whether or not Shakespeare is a feminist, but he always faithfully portays the more devastating aspects of patriarchal cultures. Tip: Don't judge Egeus's perspective, fight for it.
5. Bassiano, "The Merchant of Venice": Act III, Scene 2
"So may the outward shows be least themselves"
"So may the outward shows be least themselves" begins this monologue and no one knows this better than Bassanio. He has come to woo an incredibly wealthy woman, Portia, and he is deep in debt. He is so deep in debt he has gotten his dear friend Antonio into debt so he could come and court Portia. It is worth investigating whether or how much he loves Portia, and how much he loves Antonio, but one thing is clear: he is not what he pretends to be. In this monologue the stakes are high. If Bassanio chooses the wrong casket, he has vowed never to get married.
6. Claudius, "Hamlet": Act III, Scene 3
"O my offense is rank, it smells to heaven"
Shakespeare's belief in the power of theater to bring us into presence and awaken our conscience is on brilliant display in "Hamlet." Claudius killed his brother, married his brother's widow, and became King of Denmark. Hamlet arranges for a troupe of actors to play out the scene of Claudius' crime (as retold to Hamlet by his father's ghost) before the court. This monologue happens after Claudius leaves the play, brought into consciousness by watching his own crime committed on stage. Claudius' thought process and the journey he goes on in this monologue are incredible. Can he pray? Can he be forgiven for his crime? Tip: The stage directions are in there. When he says "bow stubborn knees" try to kneel and see how it affects you.
Looking for remote work? Backstage has got you covered! Click here for auditions you can do from home!
The views expressed in this article are solely that of the individual(s) providing them,
and do not necessarily reflect the opinions of Backstage or its staff.