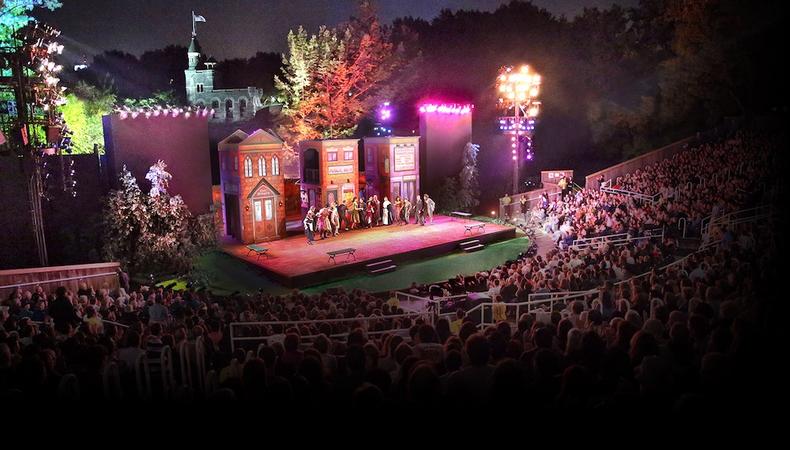 The Public Theater's anticipated Shakespeare in the Park is back this week with its Corey Stoll-led "Julius Caesar." The productions, if you didn't know, are completely free (granted you win one of the coveted tickets). But if that's not enough for you, there's plenty more happening around New York City this week, which actors of all sorts will not want to miss.
Enjoy the Bard performed cost-free.
Every summer it seems too good to be true, and yet it is: you can watch William Shakespeare's work performed by world-class actors, helmed by as-divine creatives, all for the grand price of $0. Beginning May 23, the Public Theater's presentation of Shakespeare in the Park returns to Central Park's outdoor Delacorte Theater, this time with "Julius Caesar." Featuring a cast which includes Corey Stoll and Nikki M. James, you won't want to miss this stirring production directed by the Public's Artistic Director, Oskar Eustis (and did we mention these shows are BYOB?). (Free)
Embrace your pop culture nerdiness.
Vulture Festival, the annual event hosted by New York Magazine's culture section Vulture, returns May 20 and 21, bringing back its stellar panels, presentations, and performances from all realms of popular culture. This year's events, which will take place at Milk Studios in Chelsea, Webster Hall, and more, include conversations with Aziz Ansari and Connie Britton, meet-and-greets with the cast of "Riverdale," and a "Jane the Virgin" panel with its cast and creatives. (Ticket prices vary depending on event)
Old school opera gets a makeover.
Now entering its third season, Heartbeat Opera has gained acclaim for its radically transformed presentations of some of the opera's most well-known works. Founded by four graduates of the Yale School of Drama and Yale School of Music, Heartbeat Opera will return this year with performances at the Baruch Performing Arts Center, debuting signature and unpredictable interpretations of "Carmen" and "Butterfly," beginning May 20. (Tickets: $36)
Celebrate "The Latin Lover," Marcello Mastroianni.
The Lincoln Center Film Society has teamed up with Istituto Luce Cinecittà to bring audiences Il Bello Marcello, a 28-film presentation celebrating Marcello Mastroianni, "one of the 20th century's greatest movie stars" and an icon of Italian cinema. Featuring screenings of Mauro Bolognini's "Il bell'Antonio" and Visconti's Camus adaptation of "The Stranger," among many others, the event is ongoing through May 31. (Tickets: $14)
Get spooked with the spirit of Edgar Allen Poe.
Edgar Allen Poe is regarded as the "Grand Master of Horror," and you can experience first-hand exactly why at this year's Edgar Allen Poe Festival. Radiotheatre's annual event, going on now through May 27 at the West Village's appropriately eerie St. John's Sanctuary, returns once again with readings of some of Poe's most chill-inducing works (including "The Black Cat," "The Masque of Red Death," and more), in addition to as-terrifying pieces by authors inspired by Poe—creepily deemed "The Children of Poe." (Tickets: $24)
Inspired? Get out there and nab an audition yourself in Backstage's New York City audition listings!