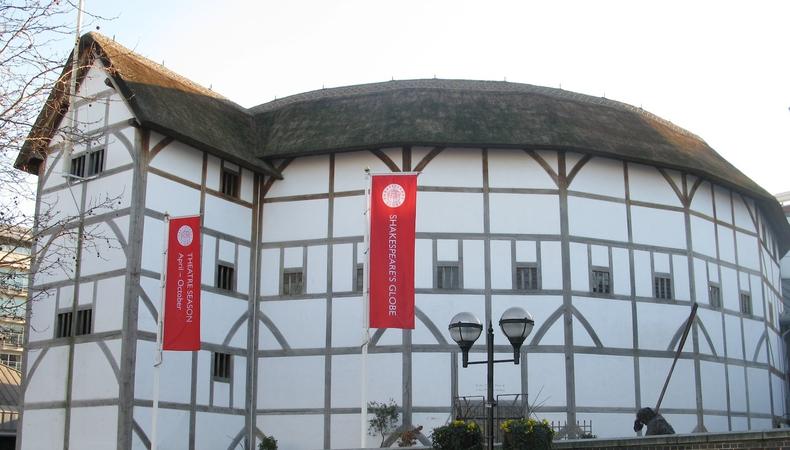 Hello and welcome back to our weekly roundup of what's happening in the world of stage, screen, and telly. The accidental theme this week seems to be ch-ch-ch-changes as we reflect on the news of a new Doctor Who, artistic director, and the slow introduction of leading women in superhero films.
STAGE
Just in case you missed it...it was announced last week that the actress Michelle Terry will be Shakespeare's Globe's artistic director starting in April of 2018. She takes over from the outgoing artistic director, Emma Rice, who—after being booted out unceremoniously—is off to set up a new theatre company called Wise Children.
Terry is no stranger to The Globe. The Olivier Award-winner appeared on the stage in the 2015 "As You Like It", "A Midsummer Night's Dream" back in 2013, and "Love's Labour's Lost" in 2007. She directed short films of "Richard III", "King John", and "As You Like It" last year to mark the 400th anniversary of the Shakespeare's death.
Stepping into Rice's shoes will be a difficult job and won't come without comparisons from the audiences and critics who were cheered by the previous AD's new direction and change of direction from Rice's predecessor, Dominic Dromgoole. However, Terry's comments suggest that she'll continue to bring in exciting drama from outside the Bard's canon: "I am so proud and excited that I will be in the privileged position where I can offer artists the opportunity to come together to reclaim and rediscover not only Shakespeare but the work of his contemporaries, alongside new work from our current writers."
TELEVISION
After being announced as the next Doctor Who, Jodie Whittaker's upcoming role as a different sort of doctor in the TV hospital drama "Trust Me" will be scrutinised by Whovians. The upcoming series on BBC One sees Whittaker play Cath, a hardworking nurse who loses her job after whistleblowing but seizes on an opportunity to become someone else and start over in Edinburgh. "Trust Me" also sees a welcome return to the small screen for Blake Harrison, known to most as dopey Neil from hit teen comedy "The Inbetweeners", and the superb Emun Elliott ("The Paradise", "Threesome").
Talking of her upcoming role, Jodie suggested that she might be getting words of advice from some of the past stars of "Doctor Who": "I'm certainly expecting a couple of calls—I've got a couple of mates in there. I'm mates with a companion [Arthur Darvill], I'm mates with a trio of Doctors. I know Matt Smith, Chris Eccleston and obviously David Tennant. Oh! And let's throw in David Bradley! Four Doctors! So I'm hoping I get some calls of advice."
Those wishing to join in with the inevitable social media judgment party can watch "Trust Me" on BBC One in August.
FILM
Comic-Con San Diego used to be the place where fans of the animated genre and their creators came to share knowledge, swap collector's editions and talk shop. But the big studio involvement in superhero tales that has transformed Batman from a joyously low rent TV series to an international film franchise has also changed the nature and purpose of the event. Comic-Con is now where Marvel drop titbits of information about upcoming releases and spin-offs to a hungry crowd of film fans. This year saw perhaps the most announcements yet with the studio telling crowds of upcoming films as well as casting news. Unusually for the genre, the most exciting news came when Marvel revealed one of their leading women.
A star-studded session of announcements lasting 90 minutes threw fans into a frenzy with the news that Michelle Pfeiffer, formerly Catwoman in the 1992 "Batman Returns", will play The Wasp in the upcoming "Ant-Man and The Wasp" She's joined by star of the first film Paul Rudd as well as Laurence Fishburne and Michael Douglas. Pfeiffer will play the original Wasp and the film will see the baton being handed to a new Wasp, played by Evangeline Lily. Obscure Marvel villain The Ghost will also pop up.
It was announced that the female-fronted "Captain Marvel", starring Brie Larson as the titular captain, will be set in the 90s. Fans immediately spotted that this will put the film before "Iron Man" in the franchise universe. Also announced was the casting of Jeff Goldblum as The Grandmaster, brother of Benicio del Toro's Marvel character The Collector, as seen in "Guardians of the Galaxy and Thor: The Dark World".
For more Comic-Con news, check out the BBC's handy "Everything We Learnt At Comic-Con".
That's all for this week. Keep us posted on news from the industry we might have missed or that don't get picked up on our radar. Until next week, Auf wiedersehen.
Check out Backstage's London audition listings!