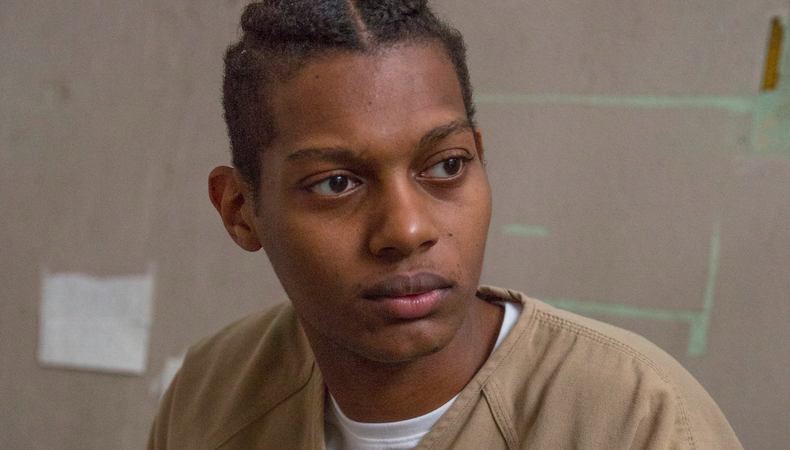 The following Backstage Live was compiled by Backstage readers just like you! Follow us on Twitter (@Backstage) and Instagram (@backstagecast) to stay in the loop on upcoming interviews and to submit questions live on camera.
Shane Paul McGhie ("Greenleaf" "Unbelievable") took over our Instagram to answer YOUR questions! From what it was like to star in the new indie drama "Foster Boy" from executive producer Shaquille O'Neal to how in just 4 years out of USC he's found such success in Young Hollywood (other upcoming projects include "The Last Shift" and "After We Collide"), he touched on it all from @backstagecast as part of our ongoing digital series The Slate. Catch his best advice for burgeoning actors and his thoughts on our current call to action against racism and representation in the industry with the edited conversation below.
What's the best part of acting?
You get to dive into a character, and in that process you learn more about yourself, as well. It expands your humanity.
Any advice on finding representation online?
There are online showcases right now, and some theaters are doing online plays, as well, which is a really good way to get some exposure.
What made you want to do acting as a career?
Since I was a kid, I was just doing different accents, different characters, and I feel like I never grew out of the imagination phase. I love telling different stories and being different people. It's just fun.
What advice do you have for someone who wants to venture into acting?
Besides training, I'd say intention. Why do you want to be an actor? Why do you want to explore this craft? That reason is going to be your fuel. The "why" is important, because when you're exhausted late at night doing self-tapes or when you keep hearing nos from casting directors, the why is going to be your fuel to keep you going.
What advice do you have for starting actors with no management?
I love on-camera acting, but being on that stage you learn so much. My main advice would be to train, but maybe, if you're open to it, doing some theater and focusing on that, because that'll grow your craft. That other stuff will come when your craft is good. If you don't want to go that route with theater, tape yourself. Even if it's a self-tape or something that you wrote, it never hurts to have footage of yourself you can use as ammo to send to agents and casting directors.
What did your time at USC teach you about the art and business of acting?
The power of collaboration. It's a cool experience to collaborate with my classmates and do different plays by different playwrights. We were working on work from the greats, I felt empowered. If I could do that, I could do anything.
How do you pick a project? How do you know it's right for you?
First step, I have to read the material. I have to ask myself what this story is about. Is this a compelling story? Do I feel like this story aligns with something I want to tell? Then I need to know my character within the story, how they're in service to the story and their arc. For me, it's looking at this character and this story and saying: Do I feel like it's going to grab a hold of the audience?
You keep saying we should train, how should we train?
Take an acting class, do theater. The best way to learn is to do. That's how you fail, that's how you grow, that's how you learn.
What do you think casting directors want from an actor?
Casting directors want authenticity from an actor, someone who is going to go into the room and give their interpretation on who the character is, and who is open to collaboration if they get a note. They're looking for someone who's open to taking on something new, processing it, and then displaying something that is along the lines of what they asked.
How do you overcome self doubt as an actor and do you ever get spells of doubt?
Yes, I get spells of doubt. If you're experiencing that, you're not alone. It's okay to have fear, and sometimes doubt, but you still have to move, and that's courage. I love what I do, I know that I'm called to do what I do. Sometimes doubt is good because it doesn't allow you to become complacent. It allows you to keep working hard, keep pushing, keep exploring, keep growing in your craft.
How do you deal with racism and misrepresentation in the industry?
We are in a time where we realize in this industry that we are responsible for the narratives in this world. For a long time, our industry reflected what it was in society as opposed to showing what it should be, and that's where I think we're going now. Representation is getting better, but we still have a long way to go. We're on our way, but it starts with us creatives telling the stories and being able to tell them the way we want to tell them.
Looking for remote work? Backstage has got you covered! Click here for auditions you can do from home!