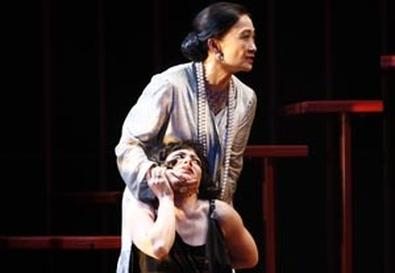 As befits a museum piece seldom on display for the last 80 years, this production of
The Shanghai Gesture
is beautifully mounted. Magnificent mid-1920s costumes by Gail Cooper-Hecht, Michael Anania's economical but evocative set (a period red reception room and pastel boudoir falling somewhere in style between dowager empress and "Limehouse Blues" bordello), and apt lighting by Paul Hudson strikingly set off this rare New York appearance of John Colton's hit 1926 Broadway play. Add to that an able cast of 22 (some in multiple roles), starting with Tina Chen in the central role of the high-end brothel owner Mother Goddamn, Larry Pine as an expatriate English mogul and her sometime lover, and Richard B. Watson as her beaten-down and lazy amanuensis. The theatrical fireworks should be as colorful as the real ones employed offstage for the Chinese New Year's celebration during which the play is set. But alas, no.
This turgid melodrama, a shocking success on stage in the 1920s and as a 1941 movie, is shown up as the potboiler it always was, despite latter-day ethnically correct casting. Adapter Marsha Sheiness and director Robert Kalfin seemingly have attempted to add contemporary relevance to the themes of victimization of women and cross-cultural distrusts. (In its day, shortly after women achieved the vote, Colton's play was regarded as a feminist breakthrough of sorts, owing to Mother Goddam's wreaking revenge on her male enemies by finding out and revealing their secrets.) Much of the play takes place during a New Year's Eve banquet Mother Goddamn is giving in her house for the senior foreign diplomats and businessmen in Shanghai and their wives—a first for most of them, given their hostess' seedy and amorphous past and present. Achingly slowly, between glasses of champagne (and precious little food) and acrobatic entertainment, the self-made Mother Goddamn doles out her bits of dirt about her guests, resulting in early departures well before the stroke of midnight. The rest of the real-time evening and early morning are taken up with turnabout, wherein madam gets her karmic comeuppance in the best dime-novel tradition.
Disappointingly, this production both fails to convey any of the excitement audiences apparently felt upon seeing the show in the 1920s or any relevance for current audiences. The play is set in amber, as lovely as that amber is.
Presented by the Mirror Repertory Companyat the Julia Miles Theater, 424 W. 55th St
.,
NYC
.
April 30
–
May 24. Wed
.–
Fri
.,
8 p.m
.;
Sat
.,
2 and 8 p.m
.;
Sun
.,
3 and 7 p.m
.
(
212
)
239-6200
, (
800
)
432-7250, or Telecharge
.
Casting by McCorkle Casting
.