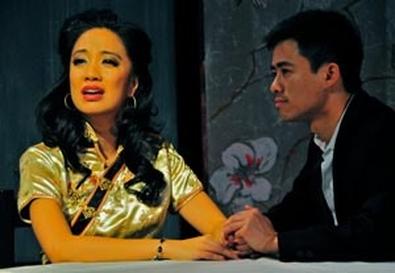 After a lethargic first act, "Shanghai Lil's" wakes up and delivers almost enough heartfelt drama to make us forget our disengagement during its first hour. This disconnect results from Act 1's detailing in a generic, gee-whiz manner how a Chinese restaurant is transformed into a popular nightclub, while Act 2 reveals the scars that World War II inflicts upon the show's characters. Director Tisa Chang and choreographer Susan Ancheta attempt to unify the two halves of this 1997 musical, which Pan Asian Repertory Theatre is reviving at the West End Theatre, with a peppy musical theater sheen, but in the end they seem like separate shows.
In the weeks prior to Pearl Harbor, Lil struggles to keep her Chinatown restaurant alive. Chase, one of her waiters, and Mei-Mei, a professional dancer, persuade her to turn the restaurant into a nightclub where Asian Americans can perform. Chase and Mei-Mei become dance partners and fall in love. Hyacinth, Peony, and Sara, three young women who call themselves the Flower Sisters, and Jerry, a comedian, round out the bill. During the war, Shanghai Lil's becomes popular, though Chase and Jerry leave to fight in Europe, and Sara, who is Japanese, has to pretend to be Mei-Mei's Chinese sister in order to escape internment. When the war ends, Lil decides to retire, signaling an end to Shanghai Lil's and sending the other characters off to pursue their separate destinies.
The show's chief attraction is its bright and likable cast. Christine Toy Johnson shines as Lil, imparting a warm glow to the entire production. Whitney Kam Lee skillfully steers Chase from boyish hoofer to complex war veteran. As Mei-Mei, Jaygee Macapugay finds the right mix of toughness and vulnerability. The fear on Leanne Cabrera's face makes the threat of Sara's internment strike us in a fresh and deeply personal way. In smaller roles, Rebecca Lee Lerman, Lisa Villamaria, and Timothy Ng sparkle as Hyacinth, Peony, and Jerry.
Though Lilah Kan's book suffers from a split personality, her lyrics are smart and well-crafted. They don't always sit comfortably on Louis Stewart's melodies, but when they do, as in Chase and Mei-Mei's love duet "Is It Really Possible," the result is magical.
Gian Marco Lo Forte's revolving panels decorated with floral designs create a flexible yet elegant playing area. Kate Mincer's costumes contribute glamour and a strong sense of both period and cultural specificity.
Whatever virtues the original production of "Shanghai Lil's" might have possessed, they aren't on view here. Perhaps the musical appeared during a cultural moment that highlighted its strengths. Unfortunately, Pan Asian Repertory Theatre has not been able to find a vision to reanimate it for 2011.
Presented by Pan Asian Repertory Theatre at the West End Theatre, 263 W. 86th St., NYC. Nov. 16–27. Tue., Wed., Fri., and Sat., 7:30 p.m.; Sat. and Sun., 2:30 p.m. (No performance Fri., Nov. 18; Wed., Nov. 23, performance is at 2:30 p.m.) (212) 352-3101, (866) 811-4111, www.theatermania.com, or www.panasianrep.org.