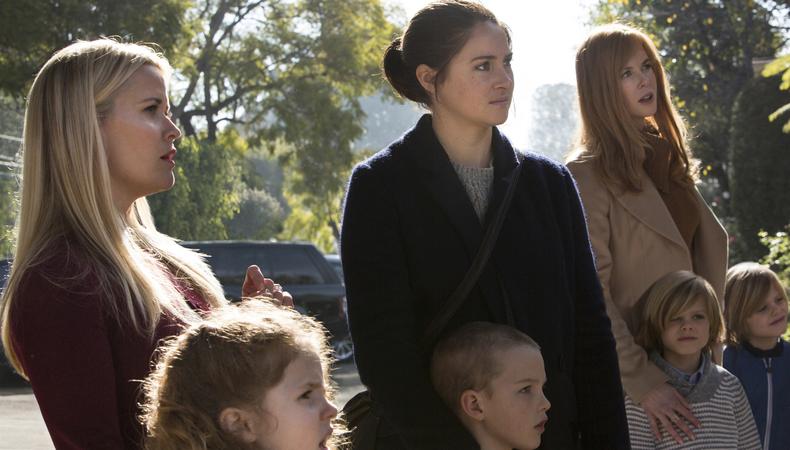 The time to celebrate Hollywood's best has come. Announced today by Alfre Woodard, Garrett Hedlund, Kristen Bell, and Sharon Stone at the Beverly Hilton Hotel in L.A., the 75th annual Golden Globe Award nominations rounded up the best film and TV of 2017.
The Hollywood Foreign Press Association gave top TV and film marks to HBO's limited series "Big Little Lies" and Fox Searchlight Pictures' "The Shape of Water," with six and seven nominations, respectively. Reese Witherspoon, Nicole Kidman, Laura Dern, Shailene Woodley, Alexander Skarsgård, as well as Sally Hawkins, Octavia Spencer, and Richard Jenkins were among those recognized. Fox Searchlight earned the most nods of any studio with 15, while HBO led the pack of TV networks with 12 nominations.
"The Post" (20th Century Fox) and "Three Billboards Outside Ebbing, Missouri" (Fox Searchlight) each earned six nominations, with "Lady Bird" (A24) trailing with four. While films and their leading actors are split into "drama" or "musical or comedy" categories, the Golden Globes' supporting actors hail from all films; for that reason the two categories have a stronger correlation to the eventual Academy Award nominations than most others. This year's supporting contenders are Mary J. Blige of "Mudbound," Hong Chau of "Downsizing," Allison Janney of "I, Tonya," Laurie Metcalf of "Lady Bird," Spencer, plus Willem Dafoe of "The Florida Project," Armie Hammer of "Call Me By Your Name," Christopher Plummer of "All the Money in the World," Sam Rockwell of "Three Billboards," and Jenkins.
Among the leading actor Globe contenders who may go on to earn SAG and Oscar recognition are drama nominees Hawkins, Jessica Chastain of "Molly's Game," Frances McDormand of "Three Billboards," Michelle Williams of "All the Money in the World," Meryl Streep and Tom Hanks of "The Post," Timothée Chalamet of "Call Me By Your Name," Daniel Day-Lewis of "Phantom Thread," Gary Oldman of "Darkest Hour," and Denzel Washington of "Roman J. Israel, Esq." Heading up the musical or comedy categories are Judi Dench of "Victoria & Abdul," Helen Mirren of "The Leisure Seeker," Margot Robbie of "I, Tonya," Saoirse Ronan of "Lady Bird," Emma Stone and Steve Carell of "Battle of the Sexes," Ansel Elgort of "Baby Driver," James Franco of "The Disaster Artist," Hugh Jackman of "The Greatest Showman," and Daniel Kaluuya of "Get Out."
In TV categories, FX's "Feud: Bette and Joan" scooped up four nominations including Jessica Lange, Susan Sarandon, and Alfred Molina, while FX's "Fargo," Hulu's "The Handmaid's Tale," and NBC's "This Is Us" each earned three. In usual HFPA fashion, new series were given the opportunity to shine, including two comedies: Showtime's "SMILF" and its creator-star Frankie Shaw, and Amazon's "The Marvelous Mrs. Maisel" and its lead Rachel Brosnahan. NBC's revival of "Will & Grace" and its star Eric McCormack were also recognized.
READ: 'La La Land,' FX Score at 74th Annual Golden Globe Awards
The HFPA is made up of around 90 freelance journalists whose picks for the year's top movies, in the middle of film awards season, can't go unnoticed by the Academy and other major voting groups. This year's Globes ceremony, hosted by Seth Meyers and broadcasted on NBC Jan. 7, 2018, is its 75th iteration. For a full list of nominees, visit the official website.
Looking to get cast? Apply to casting calls on Backstage.