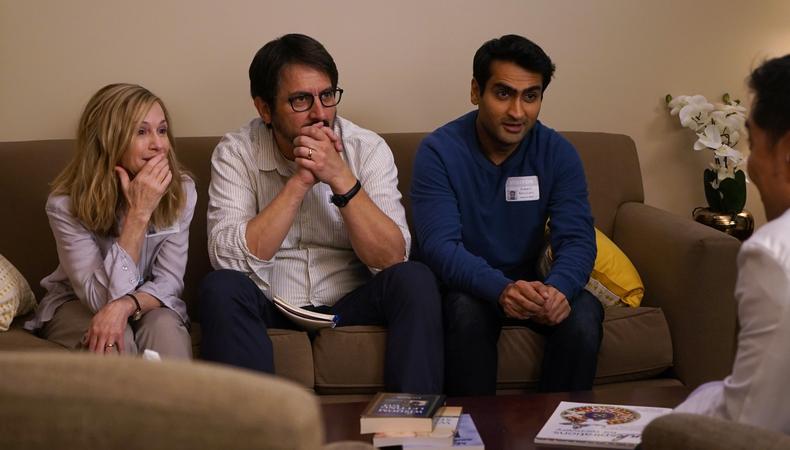 The Broadcast Critics' Association tends to nominate a mix of awards darlings and audience favorites for their annual film festivities. There were few surprises among this year's list of winners presented Jan. 11, especially following another big awards show earlier this week. Hosted by Olivia Munn at the Barker Hangar in Los Angeles, the 23rd Critics' Choice Awards lauded a mix of television and film talent in a ceremony that featured a lighter tone and far fewer black dresses than Sunday's Golden Globes. And certain film victories began to make the Oscar race a little clearer.
Fox Searchlight Pictures' "The Shape of Water," which boasted the largest number of nominations with 14, took home the Best Picture prize, and Guillermo Del Toro earned a repeat Best Director win after his Globes victory. Although it didn't repeat its top prize win, "Three Billboards Outside Ebbing, Missouri," also from Fox Searchlight, took home the acting ensemble award, while Sam Rockwell earned his second trophy of the week in the Supporting Actor category, which the presenters noted has indicated an Oscar win for the last eight out of nine years.
Other winners in film categories included Best Supporting Actress Allison Janney for Neon's "I, Tonya," Best Actor Gary Oldman for "The Darkest Hour" (Focus Features) and Best Actress Frances McDormand for "Three Billboards." James Franco also repeated his Globes win for A24's "The Disaster Artist" in the Best Actor in a Comedy category.
READ: Everything You'd Ever Need to Know About the Critics' Choice Awards
A24's "The Florida Project" star Brooklynn Prince took home the award for Best Young Actor, while Margot Robbie's portrayal of Tonya Harding in "I, Tonya" earned her the Best Actress in a Comedy win. "The Big Sick" won for Best Comedy Movie; Kumail Nanjiani accepted that prize with wife Emily V. Gordon, who co-wrote the film, thanking her doctor from the real experience that inspired the film in their joint acceptance speech. Nanjiani added, "We're very happy our movie is coming out in a year where Hollywood is having a lot of difficult conversations with itself and we're amplifying voices that have been silenced for too long. I think as men we've been talking for centuries, and it's time to shut up, listen, and amplify."
Patty Jenkins' "Wonder Woman" (Warner Bros.) won the award for Best Action Movie, and its star Gal Gadot won the #SeeHer award, designed to "recognize and accurately portray women across media and advertising."
The most inspiring speech of the night belonged to Gadot, who said, "Throughout my career, I was always asked to describe my dream role and it was clear to me I wanted to portray a strong and independent woman. The irony in this is that later I was cast as Wonder Woman and all of these qualities I looked for, I found in her." She didn't ignore the message of the moment either, finishing her speech with a promise: "In the past weeks and months we've been witnessing a movement in our industry and society and I want to share this award with all the women and men who stand for what's right, standing for those who can't stand or speak for themselves. My promise and commitment to all of you is that I will never be silenced and we will continue to band together to make strides in uniting for equality."
The Broadcast Television Journalists Association repeated a handful of previous TV winners as well, resulting in a great night for streaming services. New Amazon series "The Marvelous Mrs. Maisel" took home awards for Best Actress in a Comedy Series for Rachel Brosnahan and Best Comedy Series, mirroring Golden Globe results. On the drama side, Hulu's "The Handmaid's Tale" added to its Emmy and Golden Globe Award haul for Best Drama Series, as did its star Elisabeth Moss. Ann Dowd won the series' third award for the night in the Best Supporting Actress in a Drama Series slot. Sterling K. Brown took the stage for a second time this week to accept a Supporting Actor in a Drama Series award for his role in the "This Is Us" (NBC) ensemble. HBO's "Big Little Lies" won big again, taking home the prize in the Limited Series category as well as Best Actress, Best Supporting Actress, and Best Supporting Actor in a Movie Made for TV or Limited Series. Ewan McGregor ("Fargo"), Ted Danson (NBC's "The Good Place"), David Harbour (Netflix's "Stranger Things"), Walton Goggins (HBO's "Vice Principals"), and Mayim Bialik (CBS's "The Big Bang Theory") also took home acting awards.
The Critics' Choice Awards take place each January, presented by The Broadcast Film Critics Association and The Broadcast Television Journalists Association to reward TV and film achievement from the previous year. The Broadcast Critics Association is the largest film critics' organization in the U.S. and Canada and is made up of more than 300 members working in television, radio, and digital media. For the full list of winners, visit www.criticschoice.com. For all of Backstage's awards season coverage, visit www.backstage.com/awards-season.
Check out Backstage's TV audition listings!