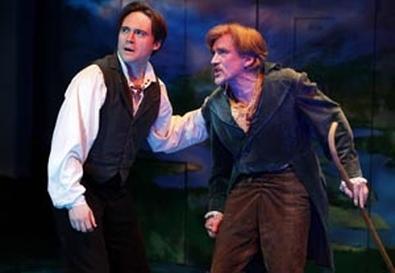 Though Dion Boucicault's 1874 Gaelic-flavored "The Shaughraun" is a logical choice for the Irish Repertory Theatre, the company's tiny playing space would seem to prohibit a production. The rollicking comic melodrama calls for 16 scenes, a full Irish wake with many mourners, daring escapes from prison, and chases across rugged cliffs. Several years ago, I saw a production in London that encompassed all of the National Theatre's enormous Olivier stage, so I was a bit skeptical that Irish Rep would be able to squeeze all that action and wild countryside onto its studio apartment–size stage.

Fortunately, director Charlotte Moore and set designer Klara Zieglerova have made an ingenious transformation with suggestive scenery and imaginative staging. By means of a large unit equipped with windows and doors and the help of Brian Nason's lighting, Zieglerova creates the illusion that we are in several different locations in County Sligo. She has also painted the walls of the theater in lush greens and blues and employs a few strategically placed models of a barn and a ship to give us a hint of the area's proximity to the sea and farmland. Moore cleverly deploys her large cast of 16 actors and one scene-stealing dog around this intimate playing area without ever making it seem crowded.

The plot revolves around the titular mischievous vagabond—that's what the word means—and his efforts to rescue a wrongfully convicted escaped prisoner who has been framed and cheated out of his inheritance by a conniving scoundrel. The company fully commits to the material, never condescending to it despite its creakiness and such 19th-century stage conventions as broad asides to the audience.

Patrick Fitzgerald brings out the lovable rogue in Conn O'Kelly, the shaughraun, and even manages to hold his own against that attention-grabbing canine. Sean Gormley and Tim Ruddy are eminently hissable villains, while Terry Donnelly and Emma O'Donnell earn laughs as Conn's lively mother and his equally feisty girlfriend. Kevin O'Donnell avoids heroic clichés as the wronged but noble convict, and Katie Fabel is appropriately fiery as his betrothed. Especially amusing are Mark Shanahan, as a stuffy but decent British officer, and Allison Jean White, as an Irish lass who finds herself attracted to the officer despite her Anglophobia. The playful push-pull of their romantic scenes is the highlight of this rambunctious revival.

Presented by and at the Irish Repertory Theatre, 132 W. 22nd St., NYC. May 1–June 12. Wed.–Sat., 8 p.m.; Wed., Sat., and Sun., 3 p.m. (212) 727-2737 or www.irishrep.org. Casting by Deborah Brown.