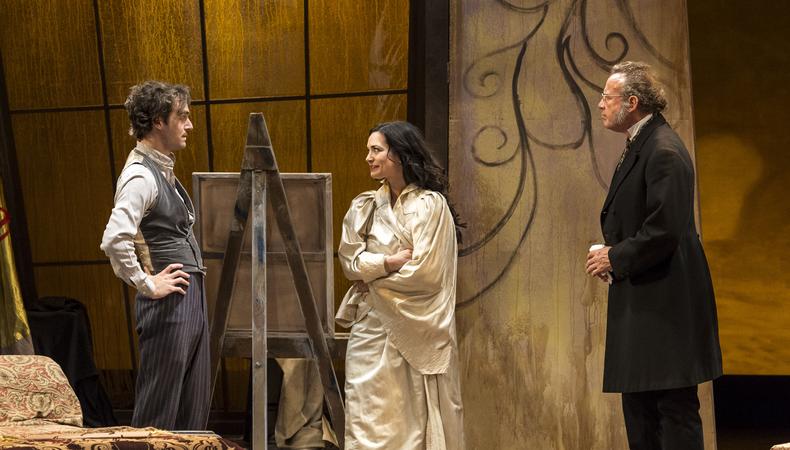 Obamacare or nobamacare, whether the health-care debate is newsworthy or passé, George Bernard Shaw's "The Doctor's Dilemma" is one of those lesser-staged gems that should be clawing and elbowing its way to the front of the repertory queue. Leave it to the classically focused A Noise Within, director Dámaso Rodriguez, and an aces cast to produce a sparkling revival in which the doctors get their due. Or, to use Shaw's parlance, Rodriguez and Co. give our phagocytes some serious stimulation.
The quartet of quacks—er, physicians—who make up the circle of friends is to some extent an assemblage of jargon-spouting stuffed shirts. A bit too concerned with their titles, young Cutler Walpole (Freddy Douglas); Sir Ralph Bloomfield Bonington, aka B.B. (Robertson Dean); retiring Sir Patrick Cullen (Apollo Dukakis); and Sir Colenso Ridgeon (Geoff Elliott) have built their reputations on questionable medical methods and now rarely deviate. Ridgeon's success rate with tuberculosis cases and his new title have made him the star of the moment, and Elliott's performance expertly renders a man with a heart and an ego equally swollen, a man for whom playing God isn't perhaps as difficult as he says it is.
That's what happens of course when the lovely Jennifer Dubedat (Jules Willcox) petitions Ridgeon to cure her tubercular husband, Louis (Jason Dechert), an artist with exceptional talent and less than sterling character. Ridgeon's caseload will allow for one more patient, and the decision is between Dubedat and Dr. Blenkinsop (David LM McIntyre), an impoverished physician friend, also with failing lungs, who will leave behind nothing of value if he shuffles off this mortal coil. That Ridgeon is a bachelor who covets his potential patient's wife shouldn't cloud this dilemma, but naturally it does.
The production really catches fire post-intermission, when the doctors move from Ridgeon's drawing room to Dubedat's studio, a garret with sweeps of tapestries and a model's platform (all designed with a splendid sense of warmth and detail by Susan Gratch). When the doctors arrive to confront Dubedat over his soiled soul, the artist poses for them on his platform, and the debate over morality—medical and artistic—pushes forward. Credit Willcox, who mixes sensuality with smarts, for keeping us consistently uncertain of how much Jennifer is privy to her husband's scheme. Dubedat's complete amorality is, in Dechert's hands, rendered with substantial charisma.
The play is Ridgeon's: his dilemma, his fate, his realization. Elliott, the company's co–artistic director and frequent leading player, ensures that when our physician hero is on the rack, the audience is being stretched right there along with him. The play contains a late revelation, delivered as only Shaw can deliver it. When it arrives, it leaves us wanting more. That's the mastery both of a brilliant playwright and of a company that expertly knows his composition.
Presented by and at A Noise Within, 3352 E. Foothill Blvd., Pasadena. Oct. 20–Nov. 25. (626) 356-3100 or www.anoisewithin.org.
Critic's Score: A-