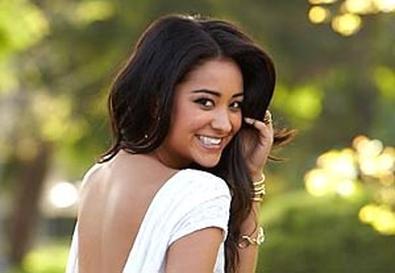 "You only live once, so why not live the life you dream of?" asks Shay (it rhymes with hey) Mitchell, and she's doing exactly that. Shay moved to L.A. so recently that she cops to still pronouncing "sorry" as "sore-y," as is custom in her Canadian homeland.
In addition to learning a new dialect, Shay's also on the verge of some serious stardom. Through a videotaped audition, she managed to land the plum role of Emily Fields, a woman going through a sexual identity crisis on the highly anticipated "Pretty Little Liars" (based on the popular series of books), which debuts June 8 on ABC Family.
Before you run and set and your DVRs, you should also know that Shay is a hardcore foodie, an avid outdoorswoman, and an amateur interior decorator.
Chosen as this week's Actor2Watch, Shay will be featured in a series or articles, fun facts and social media tweets through this week for subscribers of
Girl2Watch.com
.
Actor2watch
: How did you get the role on "Pretty Little Liars"?
Shay Mitchell
: I was fortunate because my agent in Toronto—that's where I was living— works closely with a manager out in L.A. So he was sending me a bunch of different roles for different shows, and I'd put myself on tape for them and send them back.
It's always kind of a shot in the dark because you want to be in that room with the casting director or the director and the producer to really give them your best. I originally auditioned for Spencer. Then they came up with Emily because they couldn't find anybody for Emily. So I auditioned for that one too and I was like, "Oh, that was fun but that's probably it."
And then I got a call a couple of days after: "They want to fly you out to meet with everybody at Warner Brothers." I was like, "Oh my goodness, no way." I didn't even know what testing was at that point.
I had trained, I had been in acting classes for quite a while, but to do the real thing and test and all that in L.A. was crazy for me. I came out here and got to meet everybody. I did the studio audition and the network audition, then in that same week found out that I had booked the job. So I came home an extremely happy girl.
A2W
: What kind of training did you get and who do you study with now?
SH
: I actually trained in Vancouver when I was going to high school, and then I trained a little bit when I was in Toronto. I have an amazing coach out here, Lauren Patrice Nadler, and she has been working with me a lot.
L.A. is a different world, and I really feel like you need to take a little bit from everybody, that you learn from all different classes. There's nothing better than watching real scenes with people and seeing what they do.
A2W
: Did you face any challenges turning from a model to an actress?
SH
: Not so much, because I wasn't a crazy well-known model by any means. It's something I did in Toronto that was a means of income. I think it helped me a lot being in front of the camera. Whether it was posing for pictures—you sure do a lot of that even with acting—you have that red carpet stuff, and you have to know how to pose in photo shoots, and everybody wants photos.
It also set me up to get used to rejection and be okay with it. You audition for jobs and you don't always get them. But I learned how to handle that rejection from modeling, so I'm very fortunate for that.
A2W
: How do you use Facebook and Twitter for your career?
SH
: I use Facebook and Twitter to keep the fans updated with what we're doing. If there's a photo that I can take of me and one of the other actors hanging out, I want them to see that, so they're a part of this experience with us. They can be in the loop with what's going on with the day-to-day stuff that we're all doing, and the promotion for the show.
A2W
: Do you have any tips for novices?
SH
: Do what you genuinely love is what I would say to anybody. And also, the one thing that really did put that light on in my head was my dad saying, "Shay, the world is your oyster. You can do whatever it is that you want to do."
And I really believed him when he said that. From that day on, I felt if I want to come to L.A. and I want to live out my dreams, then I'm going to do it. And I knew it was going to happen at some point. I didn't know it was going to happen this soon, and it's so surreal, but I really did believe in my dreams and really believed that I could do anything I wanted.