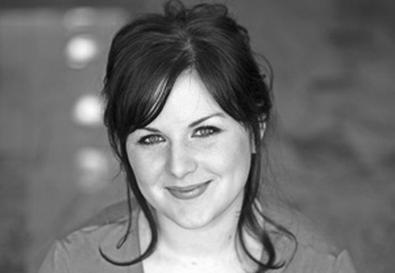 At age 24, Sheila Karls was still in school. She had graduated from Interlochen Arts Academy in Michigan, studied opera in Greece, worked and took classes in New York, studied acting at the California Institute of the Arts, and was studying musical theater at the American Musical and Dramatic Academy in Los Angeles. "I started to realize I was addicted to training instead of doing," says Karls. "I finally talked to my teachers at AMDA, and they said they thought I just needed to go out there and do it. So I made the decision to leave."
Karls, who describes herself as an avid Back Stage subscriber and reader, saw an open-call notice for "The 25th Annual Putnam County Spelling Bee" at 3-D Theatricals in Santa Ana, Calif. It was her first audition out of school.
She wore pigtails and a little dress to the audition, thinking she would be seen for one of the kid roles, but director D.J. Gray heard the warmth in Karls' voice and thought, "She's a Rona," referring to the spelling bee's moderator. Gray asked Karls if she could come to the callback prepared to audition for the adult role. She was concerned that she had ruined her chances by misjudging which character she would be right for, but she decided to give it her best shot anyway.
Gray noticed and appreciated her efforts. "It was lovely to see an actress who is able to say, 'They don't see me as this,' and turn it around so quickly," says the director. At the callback, Karls was paired up with actors reading for the role of Vice Principal Panch. While she was expecting to sing or maybe dance with her partner, she found out they would be doing improv and writing jokes together.
Gray, who was the associate choreographer for the original production of "Spelling Bee" on Broadway, had insight into how to cast this unique show, which comprises many short scenes. "It's a hard show to cast because everything is so piecemeal," she explains. "You have to get as much as you can from the characters in a very short amount of time. Are they going to be able to have the depth of this character? Or will they just make a caricature of them? Panch and Rona are the heartbeat that keeps the show going. I needed to find actors who had chemistry and could work together. So, for the audition process, I had them write jokes together before they stepped into the room. I could see how they worked together and how they bantered off of each other. That's really important. Sheila did great. She really got it."
A few weeks later, Karls received a phone call that made her want to thank her teachers at AMDA for convincing her to leave school: She got the part.
Karls' next project is 3-D Theatricals' production of "Hello, Dolly!" She is currently seeking representation and can be reached at
[email protected]
Has Back Stage helped you get cast in the past year? We'd love to tell your story. Be in the weekly column by emailing

[email protected]

for New York or

[email protected]
.
for Los Angeles with "I Got the Part" in the subject line.