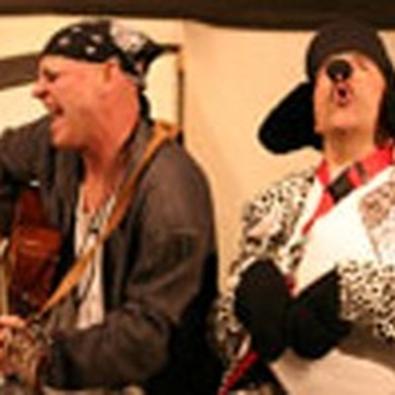 The simple lines of Charles Erven's set design evoke the singular style of Shel Silverstein's children's book illustrations, for which he was so justly famous. What transpires, however, is reminiscent of the work of Jules Feiffer, with pairs of actors portraying various facets of urban existential anomie. The overall tone is much, much darker, however, despite the inclusion of songs in which the actors accompany themselves on a variety of instruments, a feat I find both endearing and impressive.
The production crystallizes in a piece called "Best Daddy," in which a child (Colleen Kane) at her 10th birthday is given a surprise gift by her father (Tony Pasqualini). The bulky mystery gift lies beneath a blanket, and the ensuing guessing game plays out so well that even though you realize you're watching mental cruelty being wreaked on a tot, you laugh anyway. But you don't feel good about it. Still, Kane and Pasqualini are superlative in realizing director Dan Bonnell's mordant tone. Sarah Brooke gives the initial appearance of being bright, shiny, and untroubled, and though her characters belie this freshness, it's precisely that quality that allows her to sail through a piece such as "Bus Stop," which consists largely of dozens of slang terms for breasts followed by about the same number of terms for penis, without the whole thing playing like an adolescent attempt at adult humor. There's fine character work being done by James Macdonald, but to his detriment he is often paired with Martha Gehman, an actor not only saddled with the most thankless of the generally bleak female roles (a manipulative shrew, an object) but also one who gives every appearance of not being in on the joke most of the time.
Material like this has a way of making actors look like victims if they don't own it. Curiously, the character that stays with me is the talking dog, played by Daniel Zacapa, an intelligent creature with the soul of Mr. Belvedere who can't break free of his ties to the beggar Blind Willie (Macdonald) and let the world hear his voice. This production will no doubt be a boon to fans of Silverstein's adult work, but I don't imagine it's going to generate any new ones.
Presented by and at the Odyssey Theatre Ensemble,
2055 S. Sepulveda Blvd., L.A.
Thu.-Sat. 8 p.m. (Also Sun. 2 p.m. Jun. 15-29 & Jul. 13-20 and 7 p.m. Jun. 8, Jul. 6 & 27 only. Dark Jul. 4.) Jun. 7-Aug. 10.
(310) 477-2055. www.odysseytheatre.com.