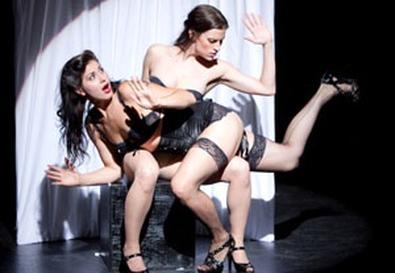 Myriad are the pop-culture references in "Shine: A Burlesque Musical": "Rocky Horror," Mae West, Sally Rand, Dietrich, CBGB, the Pussycat Dolls, and the downtown burlesque movement of the past decade-plus. Plus it's a backstage book musical with references to "42nd Street" and "Gold Diggers of 1933," an innocent boy and girl caught up in the booty-shaking milieu, and more pasties and tassel-twirling than you've seen in years. How do you make so many influences hang together?
You don't. "Shine" sprawls all over the place. But along the way are some genuinely funny filthy lines; a few excellent comedy songs (the prerecorded orchestra drowns out lyrics); an enthusiastic cast, with Cass King's Tallulah-like burlesque mistress a standout; and some hilarious costumes. The clichés pile up, and the second act, dealing mostly with a big black diva receiving her due, feels like a detour. But enough of "Shine" works that you hope they'll keep working on it.
Presented by the Wet Spots as part of the New York International Fringe Festival at La MaMa ETC, 66-68 E. Fourth St., NYC. Aug. 13–28. Remaining performances: Mon., Aug. 23, 9:45 p.m.; Thu., Aug. 26, 2 p.m.; Sat., Aug. 28, 2 p.m. (866) 468-7619 or www.fringenyc.org.