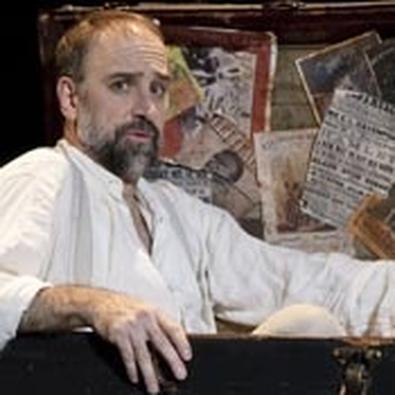 Because it's clear from the get-go that the pretentious central character is a phony, one never becomes heartily invested in his story, so it is only with uninvolved detachment that one appreciates the imaginative efforts to dramatize his life in playwright Donald Margulies' Shipwrecked! An Entertainment: The Amazing Adventures of Louis de Rougemont (As Told by Himself). The show is based on the true tale of a 19th-century ne'er-do-well who gained fame and fortune in England, including a knighthood from Queen Victoria, after publishing a thrilling though thoroughly false accounting of his 30 years of heroic adventures in the Australian outback.
Margulies' cleverly crafted play underlines the contrived essence of theatrical storytelling, with de Rougemont (Michael Countryman) shifting back and forth between narrating and acting out his made-up escapades. He is ably assisted by two hard-working supporting players (Donnetta Lavinia Grays and Jeremy Bobb) who take on dozens of diversified roles and move from one to another with amazing swiftness. In one scene Bobb portrays five or six different characters in less than 30 seconds.
Deliberately exposing the machinations that go into the convincing telling of any good yarn, Shipwrecked! is presented on Neil Patel's plain, curtainless set, which reveals all that goes on behind the scenes, particularly the intriguing ways musical instruments and everyday objects are manipulated by actors and technicians to produce the show's exciting array of believable sound effects. (Who'd have thought that squashing a plastic deli-salad container in front of a microphone could sound like a ship's mast cracking in a monsoon?)
While the play toys intelligently with notions of imagination and truth and is bustlingly directed by Lisa Peterson, the overtly engineered proceedings are only ensnaring for about an hour of the 90-minute production. From the point in the plot when de Rougemont is revealed as a fraud, the play plods along to a preposterous finish.
Presented by Primary Stages in association with Barbara and Alan D. Marks
at 59E59 Theaters, 59 E. 59th St., NYC.
Feb. 8–March 7. Tue., 7 p.m.; Wed.–Fri., 8 p.m.; Sat. 2 and 8 p.m. (Additional performances Sun., Feb. 15, 3 p.m.; Wed., Feb. 18, 2 p.m.)
(212) 279-4200 or Ticket Central.