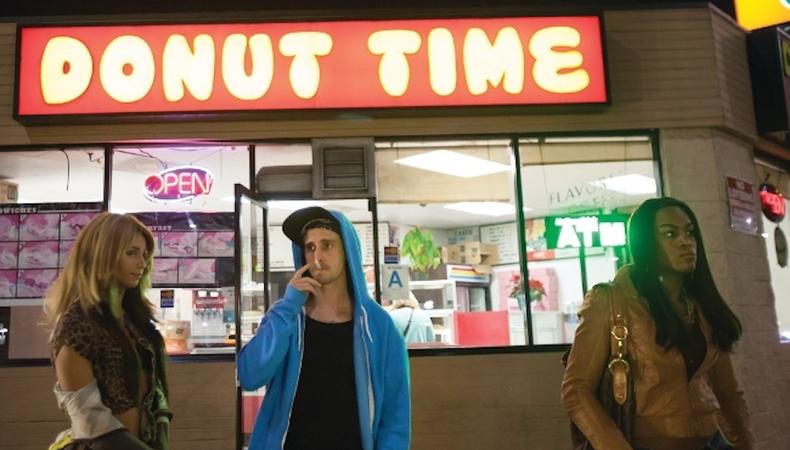 It usually takes about a week for first-time actors to get over the awkwardness of having a camera in their face, says indie director Sean Baker. But for his latest film, Sundance select and breakout hit "Tangerine," the helmer immediately got the natural intimacy that often comes with experience, based simply on his choice of equipment.
"Tangerine," a blazing tale of two transgender sex workers on a search for their two-timing pimp, Chester, was shot entirely on an iPhone 5s using a Steadicam to smooth out shots, a Moondog Labs anamorphic adapter to shoot in widescreen, and the $8 manual control camera app FiLMiC Pro.
The trifecta allowed Baker and his co–director of photography, Radium Cheung ("The Americans"), full control of focus, shutter speed, tint, temperature color, and frame rates, avoiding, for example, iPhone "convenience factor" features like automatic exposure adjustment.
Turning his cellphone into a fully operational film camera not only allowed Baker to enter tight spaces and be physically close to his actors while filming, but the familiarity with the device yielded an immediate ease and authenticity from his two leads, Mya Taylor and Kitana Kiki Rodriguez. It also cut down on costs and calling in favors, and shaped the entire style of the fast-paced film.
"It was the first or second day of shooting and I needed an adrenaline shot for when Sin-Dee [played by Rodriguez] exits Donut Time for the first time," Baker explains. So the director, known for past projects "Starlet" and "Prince of Broadway," jumped on his bike—one hand on the handlebars, the other on the camera stabilizer—and went for a "swooping shot" that subsequently encapsulated the film's manic energy.
"We started moving more and exploiting the fact that this was a tiny little camera," he says. "We could throw it on a pole to get impromptu crane shots, and I could throw it on the bike any time I felt like it. The iPhone really allowed me to be more fluid, and I wish I could say this was all planned out, but it was so much more about discovering and finding a style."
But Baker found the real quintessence of "Tangerine" in an LGBT center in Santa Monica, Calif.
"The minute I saw Kiki and Mya together, I thought, OK, here we go. Now we have something," he recalls of the transgender actors, neither of whom had performed on camera before. "We didn't even have a script at that point. I only knew that we'd be telling a story about friendship and they were going to take the lead."
The subsequent success of the film, truly brought to life by Rodriguez and Taylor's intimate dynamic, is a low-budget filmmaker's dream.
After writing the parts of prostitute Dinah, pimp Chester, and Sin-Dee's john and cab driver Razmik for Mickey O'Hagan, James Ransone, and Armenian actor Karren Karagulian, respectively, Baker cast the rest of his film employing the same rule of thumb he used to shoot it: accessibility. Through Vine, Craigslist, Instagram, and YouTube, as well as his connections in the adult film world after shooting "Starlet," he found supporters to play a madame in a makeshift hotel brothel, a cab customer, and a cisgender prostitute, among other roles.
Though he says he can't analyze it too much, Baker says the iPhone ultimately allowed the less experienced to really come into their own. "My first-time actors always seem to pick up on the repetition [of Meisner actors]; it's really interesting to see how they'll adapt their style," he explains. "This time around it was a little different because what I recognized is that with the iPhone, from minute one, there was no intimidation factor and there was no trying to adapt."
Indie filmmakers, are you in the App Store yet?
Inspired by this post? Check out our film audition listings!