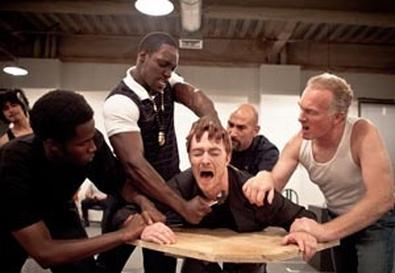 Miguel Piñero's 1974 drama, set in a seamy criminal detention center, has lost none of its hard-hitting pertinence. Director Julian Acosta's thought-provoking revival examines a microcosm of wayward souls struggling to find acceptance and hope in a morally ambiguous society. The daring production is infused with bravura performances and a crackling atmosphere, punctuated by ironic humor and suspense.
When Clark (Matthew Jaeger), an Anglo-American family man accused of child molestation, is thrown into prison, he faces immediate danger, as the racially diverse inmates consider pedophilia to be the lowest form of degradation. En route to inevitable violent confrontations, the prisoners voice their rationalizations, suppressed fears, and emotional confusion. Most share hypocritical attitudes, which are likewise evident in a corrupt prison guard (chillingly played by Cris D'Annunzio). Piñero's perceptive piece avoids imposing value judgments on the characters. Though most are victimizers, they are also shown to be victims of social malaise and misfortune. The tense action leads to a credible climax, as Piñero wisely avoids pat resolutions for the play's complex issues.
Finest among the sterling portrayals is Jaegar's shattering depiction of a man trying to survive in a pressure cooker. Beaten, humiliated, and terrorized by the other inmates, Clark receives no support from the prisoner perhaps closest to being his cultural peer: the ruthless Anglo-American, Longshoe (magnificently played by Mark Rolston). David Santana excels as Juan, a rational Puerto Rican who is guardedly sympathetic to the accused pedophile, fearful of the repercussions of openly offering support. Carl Crudup is electrifying as Ice, a wiry and intimidating African-American who provides comic relief in an anecdote about this character's erotic response to a movie-star poster, though Piñero allows the segment to linger longer than necessary. Additional exemplary work is offered by Miguel Amenyinu, Darby Hinton, Jason Manuel Olazábal, Matias Ponce, Donte Wince, and other ensemble players.
The story's dingy, frightening milieu is brilliantly conjured in Geronimo Guzman's gritty scenic design, Juvencio Segura's unnerving sound effects, Thomas Ontiveros' harsh institutional lighting, and Billie Escalante's costumes. Mike Mahaffey's harrowing fight choreography enhances the visceral excitement.
Presented by Urban Theatre Movement and Latino Theatre Company at the Los Angeles Theatre Center, 514 S. Spring St., L.A. Nov. 18-Dec. 11. Thu.-Sat., 8 p.m.; Sun., 7 p.m. (866) 811-4111. www.thelatc.org.