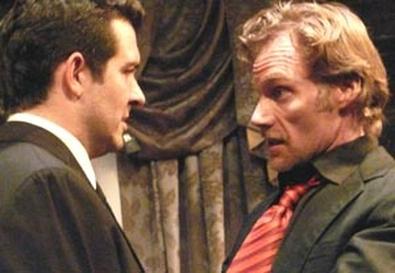 The person who exerts the strongest influence on stage in Derek Murphy's "A Short Wake" never speaks a word. That's because he's dead—and hated.
Pop's demise has brought his two Irish-American sons, Teddy (Peter Bradbury) and Jimmy (Brandon Williams), to a New York funeral parlor. Estranged from Pop and each other, they haven't been together for many years. The one certainty is that Pop was a failure of a father: a drunken bookie who consistently beat his boys. Teddy, the elder by four years, escaped from home at 12 and became a petty thief and all-around rogue. Jimmy, battered but unbowed, emerged as a successful attorney in Los Angeles. Yes, it's the old standby device of a funeral as catharsis, with the brothers raking over past misdeeds toward some sort of rapprochement. With this none-too-original premise, playwright Murphy has set himself the hard task of breathing life into this funeral parlor.
The props Murphy brings to this limited setting are significant: two liquor flasks, Pop's comb, three ties, and a gun. The playwright is parsimonious with exposition as the play inches awkwardly forward: We do learn that unreliable Teddy cared for his father during his dying days, with Pop believing he was Jimmy. The big revelation concerns the night their mother died, with the brothers having totally opposite interpretations of the event. Here Murphy flirts briefly with the interesting theme of distorted memory and its effect on the brothers' lives. Most of the time, however, the author seems content to treat the situation as a moral fable, with the brothers' backgrounds lacking living, breathing detail. Both Teddy and Jimmy are more abstract characterizations than they need to be.
The performers do their darnedest to correct this fault. Under Ludovica Villar-Hauser's controlled direction, Bradbury's loose-cannon Peter assists with much-needed spontaneity, while Williams invests Jimmy with a brooding sensitivity that invites sympathy.
Murphy has optimistically termed his play "a dark comedy." Another play set in a funeral parlor, Joe Orton's "Loot," was all about comedy. Here the accent is definitely on dark.
Presented by Tweiss Productions as part of 1st Irish 2009 at Manhattan Theatre Source, 177 MacDougal St., NYC. Sept. 10–26. Thu. and Fri., 8 p.m.; Sat., 3 and 8 p.m. (212) 352-3101, (866) 811-4111, or www.theatermania.com. Casting consultant: Stephanie Klapper.