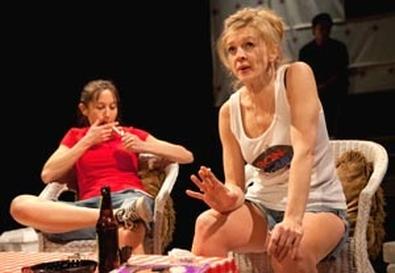 Army Pfc. Tina Priest died in Iraq five years ago in what is officially called "non-combat-related injury." The United States Army says she committed suicide. Her family suspects she was murdered. Everybody agrees, however, that, 11 days before her death, a fellow officer raped her.
Priest's story is one of seven told in "A Shot Away: Personal Accounts of Military Sexual Trauma," a play based on transcripts of interviews conducted by playwright Donna Fiumano-Farley. We hear Priest's story from her mother (played by Jackie Sanders in a standout performance) and her twin sister (Tara Ricasa) as they leaf through old albums and painful memories. Six performers play the other victims, including two men, who stand on stage and tell their stories in snippets. First, all get a turn at explaining what inspired them to join up. Then they each describe how they became a target of sexual violence or harassment. Then they tell us how the institution reacted, which was almost always poorly: The "legal advocate" that the military assigned to Panayiota Bertzikis (Laura Anderson) told her it was "dishonorable to report a rape." Along the way, two actors (Rafe Terrizzi and Ian Way) dressed in camouflage military uniforms play a variety of military personnel, including the victimizers, with their dialogue supplied by the accounts of the victims.
"A Shot Away" has its compelling moments, and it is surely an effective way to get the word out about a problem that affects thousands of soldiers annually. But it could be beefed up both dramatically and journalistically. Too much is made in this 80-minute play, for example, of the Priest family's arguments abut why Tina Priest could not have committed suicide, creating innuendo without any apparent effort to investigate this independently. Indeed, why not include a character or two to present an overview—or even a defense—of relevant military policies? That is what "Another American: Asking and Telling," a play about gays in the military, did, without diluting its advocacy.
Bertzikis, who after her traumatic experience founded an organization called the Military Rape Crisis Center, is one of 17 plaintiffs in a class-action lawsuit filed recently that charges that military policies are inadequate. Although it would have been nice to learn about the suit in the play, not just the program, "A Shot Away" is sure to help.
Presented by the Red Fern Theatre Company at LABA Theater at the 14th Street Y, 344 E. 14th St., NYC. April 2–17. Thu.–Sat., 8 p.m.; Sun., 3 p.m. (Additional performance Mon., April 11, 7 p.m.) (212) 352-3101, (866) 811-4111, www.theatermania.com, or www.redferntheatre.org.