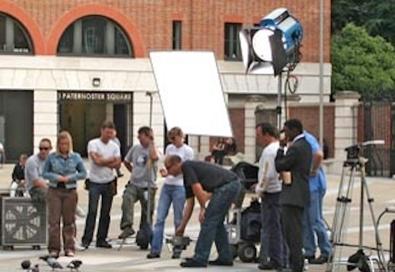 Bob Balaban: Gravity Defied
By Rob Kendt
It's funny only if the actors take it seriously, goes a well-worn acting truism. Bob Balaban's quality of seriousness and poise, of unimpeachable gravity, is unique--and so subtle that for nearly two decades it landed him mostly yeoman's dramatic roles as menschy, reliable sidekicks (Altered States) or intimidatingly brainy, often cold academics or lawyers (Absence of Malice, Whose Life Is It Anyway?). It wasn't until he got a recurring role as a poker-faced TV network executive on Seinfeld that the comic potential of Balaban's intense self-possession was realized. With a diminutive 5-foot-5-inch frame and a blank, boyish face that suggests a cross between Rick Moranis and Ron Rifkin, he's a natural comic type; in fact, he began on Broadway in Plaza Suite and You're a Good Man, Charlie Brown (as?who else?--Linus). But coming to film comedy relatively late in the game, Balaban brings dramatic heft in an absurdly small package, and the boundless seriousness of his dramatic work has been transformed into the most stunningly impenetrable comic deadpan in the business.
On the DVD commentary track for Waiting for Guffman, Christopher Guest's brilliant mockumentary about small-town showbiz dreams, Guest claims that Balaban was the only performer who never broke character on the set. In an interview last year, Balaban told me that's not true--he was just able to hide his laughter better, since in the role of Lloyd Miller, the film's gravely pompous music director, Balaban mostly stares into a middle distance, slowly burning at the foolishness around him rather than deigning to speak. This, of course, makes his presence on-screen all the more formidable and anomalous; Balaban's Miller looks like he's been roped into the project, and the film, under considerable duress.
At his best, in fact, Balaban offers presence more than performance per se. He can deliver the goods in a meatier role--like Kowalsky, the decent ghetto barber in Jakob the Liar--but even then his work is never showy but clean, relaxed, and simple, even when his characters are raging or crying. This authoritative focus and cool may be in part genetic: The child of a family of Chicago movie-theatre owners, Balaban has done a string of performances as network executives and movie producers. In a triumphant in-joke, after his Seinfeld turn as a Warren Littlefield-like TV suit, he played the real-life NBC boss in HBO's The Late Shift; and his role as a "cutting-edge" late-night producer in the political satire Bob Roberts was a veiled swipe at glad-handing Lorne Michaels.
Balaban's most recent screen appearance, as a matter-of-factly vulgar Hollywood movie producer stranded among British upper-crusters in Gosford Park, was even closer to home, he told me: Two of Balaban's uncles were Hollywood producers in the 1930s, the era of Gosford Park. If that performance--and his simperingly sweet dad in Ghost World--feel looser, less tightly wound, than some of his other creations, it may mean that Balaban, who has a relatively thriving second career as a writer/director and producer, is coming into his own as an actor who can seamlessly mix and match comic and dramatic shadings.
On the other hand, from his first screen role as a nervous young schoolboy who goes down on Jon Voight in a movie theatre in Midnight Cowboy, Balaban seems to have arrived fully formed as one of our most distinctive actors, character or otherwise.
Debra Jo Rupp: Off Balance
By Pamela Bock
Debra Jo Rupp has made a career of flying under the celebrity radar. A supporting character for years, Rupp began in theatre and moved on to guest appearances in Kate & Allie, Spencer for Hire, Evening Shade, and Family Matters. In 1993 she had a recurring role in the hammy ABC sitcom Phenom. Rupp played the Catholic schoolteacher of a tennis prodigy. While the show was short lived, Rupp found her niche as the incapable neurotic.
Said Rupp, "I tend to go through phases. There was a period when I had a lock on the nervous, neurotic person. Before that I was the morbidly depressed and suicidal character. Then after that I played roles in which I was cheerful all the time. It just phases in. I'm attracted to parts that are just a little odd. I have a really hard time just playing a normal secretary. My secretary has to be blind or have a nervous tic or something. I don't like being the straight person."
As Jerry Seinfeld's impassioned but completely ineffectual manager, Rupp began to gain her fan base, and as the much older girlfriend of Phoebe's brother (Giovanni Ribisi) on Friends, she continued to make much of smaller roles. Indeed it was her hilarious turn as the well-intentioned but slightly unbalanced mother of Phoebe's triplets that first caught my attention.
Said Rupp, "I think when you're a character actor your lifetime in this business is much longer. I've been around for so long, and I've shown up just about everywhere. But I think still, today, people don't put my name with my character. I am a character actor and always have been. I think for me a character actor is not an ingenue and not a leading lady, neither of which I have ever been in my life."
Rupp finally entered the spotlight as Kitty Forman, the perennially upbeat mother and wife in the Fox sitcom That '70s Show. Rupp skillfully balances her character's over-the-top, out-of-touch, maternal naivete with genuine affection, discipline, and emotion. While her husband is the hard-nosed cynic and her son the goof-off, Kitty must act as the glue that holds the family together, despite the fights and misunderstandings. Though it seems at times that Kitty lives in a fantasyland, Rupp helps keep her grounded and growing.
"I really pay attention to the script," said the actor. "I try to figure out where this character fits into the story. I believe in very strong choices, and I don't believe that there is a wrong choice."
It's just these strong choices that have allowed Rupp to have such a varied career. Her attention to detail and commitment to her characters have made each role a standout.
Lupe Ontiveros: Beverly Drive
By Lori Talley
It wasn't until she was in her mid-30s that Lupe Ontiveros' acting career began. At that time--the early 1970s--the married and college-educated mother was working as a social worker in Los Angeles when she answered an ad seeking movie extras. She's now best known for her roles in Goonies, Greg Nava's El Norte and Selena, and As Good as It Gets. Ontiveros hadn't always dreamed of being an actor--she fell into it on a whim. But once in, it wasn't mere chance that forged her career. "I moved up the ranks," said Ontiveros. "I paid my dues and I feel very proud of the fact that I started from that position."
Professionally, Ontiveros has faced tough odds and persevered. Besides entering the business at a later age than most, Ontiveros has struggled to find a middle ground in an industry with a distorted perception of minorities. She has long been subjected to Hollywood's insular image of Latinos--mostly playing maids in independent films throughout much of her career. But she does not begrudge the work--any work. "Am I an actor, or am I an actor?" she asked in a recent phone interview. "I am an actor, and my first obligation is my work. Now, there is a difference between enjoying what you do and having to do what you do and being unhappy while you're doing it."
Luckily many filmmakers and audiences are starting to notice that the scope of Ontiveros' talent is far greater than what may be apparent in her earlier work. Not only is she a very good actor, she's versatile. Filmmaker Michael Arteta realized this and offered her the role of Beverly, the straight-talking theatre house manager, in his film Chuck & Buck. "He told me to read his screenplay. He said, 'I have a part in there for you.' He told me to read the part of Beverly. I said, 'Who?' And he said, 'Beverly!' I said, 'I don't have to read it, I'll take it.'"
Her turn as Beverly garnered Ontiveros the 2000 Best Supporting Actress award from the National Board of Review and a 2001 Independent Spirit Award nomination. What is so extraordinary about Ontiveros' performance is the way it sneaks up on you and continues to surprise throughout the course of the film. Particularly charming are the scenes between the childlike Buck (Mike White) and the jaded, dry, and slightly condescending Beverly. With ease Ontiveros delivers a few choice sarcastic words to the aspiring playwright Buck. You don't instantly see the heart of gold in this guarded, almost cold woman. But she, reluctantly perhaps, grows to care for Buck as she ends up directing his bizarre and deeply personal play. That Ontiveros' character provides most of the film's laughs is not coincidental: "I try to find moments that can disarm the audience by infusing a bit of comedy into a role," said Ontiveros. "It's one of my strengths as an actress."
She credits this "little film" with having brought her wider recognition (she recently shared the Sundance Film Festival jury prize for acting for her work in Real Women Have Curves) and attention in Hollywood after 25 years in the business. And that means a little financial security as well. "I have started to make demands monetarily," said Ontiveros. "If I don't," she joked ruefully, "my tombstone is going to say, Here lies scale plus 10."
Celia Weston: Courage of Conviction
By Jamie Painter Young
When Celia Weston's sister-in-law recently told her, "You know, Celia, you've never lacked for courage," Weston was taken aback. "I'd never made that appraisal of myself," said the respected actor. "It was very touching to hear, and I've really reflected on it a lot."
As Weston now realizes, her choice of profession was a particularly bold one. Born and raised in South Carolina, Weston came from what she described as a "pretty privileged background." She wryly noted, "It was frowned on to even have a summer job in a public situation where other people might notice that you were doing it." Weston's genteel mother, a homemaker, thought her daughter's interest in acting, beginning in college, was scandalous. "I kid my mother for thinking that acting was the first oldest profession instead of the second," Weston told me. "She just thought it was the most declasse idea to entertain."
Defying her mother's wish for her daughter to, as Weston put it, "marry well and complete my silver service," she auditioned and got her first acting gig in a summer stock company, landing lead roles in productions of Tennessee Williams' Summer and Smoke and Arthur Miller's The Crucible. Regional, Off-Broadway, and Broadway work followed. Her most recent Broadway credits include The Last Night of Ballyhoo, for which she received a Tony nomination, and Sam Shepard's True West, in which she co-starred with Philip Seymour Hoffman and John C. Reilly.
I had the immense pleasure of seeing Weston in True West a couple of years ago and was struck by how authentically she came across, playing a middle-class suburbanite who returns from a vacation to find her normally orderly home turned upside down by her two sons. That quality of utter realness is also what attracted noted film directors Ang Lee, David O. Russell, Tim Robbins, Scott Hicks, Anthony Minghella, and In the Bedroom's Todd Field. Though Weston prefers to not be labeled strictly as a character actor, she is undeniably one of the great supporting players.
Thanks largely to casting directors' openness to Weston (as well as Weston's ability to take on different accents besides her own Southern cadence), she has managed to avoid being typed as any particular character or in any one genre. As an American aristocrat in The Talented Mr. Ripley, a middle-class Southerner coping with grief over the murder of her daughter in Dead Man Walking, the racist wife of a farmer during the World War II internment of Japanese-Americans in Snow Falling on Cedars, and the mistaken mother of Ben Stiller in the hilarious Flirting With Disaster, Weston is consistently effective and memorable.
Not surprisingly Weston's strong roots in theatre inform her approach to her craft. Said the New York-based actor, "The great lesson in theatre is that you live the story every night, and that is a wonderful vehicle for getting to the richest places in a performance or investing a character with the richest life. It gets only more and more profound as you mature in a part, when you're able to do it night after night and have the immediate response of the audience--what works and what doesn't."
Film, as has been said many times by actors, is a much different process, one that requires Weston to rely strongly on herself and to come to the set with her performance in hand. "You have to have it all wrapped up with a bow on it, for the most part," she said. "If you've had a theatre background, you learn how to have it on tap for yourself."
The life of a character actor can be a lonely one on a film set. Weston often has only a few days' work at a time and doesn't have the opportunity to bond with the other actors and the crew. "You're the new kid on the block," as she put it. That's where Weston's courage comes into play. She focuses on the work at hand and has to maintain the confidence she needs to give a strong performance every time. For this reason Weston is the best kind of jobbing actor--one who embraces the challenge, no matter the size of the part, and always sets a high standard for herself.
"My goal has always been to make a living and to have the respect of my peers," she concluded. "It's never been about stardom. It's about a good and challenging part."
CCH Pounder: Fearless in Famine
By Jason Agard
I can't even remember a time when I didn't know who CCH Pounder was. Sure, I didn't always know her by name (which is Carol Christine Hilaria Pounder, for those who are wondering). But I, like just about anyone who frequents movie theatres or enjoys the occasional television drama, have long known her work.
Her film acting career began with a small role in All That Jazz. On-screen work came quickly and steadily after that, with dozens of appearances in 1980s movies Prizzi's Honor, Postcards From the Edge, RoboCop 3, and Sliver. After a spate of these flicks, Pounder found herself locked into a certain type of role.
"When I started, I played everybody's victim," said Pounder in a recent interview. "One day I just said, That's it. I don't want to do that anymore. I think I starved for about a year and got a script for exactly the same thing, but within the script there was a judge...."
And so began a new persona for Pounder--that of the strong, capable woman, starting with her memorable role as the innkeeper in 1988's Bagdad Cafe. And with it came an increased profile. In recent years she has gained a loyal fan base and made a career of playing such characters (often professionals of one kind or another), including roles on The West Wing and The Practice and her Emmy-winning work on ER and The X-Files. She can currently be seen on the FX police drama The Shield, playing a veteran police detective equally at home on the street and in the halls of power.
In the hands of a lesser performer, consistent character work can sometimes get stagnant, the temptation to "phone it in" too strong to resist. Not so for Pounder. "Judge, cop, laywer, doctor--those titles are really irrelevant to me," she said. "I just try to fill them with a kind of realistic life. And every now and again you get to be fully three-dimensional--a very tough person with a soft heart or a huge flaw. You keep trying to introduce humanity into those characters. That's from hanging around long enough that people trust your work."
One might also suspect that, for someone with as much experience as Pounder has, these performances are easily sculpted, but she is not shy in correcting that perception. "I still struggle very much in certain roles. The exploration continues to this day. That has not changed and hopefully never will."
And what does the future hold? "I've learned to be extremely open-minded. Simply because of my background, I've opened up doors that weren't there before. There's a lot of political, external things that I've conquered and gotten over. I'm very much accustomed to starving myself out until I get the role that I want."
Ajay Naidu: Taking Up the Slack
By Jason Agard
Watching Ajay Naidu in SubUrbia can be a jaw-dropping experience. As a Pakistani convenience store clerk dealing with the demands of his business, his wife, and his customers, Naidu is realer than real. His exasperation is palpable, and it is modulated perfectly to both tickle the funny bone and toy with our sympathies. The character is imbued with hints of a complex and conflicted inner life, and that alone is an achievement to be proud of--all the more so for doing this with the guy behind the local 7-Eleven counter. Naidu was nominated for an IFP Independent Spirit Award for the role. I looked for his name in the credits of that movie and have been happy to recognize that name in many subsequent films.
I didn't realize then that I had seen Naidu before. He was 11 when he went to an open call for the feature film Touch and Go and landed his first role, playing Maria Conchita Alonso's son. By the time he graduated from the Harvard-affiliated Institute for Advanced Theatre Training, he had guest-starred on New York Undercover, MacGyver, and in the Emmy-nominated after-school special No Greater Gift. I had missed out on his first series-regular role, in the critically acclaimed but short-lived comedy series Lateline as Raji, an ingratiating intern.
It wasn't until the release of another, very different workplace tale, Mike Judge's white-collar comedy Office Space, that I got to see Naidu on-screen again. It was then that his skill as a comedian exploded into the consciousness of my generation with his role as Samir Nayeenanajar, or Samir "Na-nah-gonna-work-here-anymore." His razor-sharp timing and impressive knack for physical comedy allowed him to steal many of the scenes, including, in my opinion, the sidesplitting sequence in which Samir and his buddies go berserk on a faulty fax machine. With its slow motion photography and gangsta rap soundtrack, it's a funny bit any way you slice it, but Naidu's wild, geek-funky vamping elevates it into the realm of slacker movie genius.
For me, the clincher came this year, when he popped up on a special pre-season one-off episode of the NBC drama The West Wing. In "Isaac and Ishmael" Aaron Sorkin gave his commentary on the Sept. 11 attacks and cast Naidu in the pivotal role of an Arab-American White House staffer whose name comes up during the interrogation of a terrorist. In a series of scenes showing his questioning by the White House chief of staff (John Spencer), Naidu stirringly portrayed a young man capable of separating his personal beliefs from his responsibilities as a professional and as a citizen.
Naidu can be funny, he can be heartbreaking, and he can be both at the same time. As the Chicago-born son of first-generation immigrants from India, he can play a variety of ethnicities, and he has experience in everything from Shakespearian tragedy to situation comedy. We can only hope that there will always be enough roles equal to his talent.
Mary Kay Place: Need To Nurture
By Pamela Bock
Mary Kay Place's strength comes from her ability to portray offbeat characters with empathy and earnestness--even when the women she's playing don't necessarily read that way on the page. Place has said, "When you're playing characters and they seem unsympathetic on the page, you can't play that. You have to care for these people when you embody them. If you're judging them, they're not fully human when you play them. Something is missing and it doesn't ring true."
Indeed this very talented actor has a way of making audiences relate to even the most seemingly inaccessible characters. Place captivates, whether with her hilarious portrayal of Floris, the completely confusing receptionist, in the wildly inventive Being John Malkovich, her memorable turn as a kidnapping victim in Manny & Lo, or her strong performance as the irritated head nurse in Girl, Interrupted.
Place essentially got her start in 1976 as aspiring Country & Western star Loretta Haggers in Norman Lear's short-lived nightly soap, Mary Hartman, Mary Hartman, which became a cult favorite. Despite the character's naivete, Place brought to the role a warmth and lovable charm that won viewers' affections. She also wrote more than 75 songs for her character and recorded several albums. Place continued to write for television and to make guest appearances on M*A*S*H*, The Mary Tyler Moore Show, and All in the Family.
Her true breakout role, however, was as the successful, childless career woman, Meg, in The Big Chill. During a time when the lonely, driven, female lawyer was beginning to become a cliche, Place gained respect for the depth and generosity in her portrayal. Meg's loneliness was palpable, and her famous "Why are there just no good men out there?" monologue became an instant classic.
It seems if there's anything in common among Place's varied, often quirky characters, it's their need to nurture--albeit sometimes maniacally. As Elaine in the 1994 film Manny & Lo, Place plays an utterly lonely, unhappy maternity-store clerk--a self-proclaimed know-it-all about everything related to babies and motherhood who dispenses unsolicited baby advice to anyone within earshot. Elaine is kidnapped by a pregnant teen and her sister, who want her to act as midwife, and throughout the film we see her resistance, fear, and eventual fierce protection, however misguided, of her captors. Place's portrayal of this isolated woman, whose desire to be needed is so intense that it drives people away, is arguably her most compelling performance.
In Citizen Ruth, Place is one half of an evangelical husband-and-wife team (Kurtwood Smith plays the husband). Place portrays an unstable, militant anti-abortion activist who kidnaps pregnant Ruth (Laura Dern) to save her baby. Though the character is over-the-top, to say the least, Place plays her straight and doesn't shy away from making her identifiable. And in John Grisham's weeper, The Rainmaker, she plays the defeated and destitute mother of a dying boy. Maybe it's Place's face, which seems at once genuine and completely non-judgmental, that allows her to play these maternal roles with such understated devotion. Even her stint as the household mom and closet S&M vixen in My So Called Life had such affection, humanity, and tolerance that we couldn't help but find her endearing.