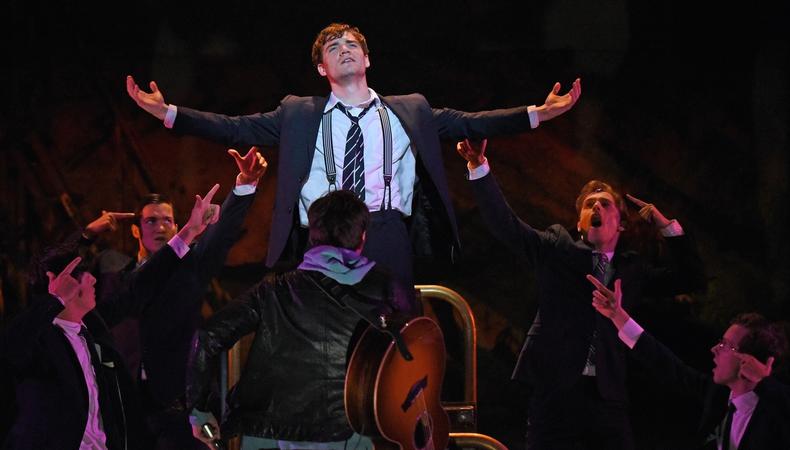 From musical revivals ("Fiddler on the Roof"! "The Color Purple"!) to new fare ("China Doll"! "King Charles III"!) here are the shows NYC theater fans can't miss come autumn.
"Spring Awakening" (Opens Sept. 27)
It may not seem that long since this searing musical won a slew of Tony Awards in 2007, but when you think about how far its original stars have come—Lea Michele in "Glee" and the upcoming "Scream Queens," John Gallagher Jr. in "Short Term 12" and "The Newsroom," and Jonathan Groff in "Looking" and now "Hamilton"—there's no time like the present to experience it anew. L.A.'s Deaf West Theatre transfers a cast of 27 to the Great White Way for a production in both American Sign Language and spoken English.
"Old Times" (Opens Oct. 6)
Roundabout Theatre Company kicks off its 50th anniversary season with a revival of one of Harold Pinter's lesser known dramas, which depicts a night among friends full of nostalgia and power plays. "Old Times" will feature Clive Owen in his Broadway debut, as well as Eve Best, Kelly Reilly, and original music by Tom Yorke.
"Fool For Love" (Opens Oct. 8)
This Sam Shepard revival has been brewing over at the Williamstown Theater Festival with dynamic duo Nina Arianda and Sam Rockwell, plus direction from Daniel Aukin. Holed up in a Mojave Desert motel, two former lovers attempt to sort through their tumultuous relationship, with agonizing results.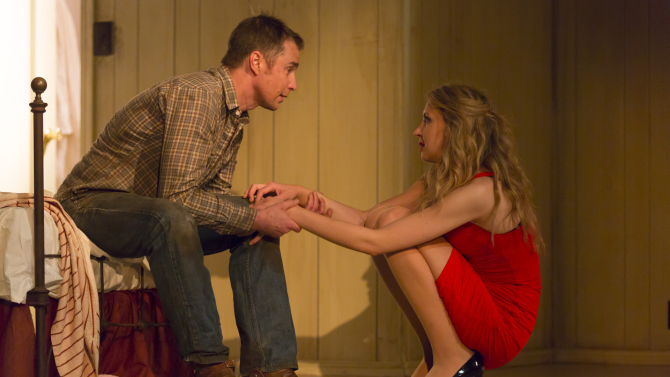 Photo by T. Charles Erickson
"The Gin Game" (Opens Oct. 14)
Who doesn't want to see two veteran actors whose combined talent could set the stage on fire? James Earl Jones and Cicely Tyson play D.L. Coburn's elderly couple who take each other on with an increasingly tense series of gin rummy games at their nursing home. Old and young theatergoers alike won't want to miss it.
"Dames at Sea" (Opens Oct. 22)
Hours before Ruby is set to make her Broadway debut, she and her cast mates learn their theater will be demolished! This charming musical fills the space "On the Town" leaves behind, a joyous throwback to the golden era of movie musicals, when vigorous tap dance reigned supreme—and sailors on shore leave fell in love at first sight.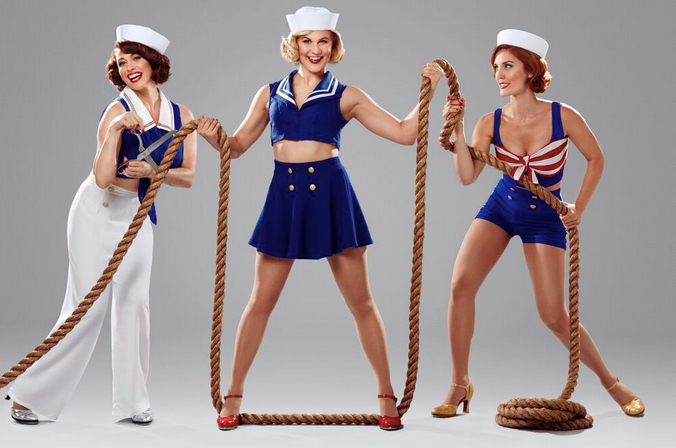 Photo by Nathan Johnson
"Sylvia" (Opens Oct. 27)
Julie White. Matthew Broderick. And most importantly, Annaleigh Ashford...as a dog. This production of A.R. Gurney's 1995 canine comedy has New York thespians and dog lovers alike wagging their tails in anticipation.
"Thérèse Raquin" (Opens Oct. 29)
If dark tales of infidelity and lust are your thing, head on down to Roundabout's Studio 54 for Helen Edmundson's thrilling adaptation of Émile Zola's classic novel. Starring Gabriel Ebert, Judith Light, and Keira Knightley in her New York theater debut, it's sure to titillate and terrorize fans of 19th century drama.
"King Charles III" (Opens Nov. 1)
This new play imported from London's West End won a ton of Olivier Awards and the approval of pretty much everyone who saw it. Penned by the extraordinary Mike Bartlett and directed by the great Rupert Goold, "King Charles III" has been dubbed a future history play; it imagines the world after Queen Elizabeth II has passed and her son has taken the throne. Ever wonder what Charles would be like as England's monarch? Bartlett has done it for you, and there's as much juicy royal drama and political shenanigans as you could want....
"On Your Feet!" (Opens Nov. 5)
At long last, Gloria and Emilio Estefan's rousing adaptation of their ascendancy to pop music dominance leaps onto the Broadway stage. Like "Kinky Boots" before it, Jerry Mitchell directed the musical in Chicago to great excitement—could the director go two for two and turn "On Your Feet!" into the next runaway hit? One thing's for sure: The rhythm is gonna get you.
"Allegiance" (Opens Nov. 8)
This new musical from Marc Acito, Lorenzo Thione, and Jay Kuo stars screen legend (and soon, stage legend!) George Takei in a story based on his own experience in a Japanese-American internment camp during World War II. Shedding light on a little-known part of history with compassion and stirring optimism, this highly anticipated production also features up-and-comer Telly Leung and the return to Broadway of the superb Lea Salonga.
"A View From the Bridge" (Opens Nov. 12)
This revival of Arthur Miller's classic—last seen on Broadway only in 2010—is a heavily reimagined production from visionary Ivo van Hove. Critics were reaching for the superlatives to describe the experience of seeing it in London earlier this year. If you think you know the tale of Brooklyn longshoreman Eddie Carbone, just wait until you see Mark Strong take on the role. The show co-stars Nicola Walker, Phoebe Fox, and Russell Tovey.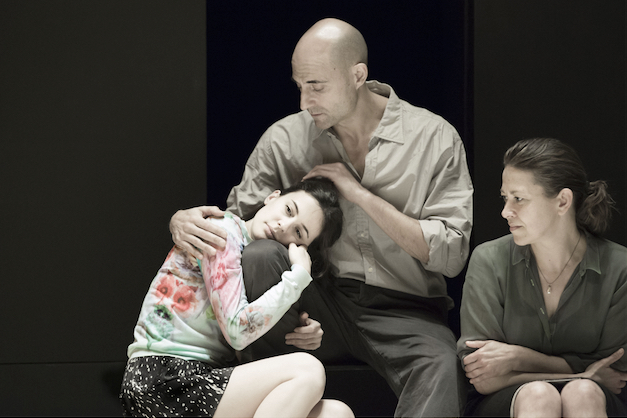 Photo by Jan Versweyveld
"Misery" (Opens Nov. 15)
If Kathy Bates' Oscar-winning performance as the obsessive Annie Wilkes is still seared into your memory, fear not...stage virtuoso Laurie Metcalf's rendition will likely burn just as bright, if not brighter. Co-starring Bruce Willis in his Broadway debut, this hair-raising adaptation of Stephen King's famous 1987 novel will make you feel anything but miserable.
"China Doll" (Opens Nov. 19)
Al Pacino back on Broadway. What more needs to be said? Maybe that this new David Mamet play also features Christopher Denham and direction from the always-impressive Pam MacKinnon. If any team of artists can turn a story featuring only two characters and a telephone into a gripping night at the theater, this team can.
"School of Rock" (Opens Dec. 6)
Rock got no reason, rock got no rhyme...you better get to this show on time. Andrew Lloyd Webber's newest endeavor turns the Jack Black-starring, kid-rock comedy into a guaranteed kickass musical. Starring an ensemble of young musician-actors led by two of Broadway's funniest stars, Alex Brightman and Sierra Boggess, "School of Rock" will rock your socks off.
"The Color Purple" (Opens Dec. 10)
If the theme to this fall's crop of Broadway openings is revivals of shows last seen too recently, consider this the exception. Yes, it opened on Broadway in 2005 and earned lead LaChanze a Tony Award. And yes, it's based on Alice Walker's Pulitzer-winning novel that, in turn, inspired an Oscar-nominated movie which put Whoopi Goldberg and Oprah Winfrey on the map, but "The Color Purple" has never fully gotten its due as a story of human resilience and hope in the face of cruelty. This London-transferred production strips the musical bare, putting the focus on its searing lyrics and soaring melodies, as well as the stellar performances of Cynthia Erivo, Danielle Brooks, and the fearless Jennifer Hudson.
"Fiddler on the Roof" (Opens Dec. 20)
One of the most widely beloved musicals of all time returns to the Great White Way for the first time in a decade, this time with the mighty Bartlett Sher at the helm. This production features the spectacularly talented Danny Burstein and Jessica Hecht in the lead roles, as well as updated choreography from Israeli-born artist Hofesh Shechter. You simply have to see this show. It is, after all, tradition.