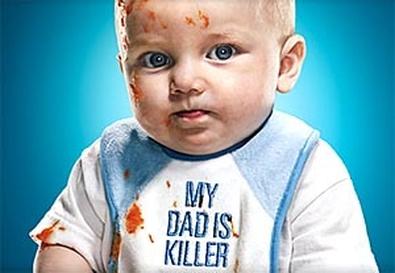 At Comic-con in San Diego, Showtime screened a season four trailer that looks fantastic, all the familiar elements plus the new twist of fatherhood and Jonathan Lithgow as the "Trinity Killer."
NEWS
: Showtime is creating 12 animated webisodes that will at as a "Dexter" prequel to the series. Titled "Earl Cuts," the webisodes will explore how Dexter honed his killing craft. Michael C. Hall will do the voice, will be put online this fall.
Lithgow: "We've done five episodes now... I still lurk and stalk .. I haven't worked with any of these people yet," noting the rest of the panel, "I can't wait to have scenes with them."
Lithgow on playing a villain after being best known by TV fans for the sitcom "3rd Rock From the Sun": "On 'Dexter' I play a serial killer and his first victim is High Commander Dick Solomon. I love '3rd Rock From the Sun' but it's time to put it back ... I can't tell you anything about this marvelous character, but he has many layers and colors."
Producer Clyde Phillips on the impact of CBS airing repeats of the show during the writers strike: "It had a tremendous impact ... it brought millions of more people to watch our show...and those people went back and subscribed [to Showtime] ... and it contributed to our first Emmy nomination....
Hall on whether Dexter's child will have serial killer tendencies: "The baby has yet to exhibit .. any signs of that, but the possibility is always there lurking..."
Phillips, on how the character of Dexter is similar to other superheroes at Comic-Con: "There is a super hero aspect to what Dexter is ... it's not a conscious decision, but its a natural evolution about what we're doing."
Julie Benz (Rita) on knowing/not knowing her husband is a serial killer: "When you read about serial killers and the wives of serial killers, the wives never know. I think the signs are there and you just don't see them. I don't think we're equipped to see that side when its somebody you love. For Rita, you could show her the show ["Dexter"] and she'd say, "no, it can't be true."
Season four will pick up after the birth of Dexter's son, skipping the birth itself. "Yeah you wouldn't want the show to get gross or anything," the moderator quips.
Hall, when asked what's the best thing about the part: "Getting away with simulated murder."
Lithgow, hinting that season four will have a dramatic finish: "I'm the only person on the set who knows what's going to happen in all 12 episodes. I could speak two sentences right now that would make this entire building explode." .
– Nielsen Business Media