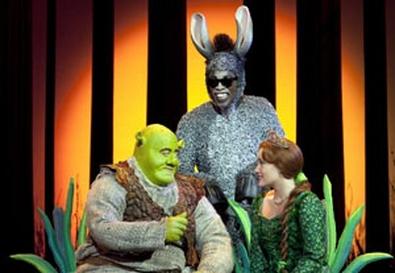 There's a touch of "Monty Python's Spamalot" and a hint of Sondheim's "Into the Woods" in this sumptuous family musical, based on the animated film "Shrek" and its progenitor, William Steig's beloved picture book. Indeed, the most appealing quality of this alternately endearing and irreverent entertainment is the deft way that it combines a fantasy to beguile youngsters with a satire driven by cheeky wit for more mature sensibilities. Add in a scarcely new but still heartwarming message about inner beauty, and the result is a crowd pleaser.
The mostly solid national touring edition of the Broadway show, directed by Jason Moore and Rob Ashford, looks great and benefits from smashing performances. David Lindsay-Abaire's clever book includes many inventive touches, and the score by Jeanine Tesori ("Thoroughly Modern Millie" "Caroline, or Change") is tuneful, witty, and beguiling. Josh Prince's smart and energetic dance numbers evoke great fun—particularly during moments of inspired camp, as when a chorus line of rats suddenly joins the heroine in a killer tap routine.
The biggest drawback on opening night was a near-three-hour running time, not helped by certain initially sidesplitting bits that ultimately gave way to overkill, such as a competitive bout of flatulence and the visual gag of the supposedly pint-sized villain Lord Farquaad (hilariously played by David F.M. Vaughn) prancing around on his knees, as tiny legs flap around from his costume.
Closely following the screenplay for the most part, the goofy story spins the adventures of the titular green-faced ogre (Eric Petersen, funny and quite touching), who finds his swamp domicile overrun by fairy tale characters exiled from their homes. In exchange for having evil Lord Farquaad relieve him of this problem, Shrek sets out to rescue Princess Fiona (gifted comedian-singer Haven Burton), who is held captive in a castle. Along for the ride is Shrek's newfound pal, a wisecracking donkey (the delightful Alan Mingo Jr.).
One of the most memorable characters is an enormous female dragon (hilariously voiced by Carrie Compere and masterfully manipulated by puppeteers). This puppet design by Tim Hatley (also responsible for the wondrous storybook sets and eye-popping costumes) is the most rib-tickling and awe-inspiring puppet character since Audrey II chewed up the scenery—and the other characters—in "Little Shop of Horrors."
These days, too many new musicals are either overblown, under-inspired extravaganzas or by-the-numbers rehashes of films that exhibited few reasons to sing. Despite its excesses, "Shrek" is a far-above-average screen-to-stage tuner. And in its finest moments, it's considerably more than that.
Presented by DreamWorks Theatricals, Neal Street Productions, and Broadway/LA at the Pantages Theatre, 6233 Hollywood Blvd., L.A. July 13–31. Tue.–Thu., 7:30 p.m.; Fri., 8 p.m.; Sat., 2 & 8 p.m.; Sun., 1 & 6:30 p.m. (800) 982-2787. www.broadwayla.org.