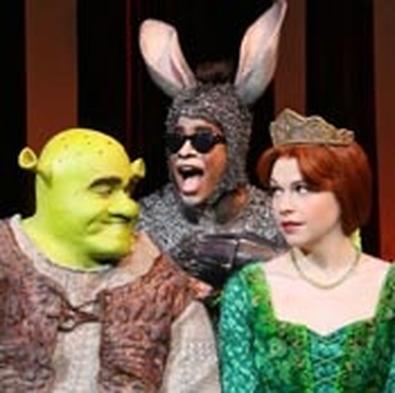 After a decade of somber snoozes, trinket factories, and Disney's family-friendly frauds, the megamusical has been rescued by the most unlikely of heroes: an ogre in shining armor. Like the popular film that inspired it, Shrek: The Musical is an honest-to-God, across-the-board crowd pleaser.
So why does Shrek work when so many other supersized tuners don't? Part of it is the look: The show actually looks worth the millions lavished upon it, with Tim Hatley's set and costume designs faithful to the film without being slavish imitations. Part of it is the humor: Shrek is legitimately funny. But the musical's biggest asset is a well-credentialed coterie of actors and creatives who actually seem to believe in what they've created. They may play with the expensive toys their budget affords them, but they never forget that Shrek is fundamentally about abandoned children and learning to "let your freak flag fly."
The plot hews closely to that of the first film: To free his swamp of displaced fairy-tale creatures, Shrek (Brian d'Arcy James) — a lumpish lug with a Scottish brogue and a wisecracking donkey sidekick (Daniel Breaker) — must rescue the secretive Princess Fiona (Sutton Foster) on behalf of diminutive baddie Lord Farquaad (Christopher Sieber). The setup supports a road show and a romance, as well as a beautifully affecting ugly duckling story.
Book writer-lyricist David Lindsay-Abaire's text is almost entirely new but true to the sweet-and-salty mix of morals and scatological humor that is the Shrek sensibility. He's also cleverly translated the film's references to Disney movies into ones about Broadway musicals. The songs, composed by Jeanine Tesori, aren't padding; they allow relationships a depth usually lacking in family movies (and family musicals). Consider the second act showstopper "I Think I Got You Beat." What begins as a woe-is-me contest becomes the moment Shrek and Fiona look at each other differently, realizing the similarity of their childhood scars. Also, they have a fart-off. Tesori, who has proven herself a stylistic chameleon in projects as wide-ranging as Thoroughly Modern Millie and Caroline, or Change, here does a sophisticated gloss on Alan Menken. The lovely melodies are simple, often wistful.
Director Jason Moore maintains an impressive intimacy, with all four leads delivering performances of surprising nuance. Sieber plays Farquaad as an overgrown yet undersized child with a deliciously queeny streak. (In a highly effective conceit, he spends most of the show on his knees.) Foster is sly as the princess; Breaker, brilliant in Passing Strange, wears his heart on his sleeve in a hysterical turn as Donkey. And Shrek's layers of padding and green face paint can't obscure d'Arcy James' gorgeous tenor and clarion emotionality. John Tartaglia is enjoyable as Pinocchio, but the size of the part doesn't quite warrant his star billing.
Ironically, it's the high-tech elements of the show that are least successful. The LED magical mirror appears unintentionally low-rent, and despite being rethought twice already, the dragon sequence has a rushed, blurry quality and a number of what-were-they-thinking black-lit skeletons.
But it's an unexpected pleasure to find a megamusical you don't walk out of humming the sets, chewing a predigested moral. Shrek isn't afraid to be sappy — it's just smart about when and how — which lets it land lyric lines like "We are diff'rent/And united./You are us and/We are you." Shrek: The Musical may feel big, but more than that, it feels.
Presented by Dreamworks Theatricals and Neal Street Productions
at the Broadway Theatre, 1681 Broadway, NYC.
Opened Dec. 14 for an open run. Tue., 7 p.m.; Wed.-Sat., 8 p.m.; Wed. and Sat., 2 p.m.; Sun., 3 p.m. (No performances Wed., Dec. 24 and 31; additional performances Mon., Dec. 22 and 29, 8 p.m.; Sun., Dec. 28, 8 p.m.; Tue., Dec. 30, 2 p.m.)
(212) 239-6200, (800) 432-7250, or www.telecharge.com.
Casting by Tara Rubin Casting.