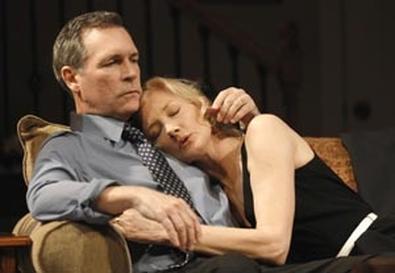 The plot synopsis in the press release for Michael Weller's "Side Effects" did not get me excited. How many times have we seen a two-character play about the breakup of a marriage with lots of screaming and throwing of objects? Weller himself has mined this genre already with "Fifty Words," which was presented by the same company, MCC Theater, in the same theater, the Lucille Lortel, three years ago. But then I recalled that "Fifty Words" was much more than a two-handed shouting match and provided complex, deeply etched characterizations of its central couple. So does "Side Effects."
Like its predecessor, the new play goes deeper than its surface plot. In this case, the combatants are the Metzes: Melinda, a special-education teacher and former novelist suffering from bipolar disorder, and Hugh, an even-tempered but hard-driving businessman with political ambitions.
Free-spirited Melinda feels oppressed by the restrictions placed upon her by Hugh's campaigning, first for city councilman and then for state assemblyman. She rebels by refusing to take her mood-altering medications and launching an affair with the offstage Adam, the husband from "Fifty Words." Hugh retaliates with some extramarital strategy of his own, resulting in a pitched marital battle. Like their counterparts in the earlier play, Melinda and Hugh love each other, but circumstances and their divergent personalities drive them apart.
The beauty of Weller's work is that neither party is the bad guy; each is capable of noble actions and inappropriate behavior. My only quibble is the playwright's penchant for delivering exposition through overheard cell-phone conversations. It really stretched my suspension of disbelief to see Melinda make a hurried clandestine call to Adam seconds after Hugh had left the room. Aside from this minor complaint, the play is a piercing study of a couple who are equally drawn to and repelled by each other, altogether different from "Fifty Words."
Director David Auburn, best known as the playwright of "Proof," another insightful character study, delivers a taut, smart staging that effectively displays Weller's crackling wit and never veers into melodrama. Joely Richardson, who bears a striking vocal and physical resemblance to her mother, Vanessa Redgrave, gives a stunning performance as the mercurial Melinda.
Like the volatile Jan of "Fifty Words" and the seductive Elise of Weller's 1988 play "Spoils of War," Melinda is one of the playwright's charismatic yet damaged heroines. She yearns for domestic security yet can't sit still once she's attained it. Richardson perfectly captures Melinda's conflicted nature, her razor-sharp intelligence, her comic timing, and her self-destructive psyche. It's a showy role, and the actor plays it to the hilt.
Cotter Smith, who has recently specialized in full-blooded portraits of befuddled fathers in such plays as "Next Fall" and "Kin," has the more difficult task of vivifying the steadier Hugh. Though he does not have Richardson's opportunity for pyrotechnics, Smith subtly displays Hugh's passion for normalcy and his frustration when Melinda pitches an endless series of curveballs.
Beowulf Boritt designed the stylish suburban living-room set, lit to evoke the appropriate mood by Jeff Croiter. Wade Laboissonniere's clever, understated costumes speak volumes about the characters, as does Weller's wonderful script.
Presented by MCC Theater at the Lucille Lortel Theatre, 121 Christopher St., NYC. June 20–July 3. Tue. and Wed., 7 p.m.; Thu.–Sat., 8 p.m.; Sat., 2 p.m.; Sun., 3 p.m. (No performance Sun., June 26; additional performance Mon., June 27, 7 p.m.) (212) 279-4200 or www.ticketcentral.com. Casting by Telsey + Company.