Welcome to another weekly edition of Side Hustle Spotlight where I interview actors and filmmakers at different levels of their career who have used their other passions to capitalize on a fulfilling side hustle. These folks no longer or have never had to do serving work that drained their energy and made them miserable. Be sure to check out the original article for inspiration on discovering your side hustle. This week's actor uses her performance abilities to tackle three different side hustles with plenty of time to focus on her acting goals.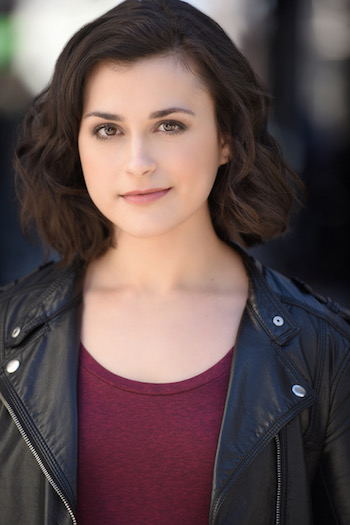 Name: Nathalie Frederick
Side hustle: New York City tour guide, trade show booth manager for a small pet food company, freelance voice announcer at a production company
Years acting: 6.5
Website or social media plugs:
Favorite acting credits/opportunities: "Pokémon Black and White," "For the Record," and various acting and directing work with my theater company, Core Artist Ensemble at TBG Theatre
What do you do when an audition or shoot comes up?
All of my side hustles employ other actors and we're very good about covering for each other and swapping shifts for last minute auditions. Overall, I dictate my own schedule and availability, so if I have advance notice, like for a shoot, I simply schedule out with my companies just like I'd book out with my reps. I do occasionally travel for trade shows but I'm able to prioritize when, where, and how often I go, and I bring a USB mic so I can still bang out voiceover auditions while on the road.
Have you ever felt like your side hustle was in jeopardy because of acting? How long did it take you to feel like you had security at this side hustle, even if you took time off for an acting project?
When I first started as a tour guide, I had some anxiety about not being "available enough" and about asking for last-minute schedule changes. However, our company has grown a lot (making it easier to find shift coverage) and I've been there for three-and-a-half years. I'd say it took close to two-and-a-half years before I felt really secure there. The pet food company is owned by my father (though he employs other actors as well), so I'm lucky to have always felt pretty secure in that, and while I'm fairly new at the production company, they have been really lovely and flexible thus far. I found that job through a fellow member of my theater company, and there are now four of us who work there—we do our best to help each other out.
What skills or talents did you need for this side hustle? How long did it take you to qualify or complete training for your side hustle?
To become a New York City tour guide, you must pass the New York City Sightseeing Guide Exam administered through the Department of Consumer Affairs. If you have decent memorization skills and some advice from people who have taken it before, I don't think it's terribly hard. Individual tour companies will also have their own training processes which are generally a combination of more memorization and being able to improvise on the fly/learn as you go. I'd say between studying, testing, and learning tours, it took me a couple of months to really get going as a guide. For both tour guiding and managing the trade show booth, some of the most important skills are being personable, knowledgeable, articulate, and a good listener—all of which I find very transferrable from acting. The production house requires voiceover skills, something I've been honing for a long time, and some basic admin skills, so that was also a natural fit.
How does this side hustle fulfill you? Do you feel like you're helping people/society/humanity in a tangible way?
I used to give a handful of different tours but now I primarily give tours of the 9/11 memorial and the surrounding area. While this is certainly heavy, I also find it incredibly meaningful. Not only am I giving a tour that presents historical and architectural facts but I do a lot of storytelling and am guiding and supporting people through an emotional experience. In the pet food realm, I get to help small businesses—our food is partnered with a co-op that helps independent pet stores compete with retail and internet giants—and provide customers with access to a nutritious pet food at a good value, so that feels pretty good as well!
Has your side hustle made you better at acting or achieving your acting goals?
I definitely think my side hustles have helped make me a better actor. The 9/11 tours require a lot of listening, empathy, and improvisation skills. You also have to find ways to keep a repetitive script fresh, much like if you were in a show with a long run. Working with the pet food company has taught me more about business and sales which are incredibly important skills to have when navigating the industry, and at the production house, I often get to practice cold reads of voiceover copy.
Why did you choose to do this side hustle instead of more stereotypical acting side hustles like serving?
I tried serving briefly one summer during college and found the hours incredibly difficult. I give major props to anyone who serves at night and gets up for auditions the next morning! One of the great things about tour guiding is that the shifts are two-hours each, either in the morning or afternoon. My shifts at the production company are similar, usually 2-3 hours in the late afternoon or early evening, and also flexible, so I'm able to have days where I work just a few hours and still have plenty of time for auditions, classes, etc. And yes, tour guides do make tips! On the other hand, the trade shows provide me with a chance to make a larger chunk of money in a concentrated amount of time and I sometimes get to tack on a vacation with travel already covered which is a nice bonus.
If you produce your own work, do you feel like this current side hustle allows you the freedom/resources to do that?
I'm currently working on the script for a webseries which I will also act in and I plan to delve further into directing both with my theater company and elsewhere by early fall. My side hustles have provided me with both enough financial stability and freedom in my schedule to make these things happen.
Do you have any advice for actors that aren't sure what path to take while they are waiting for acting to pay all the bills?
Don't be afraid to piece together different jobs and try a variety of things to find what works. While it can be scary to only work jobs that don't guarantee a consistent schedule, it's a trade-off for the freedom this provides. You want to give your all when you are at your side hustle, but you don't want to give it all of your energy and time! Also, know that there's no shame in having a side hustle—even your friends who mysteriously don't seem to have other jobs almost certainly do. Being open to talking about it and utilizing all of your networks can help you find the jobs that are right for you!
Linnea Sage is an award-winning actor, voiceover artist, writer, and producer in NYC and LA. She is the creator of the animated series, "Brainless Agenda" (@BrainlessAgenda on Instagram). She starred in the comedy series "WILDCATS" on the Fullscreen Network. She also voices superheroes in the Marvel video game, "Avengers Academy." Follow her @LinneaSage on Twitter. If you have a fulfilling side hustle and want to be featured in Linnea's column, Side Hustle Spotlight, please introduce yourself at SageScribble@gmail.com.
Get all of your acting questions answered by peers and experts on the Backstage Community forums!
The views expressed in this article are solely that of the individual(s) providing them,
and do not necessarily reflect the opinions of Backstage or its staff.