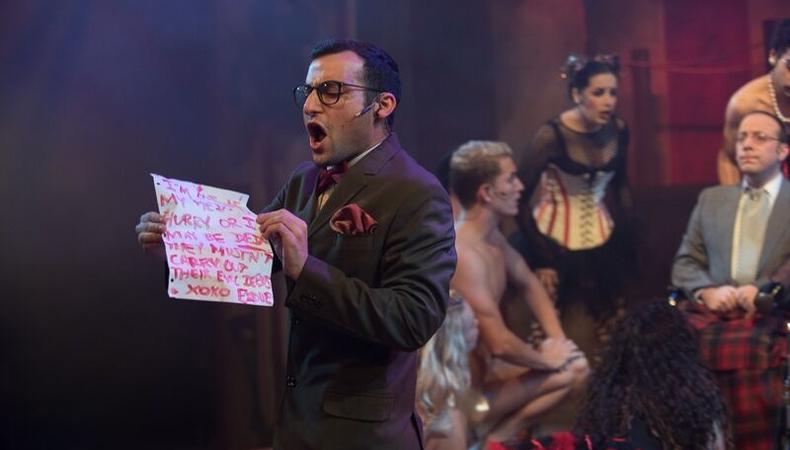 Welcome to another week of Side Hustle Spotlight where I interview actors and filmmakers at different levels of their career who have used their other passions to capitalize on a fulfilling side hustle. These folks no longer or have never had to do serving work that drained their energy and made them miserable. Be sure to check out the original article for inspiration on discovering your side hustle. This week's actor has worked to produce a successful Off-Off Broadway show that features new and notable playwrights and gives him the flexibility to pursue his own acting and writing goals.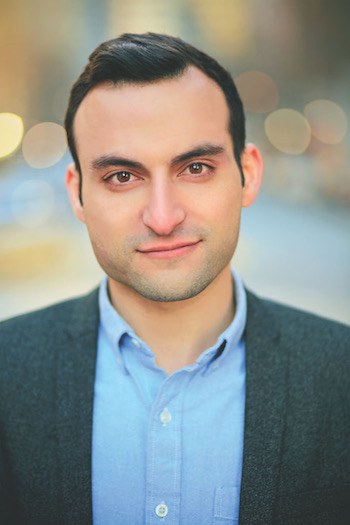 Name: Brett Epstein
Side hustle: Producer and host of Rule of 7x7
Years acting: Six years professionally, but I majored in theater and writing at Providence College and went to a performing arts high school in New Haven.
Favorite acting credits/opportunities:
I was also lucky to be playing a hilarious, juicy role in Michael Walek's hilarious new play "I saw it on the internet" as a part of Asking for Trouble at Ensemble Studio Theatre.
In addition, my favorite opportunities are usually the ones I afford myself; playing a morally questionable director of operations at a SeaWorld-type park in "SeaLand Cares!" has been a blast on many levels. I learned very, very, very early on that my type is super-specific. So writing, producing, and acting in my own work became second nature a long time ago. I've always felt I've had to make my own path to success because nothing was handed to me. I can't count the times I was told, "you're hilarious but I don't know what to do with you." Well, I do! So move out of my way.
What do you do when an audition or shoot comes up?
Rule of 7x7 is every other month, so auditions and shoots don't conflict. The whole Rule of 7x7 process takes a month: I spend one week reaching out and locking in seven playwrights. Each one devises a rule, which can be anything from "a compliment on page one" to "Rihanna" to "The last line of the play is a Beatles song title." Then for two weeks, each playwright goes off and devises a new 10-minute play that adheres to all seven rules. Each play is cast and a director is attached. Rehearsal the week of the show is provided by The Tank. Tech is the day of the show. And for one night (sometimes two), all seven plays are produced and presented to sold-out audiences. (The show has been running for three years, so it's caught on!).
I love producing this show because each round is completely different from the last. And each play is completely different from the others. These arbitrary rules are the glue that holds the evening together, but the inventiveness and boldness of each writer are able to shine through.
Have you ever felt like your side hustle was in jeopardy because of acting? How long did it take you to feel like you had security at this side hustle, even if you took time off for an acting project?
No. I felt secure right away since the show comes and goes every other month. It's a lot of e-mailing for a month straight and then a ton of in-person work the day of the show. But I prepare in advance, and that's my "it's 7x7, plz don't bother Brett" day.
What skills or talents did you need for this side hustle? How long did it take you to qualify or complete training for your side hustle?
You need stellar organizational skills, strong networking skills (particularly with outstanding NYC playwrights), excellent people skills (all in all, there are approximately 30-40 artists per round, including writers, directors, actors, and tech team), solid hosting/improv skills, and a killer sense of humor.
How does this side hustle fulfill you? Do you feel like you're helping people/society/humanity in a tangible way?
It deeply fulfills me as an artist. I get to hang out with 30-40 NYC artists each time I produce the show. The energy is contagious at 7x7; it really is a theater party. And when I write a piece or act in one, it's a whole other level of fulfillment.
If providing a space for an audience to let loose and laugh for an hour and 45 minutes (whilst enjoying a free beer) is helping society in some way, then yes, I do feel like I'm helping society in some way. Tangible? Yes, because they get to keep the program.
Has your side hustle made you better at acting or achieving your acting goals?
One thousand percent yes. Because I select the seven writers, about 50 percent of the time I am one of those writers. That means I can write myself any role, no matter how challenging or off-the-beaten-path, and dive in. For instance, before 7x7, I had never done a one-man show. So in a recent 7x7 round, I did it! (I played a harried principal of, you guessed it, a performing arts high school).
Why did you choose to do this side hustle instead of more stereotypical acting side hustles like serving?
I did Starbucks. I did corporate catering. I [was a temp]. I felt stuck at all three. I need to go, go, go—that's the way my brain works. And my brain is firing on all cylinders when producing 7x7. From making playwright offers to selecting the running order to putting the house is open playlist together, there are 50,000 things to do and I love it all.
Do you have any advice for actors that aren't sure what path to take while they are waiting for acting to pay all the bills?
I would say never feel like you have to do something, especially the stereotypical actor side job (restaurant, etc.). Once I freed my mind of the (wrong!) logic that "there's no job in NYC besides ___" or "I have to do ___ because it's what I have right now, so why leave it?" I had the time to focus on what I really wanted to do and make it a reality.
Linnea Sage is an award-winning actor, voiceover artist, writer, and producer in NYC and LA. She is the creator of the animated series, "Brainless Agenda" (@BrainlessAgenda on Instagram). She starred in the comedy series "WILDCATS" on the Fullscreen Network. She also voices superheroes in the Marvel video game, "Avengers Academy." Follow her @LinneaSage on Twitter. If you have a fulfilling side hustle and want to be featured in Linnea's column, Side Hustle Spotlight, please introduce yourself at [email protected].
Get all of your acting questions answered by peers and experts on the Backstage Community forums!
The views expressed in this article are solely that of the individual(s) providing them,
and do not necessarily reflect the opinions of Backstage or its staff.