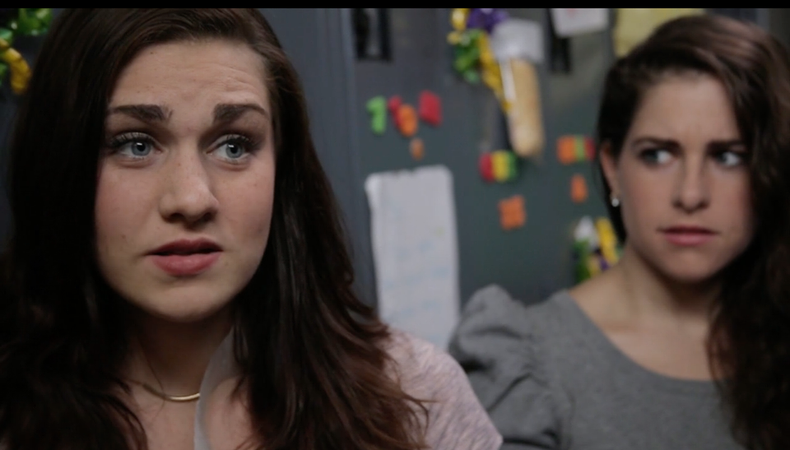 Welcome to another weekly edition of Side Hustle Spotlight where I interview actors and filmmakers at different levels of their career, who have used their other passions to capitalize on a fulfilling side hustle. These folks no longer or have never had to do serving work that drained their energy and made them miserable. Be sure to check out the original article for inspiration on discovering your side hustle. This week's actor is zen times ten! She is a yoga instructor who gives back by teaching veterans and men in uniform whose journey even inspired her to produce a film about her experiences.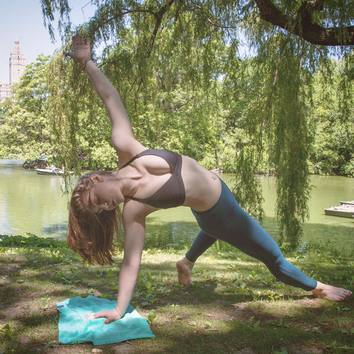 Name: Kelsey Lynn Stokes
Side hustle: Teaching yoga and working at lululemon
Years acting: 8
Favorite acting credits/opportunities: "April Grace" and "Doomsday"
What do you do when an audition or shoot comes up?
It depends on how long the shoot dates are. If it's a few days, I'll find coverage from my co-workers. There's an epic facebook group for all employees of the 15 lululemon stores in NYC, so they make it really [easy] to swap shifts. If it's a longer commitment, that's a conversation to be had with management. Overall, they are very supportive of people chasing their goals.
Have you ever felt like your side hustle was in jeopardy because of acting? How long did it take you to feel like you had security at this side hustle, even if you took time off for an acting project?
I've never really felt like it was in jeopardy. In regards to security, not too long! When I was hired, I had a few week-long commitments already in place and because of that, I did not have to take vacation time. As I've been there a bit longer it actually seems harder to take long breaks because I've acquired more responsibilities.
What skills or talents did you need for this side hustle? How long did it take you to qualify or complete training for your side hustle?
This is a two-part question in my case! I trained with Yoga to the People for my 200 HR certification and continued with 30 hours of trauma-sensitive yoga training with the Veterans Yoga Project. I met the incredible performer/veteran/teacher multi-hyphenate, Ceasar F. Barajas, while training with VYP, and he was the person who recommended that I apply to lululemon. The store manager at the time was very connected to Veterans Affairs and since I had recently been submerged in that world specifically related to yoga, I was an ideal candidate.
I've continued organizing events and experiences supporting trauma-sensitive yoga for PTSD through lululemon, which has fueled my passion to write and produce a film about the same subject matter. At the moment, I'm simultaneously producing yoga events for veterans, first responders, and trauma survivors on the deck of the USS Intrepid while also immersed in pre-production for my feature. All of my passions and side hustles have fused in a really beautiful way.
How does this side hustle fulfill you? Do you feel like you're helping people/society/humanity in a tangible way?
I do! On a micro level, I teach yoga and sell yoga pants, but it's more than that. I've had countless conversations with people in our store about the races they're terrified they've signed up for or their goals to lose weight. It's incredible to repeatedly see how disproving they are of their bodies when more often than not, they are two sizes smaller than they think they are. I do my best to encourage and support people, to cheer them on when they're choosing their first-5K-outfit or first-marathon-outfit.
On a grander scale, I truly do believe that providing access to trauma-sensitive yoga and raising awareness will help society in a tangible way. I've hosted yoga classes specifically for firefighters and veterans. I've hosted a discussion panel titled "Compassion in Chaos," which was comprised of trauma-sensitive yoga teachers from a variety of fields including but not limited to yoga for prisoners, at-risk youth, domestic abuse survivors, firefighters, and veterans. I feel an incredible sense of gratitude that my day job lets me reach out and affect our community in this way.
Has your side hustle made you better at acting or achieving your acting goals?
One hundred and eighty percent, yes. When I became a yoga teacher, I felt I had come to a point in my life where I was so hyper-focused on having perfect headshots, an updated website, a tuned reel and was submitting every moment of the day. I felt I had lost track of what real life was. It felt selfish. It felt unfulfilling.
After yoga teacher training, I had a renewed sense of compassion and understanding for other people. I was reminded that I truly had no idea what other people were coping with on a daily basis and that treating others with kindness, compassion, and understanding let me continue with my life in a lighter, more stress-free way. It was through yoga I realized I could help (or at least provide some comfort) to others through my skills in a very tangible way. I had found a sense of joy that had long been lost. When I started to really get a perspective on how healing this 'simple' act of breathing and moving mindfully could be, my creative soul was catalyzed.
It was then I knew I had to bring this kind of story to people in a real, accessible, honest way. My goal is to de-stigmatize yoga so it's not a stereotype and so that it's not only for those who can shell out $40 for a class. That it is for everyone—every person with a body—regardless of limitations. If you can take a breath, you can do yoga.
Why did you choose to do this side hustle instead of more stereotypical acting side hustles like serving?
I have only heard horror stories of people serving in New York City and I'm just really not an evening person. I like to be in bed early unless I'm shooting a project or in crunch mode producing one. I'm pretty clumsy (yes, even as a yoga teacher) and I have never mastered carrying more than one plate at once. Even during events when I help out, I know that I'm a disaster waiting to happen. I catered for a little while, but the ego involved was mind-blowing to me. I'm not going to choose to get yelled at for a three-hour gig in which people look down at you and then your supervisors yell because one glass was put away in the wrong tray. It just never felt worth it. I knew I couldn't support a sustainable, happy life catering and relying on people to throw parties so I could pay my health insurance.
If you produce your own work, do you feel like this current side hustle allows you the freedom/resources to do that?
YES! It's the main reason why working for me and why I love it. Also, health insurance: I'm diabetic. What I truly love about teaching yoga and working at lululemon is the support from all of the people around me. Both environments are filled with people working toward incredible things and people cheer you on instead of putting you down. They make connections, call friends for help, and keep you accountable to make sure you're headed in the right direction. Lululemon encourages employees to post their vision and goals for everyone to see and it has been such a positive addition to the workplace. I can confidently say that I will be able to produce and appropriately prepare to shoot my feature film up until the point of principal photography without taking time off. There's no other job I can say that about.
Do you have any advice for actors that aren't sure what path to take while they are waiting for acting to pay all the bills?
If it's making you miserable, know that you deserve better. If you continually walk into auditions burnt out, grumpy, and with a storm cloud around you, people can sense that. This life you have chosen is a marathon, not a sprint. As someone who has run a marathon with tuberculosis, you will not succeed at anything if you are constantly in pain (feeling unhappy, belittled or mistreated.) You have the power to choose. You are in control of your life. There are tons of factors that are not in your control (casting, type, seasons, projects etc.), so seize the ones you can change.
I truly believe that the term 'starving actor' is a choice. If that's where you're at, look around and see what you can adjust. Stop relying on eating out, drinks with your friends until 2 a.m., and the venti triple macchiato coconut latte before your audition. I will say it again; you have the power to choose.
Linnea Sage is an award-winning actor, voiceover artist, writer, and producer in NYC and LA. She is the creator of the animated series, "Brainless Agenda" (@BrainlessAgenda on Instagram). She starred in the comedy series "WILDCATS" on the Fullscreen Network. She also voices superheroes in the Marvel video game, "Avengers Academy." Follow her @LinneaSage on Twitter. If you have a fulfilling side hustle and want to be featured in Linnea's column, Side Hustle Spotlight, please introduce yourself at SageScribble@gmail.com.
Get all of your acting questions answered by peers and experts on the Backstage Community forums!
The views expressed in this article are solely that of the individual(s) providing them,
and do not necessarily reflect the opinions of Backstage or its staff.