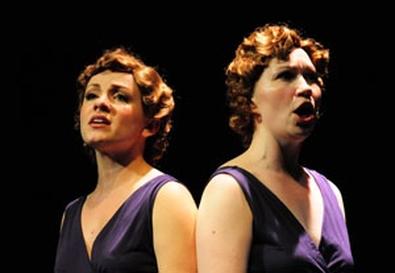 The story of conjoined twins Daisy and Violet Hilton has always fascinated me. What's more, Bill Russell and Henry Krieger's Tony-nominated score of the biographical "Side Show" has two of the most beautiful female duets written for the theater. (This is before the overplayed "For Good" from "Wicked.") However, Jeremy Rafal's chaotic musical direction tampers with what's great about the score, and Brad Caswell's direction feels as constrained as the twins themselves. Some of the cast are enormously talented while others struggle to stay on key, but the sloppy helming quashes everyone's strengths.
Literally connected at the hip, the Hilton sisters went from sideshow freaks to vaudeville stars, making $3,000 a week during the Great Depression. In modern America, a simple procedure probably could have separated them, but in the 1930s their condition was unalterable. As they move from circus novelty to mainstream fame, the twins' disjointed desires threaten to tear them apart, if only they could be separated. In a director's note, Caswell writes that he wants to deliver a bare-bones production so "the characters you meet come to life in a new way." The lack of a complete set did not bother me in the least—I rather liked the raw effect—but many of the freak-show characters, aside from the bearded lady (played by the male Terrance Olear) and the fortune teller (Tal Yardeni), have no freakish qualities.
While it doesn't boast one of the best books of a musical, the show does have some beautiful showstopping numbers. However, Rafal's misguided musical direction leaves every song wanting. Whether the orchestra is drowning out the performers, the performers are drowning out each other, or the timing is simply off, none of the numbers realizes its full potential.
As the twins' circus friend Jake, Vincent McDowell Jr. gives a moving and robust performance of "You Should Be Loved" that sent shivers down my spine, until his crescendo ending somehow tapered off. The music drowns out Jake's earlier number "The Devil You Know." While the iconic—and yes, ironic—duet "I Will Never Leave You" has more than enough power to conclude the show, the ending is cut short musically, making the finale anticlimactic. The same happens with the earlier, equally moving Act 1 closer, "Who Will Love Me As I Am."
Also, though both Erin Krom and Nikki Van Cassele, as Daisy and Violet, respectively, have voices that are beautiful and complementary, Van Cassele's belt often suffocates Krom's singing, which is odd considering that Daisy is supposed to be the more enthusiastic twin. More than once the actors looked like they were anticipating their musical cues, and Joshua Dixon, who plays Terry, the twins' manager, even restarted a verse to get back in time with the music. And finally, though Michael S. Dunavan'ts part is tiny, his voice is like butter on bread. Why he doesn't have more solos is a mystery.
Krom's subtle and affecting portrayal of Daisy is lovely. She is completely in step with Van Cassele's Violet, and as Violet kisses Buddy, her betrothed, Krom blinks her eyes ever so slightly, as if she feels the kiss too. Van Cassele is appropriately vulnerable as the demure Violet, and she sings louder, but Krom's performance shines the most. It's hard to take your eyes off her.
Presented by Sweet & Tart Productions, in association with Art of Warr Productions, at the Secret Theatre, 4402 23rd St., Long Island City, Queens, N.Y. Aug. 25–Sept. 10. Thu.–Sat., 8 p.m. (No performance Thu., Sept. 1.) (212) 352-3101, (866) 811-4111, www.theatermania.com, or www.secrettheatre.com.