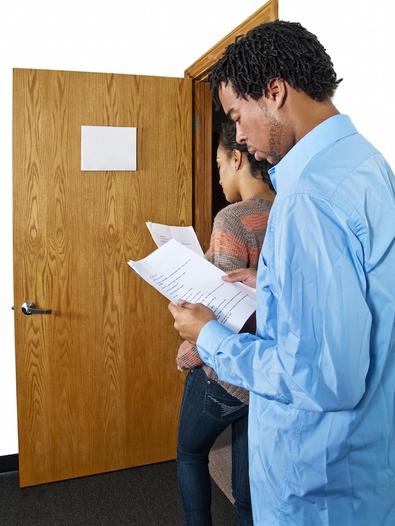 When you walk into an audition room, I know what we must look like: A row of exhausted, distracted faces, sitting on the other side of the table, ready to pass judgment. And this is why I hate auditions. I'm a playwright, and I know how hard every actor's worked to make it into the room.
But the truth of the matter is auditions are a necessary evil; they work! I always find great actors during the process. So here are some thoughts for actors from the other side of the table.
Always remember: I want to love you. There's nothing that excites me more than auditioning an actor who makes my words sound better than they have any right to be. So don't think of me as the enemy. Think of me as a potential collaborator, and we're just feeling each other out.
Be prepared. Read the play. And work on the sides. It seems obvious, but I'm always surprised at the number of actors who just seem intent on winging it. Make a choice. If appropriate, a bold choice. Nothing will glaze over the eyes of a creative team quicker than an actor who has no take on the material.
Commit to the material. I'll stop listening to a tentative audition almost immediately.
Learn to control your nerves, especially during callbacks. I can't stress this enough. It seems inevitable that I'll fall in love with an actor's spirited and loose first audition, only to be disappointed when they return stiff and tentative for the callback. I always know what's happened: They're so close to landing the role that they can taste it, so they want it too much and nerves get the better of them. It's callback death and it's heartbreaking.
On the other hand, it's thrilling watching someone who was pretty good during the first round and then returns with a stronger, deeper take on the role during the second round. They've clearly kept working on the material, and they almost always get the gig.
Don't be overly chatty when you walk in. You don't have to shake the hand of every person in the room. Be polite, of course, but come in with the objective of showing us how talented you are, not how friendly you are.
Don't apologize for, well, pretty much anything. "I'm sorry, I didn't really have time to look at the sides properly." "Sorry, I'm just getting over a cold." "I'm sorry, that was terrible," etc. I'm going to appreciate your talent much more if you walk in and own it.
Don't express amazement about how many people are in the room. Actors do this at every audition session. Why? Expect anywhere from five to a dozen people (especially if it's for a commercial production). If you're nervous because there are 10 people staring at you, how are you going to feel when there's a thousand?
Just because we didn't cast you, it doesn't mean we don't think you're talented. It's not entirely about your talent. I'm looking for actors who understand my rhythms. Sometimes, you and I just aren't a match. More importantly, we're figuring out how you fit into the entire world of the play. You may not match up well with the other people we've cast.
Keep getting better. Take classes. Do readings and workshops. I consider myself a lifelong student of theater and narrative. I'm always learning. You should be, too.
Generally, within the first minute or two, I know if we're going to call you back. And if I look down at your résumé, it doesn't mean I'm disinterested—it means I'm suddenly curious as to what you've done. Regardless, keep going. Make me pay attention to the middle of your audition as much as I do to the beginning.
Auditioning is a numbers game. And the person who will get you the most auditions is the casting director. So even if you feel you're not exactly right for the part or you're not really connecting to the creative team, keep focused. Casting directors often bring in actors who've impressed them while they were unsuccessfully auditioning for other shows.
And now, here it is—the best advice I can give.
At least one time in your career, sit on the other side of the audition table.
Be a reader or just an observer. Experience what it's like to see multiple talented actors vie for the same part. Who rises to the top and why? What mistakes do actors make? How does the creative team decide between highly skilled performers? Trust me, it'll be the most eye-opening lesson in auditioning you'll ever have.
Like this advice? Check out more from our Backstage Experts!
Joe DiPietro is the Tony Award–winning bookwriter of "Memphis," whose credits also include "Nice Work If You Can Get It" and "I Love You, You're Perfect, Now Change."
The views expressed in this article are solely that of the individual(s) providing them,
and do not necessarily reflect the opinions of Backstage or its staff.