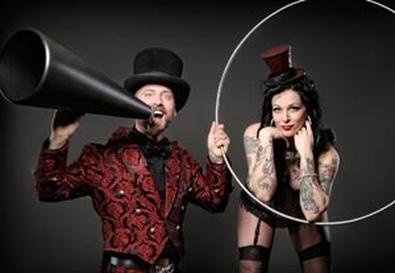 Despite the cheek studs, nose ring, and tribal tattoos, Insectavora could be any performer matter-of-factly talking about her need for a cup of coffee and a cigarette between shows. Calling herself a "self-made freak," she is taking a break during her almost 10-hour grind at Sideshows by the Seashore at New York's Coney Island. Each show lasts approximately 45 minutes, followed by 15 minutes off. It is an oppressively gray, muggy day. Still, the scene just outside the small theater is evocative, with the Wonder Wheel slowly revolving, the boardwalk and crowded beach beyond, and tinny music everywhere.
Onstage, Insectavora plays emcee (or "inside talker"), coyly introducing the sideshow's traditional 10 acts, a combination of "working acts"—sword swallowers, fire eaters—and freaks, born and self-made. Several performers, clad in black and strutting about in platform shoes, look as if they've stepped out of a 1980s goth nightspot. Others who are less obviously grunge in their appearance still emerge from a dark place, including Mat Fraser—or Seal Boy—whose mother took thalidomide during her pregnancy, and Baron Von Geiger, who has had his tongue split. "Body modification," he calls it. Onstage, he shoots staples into himself and hangs fish hooks from his eyes bearing chains and heavy weights. Rotating his head, he swings the weights around in circles.
Much skill is on display, some of it arguably inspiring. Still, the tawdry, seedy, and kinky are evident too, with just a hint of masochistic self-display on the part of the performers, while tourists, locals, and hipsters in the audience engage in rubbernecking or chin-stroking.
The Sideshow is pure Americana, a performing arts offshoot that has not yet been gussied up. Only a handful of these venues remain, though Sideshows by the Seashore is probably unique and undoubtedly Dick D. Zigun's baby. Dubbed the "Mayor of Coney Island," he also produces the neighborhood's annual Mermaid Parade, a surreal sea-themed burlesque. He has an MFA in playwriting from the Yale School of Drama, and in 1980 his goal was to open a center for performance art, slam poetry, and world music. By the mid-'80s, unable to find an audience, he realized, "I was overly intellectual and not paying attention to the neighborhood tradition," he says. So he reluctantly booked a female snake handler, and for the next three days the lines went around the block. The following season, 50 percent of the show featured veteran sideshow performers along with a new generation of "modern primitives," he says. "It was the beginning of what we do now. My intent was to do something unprecedented."
Step Right Up
At one time, sideshows were staples of every circus, explains Ward Hall, who is known as "King of the Sideshows." A promoter of the art form for more than 60 years, his 10-in-one show and museum of oddities still tours the country. "In the late '40s, early '50s, there were 104 10-in-one sideshows touring North America," he says. "Every city, town, and village in the U.S. was visited at least once a year by a sideshow." An "outside talker" (aka the barker) performed the "bally," a sales pitch promising the weirdest, wildest, and most unexpected acts. His exhortations were usually delivered in a booming voice with just a hint of slyness.
Sideshows began disappearing in the mid-'70s for many reasons, with changing economics heading the list, Hall continues. Amusement park thrill rides had become the rage and were a whole lot cheaper to run than a sideshow. Advances in medicine decreased birth defects and thus diminished the number of human oddities, such as Daisy and Violet Hilton, the conjoined twins born in 1908 who inspired Broadway's 1997 musical "Sideshow."
Political correctness may have played a role, though the experts are not convinced it was that significant. They explain that the freaks were "royalty" in the carnival world and made large sums of money they could not have earned anywhere else. On the flip side, what was once anomalous—massive obesity, for example—was becoming more commonplace, while the "freakish" enjoyed a growing popularity in the counterculture.
In the '80s and '90s, the sideshow reinvented itself, setting up shop in various nightspots and rock 'n' roll spectacles, featuring hard-core acts with harsh biker sensibilities. These acts, which continue to exist, may involve body piercing and blood. As Jim Rose, who is considered the daddy of the genre, recalls, " 'Step right up' wasn't going to cut it anymore. I wanted to do a new, warped version of the old genre." He is credited with bringing a punk aesthetic to the sideshow.
Mexican transvestite wrestling and chain-saw football games were among the dark and edgy grunge acts he promoted. A former heroin junkie who is perhaps best known for his role as Dr. Blockhead on "The X-Files," Rose asserts, "If you're not on the edge, you're taking up too much room."
All the promoters and performers we spoke with agree that to maintain the audience, the ante must be upped. There's just too much competition, say fire eaters and sword swallowers Tyler Fyre and Thrill Kill Jill, a husband-and-wife team. They emphasize the need for polished showmanship, pointing to their "scripted" performances. "There's no story, but we follow a three-act structure," says Fyre. "The audiences wonder, What are those two going to do? You follow character arcs."
Today, sideshow acts and the sideshow sensibility surface in many venues—from Ripley's Believe It or Not Museums to circuses such as the Bindlestiff Family Cirkus or Cirque Berzerk in Los Angeles. "We take a postmodern approach," says Berzerk co-founder Suzanne Bernel. "We combine different elements and do what's never been seen before. Traditionally, the magician comes in and pulls the rabbit out of the hat. Our clown stumbles onto the stage as if he's drunk. His mouth is bloody. He pulls a top hat out of the rabbit."
The most cutting-edge sideshow is probably the traveling 999 Eyes Freak Show, which boasts a vaudevillian band and celebrates human oddity. It's a cheery presentation. One of its lead performers and writers, Black Scorpion, aka Lobster Boy, whose deformed hands resemble claws, says his greatest influence is comedian Andy Kaufman.
But let's not forget Todd Robbins. A recognized sideshow authority, natural storyteller, and charismatic performer, he has created the shows "Carnival Knowledge" and "Play Dead," both of which have been produced Off-Broadway. He interweaves historical commentary with performance—his specialty, chewing and swallowing glass bulbs, accompanied with cringes and winces. "Play Dead," a lighthearted look at the world of horror, is scheduled to expand to other markets. "We may move to the West End, but they're looking for a big name," Robbins says. "Robert Englund, who played Freddy Krueger, is interested."
The New-Breed Freak Brigade
Now in her 10th season with the Coney Island show, Insectavora was tattooed years before joining the sideshow. Formerly a member of a punk rock band, she had no sideshow skills, short of playing the pretty assistant in the "electric chair" and "blade box" routines. But it didn't take her long to fashion a wild-woman act. Sporting animal skins, she stomped onto the stage and proceeded to eat live crickets and worms. "No, I didn't say 'Uggh,' " she says. "I stopped eating them when I became a vegan. But back then, I saw it as something to do on stage, and it was a way to shock the audience. People go to sideshows to see weird things, and eating bugs is weird."
Insectavora subsequently mastered the art of walking barefoot up a ladder of swords, fire eating, and performing the "human blockhead" number made legendary by the late Melvin Burkhart. This act entails hammering nails into various facial orifices. With paintbrushes up her nose, Insectavora paints pictures. Still, she maintains, "Stage presence and rapport with the audience is far more important than the skills."
The British-born Fraser is also every bit the performer. In fact, he was a standup comic and actor with a roster of credits before he even considered performing in the sideshow. But unlike Insectavora, he is not a self-made freak. He did not choose to have thumbless hands extending from his elbows. Indeed, much of his life has been spent responding to the collective gawking. "I had to be on the stage," he says. "It called me. But you could argue that a lifetime of being stared at causes an addiction to being stared at, and that's a valid thing worth exploring, though both my parents were performers and I grew up in a world of acting."
Fraser's impairment was rarely incidental to the acting roles he played. "Sometimes it informs the character, and occasionally it has nothing to do with it," he says. "But it's always there. You look at me, you see it." A lifetime of marginalization ultimately led him to embrace the freakishness that stigmatized him. He has created several shows, including "Thalidomide the Musical!," "From Freak to Clique," and "The Freak & the Showgirl." The latter is an adult cabaret, co-starring neo-burlesque maven Julie Atlas Muz, that they've performed in a host of venues, including the Box, a pricey East Village nightclub known for its debauchery and excesses. Fraser uses the word "freak" deliberately and provocatively. "It's an attempt at reclamation of the word," he explains. "It becomes a positive description of a postmodern disabled performer working in the sideshow."
Indeed, Fraser likens himself to women in neo-burlesque. "They are striptease artists, but they own it," he says. "They're proud of their real, noncosmopolitan bodies. They're saying, 'We're powerful, we're feminist, we're sexy, but please, you pay at the door and we take the money.' That's very different from gentlemen's entertainment. Neo-burlesque uses the history of striptease in their performance. And in the same way, neo-sideshow knowingly plays with the clichés of the genre and owns it."
His act is a kind of disability-awareness training. Yet "postmodern ironic satire doesn't always hit the mark," he concedes. "There may be some guy jerking off in the corner. But is that a reason for me not to do it?" Fraser is hopeful there will come a time when audiences don't "walk away feeling embarrassed," he says. "Just talk to us. It's the moment to come out of our cultural apartheid."
A major influence, Fraser says, is Jennifer Miller, a bearded woman who runs the gender-bending, Obie-winning Circus Amok in New York City and who often appears at Coney Island's sideshow. Highly political, she views her endocrinological disorder as a feminist assertion. "I didn't grow it as a statement," she says. "It just grew. But it was a feminist positioning that allowed me to keep it."
Miller, a trained dancer who has been performing at Coney Island since the early '90s, was initially reluctant to do so. The exhibitionistic and exploitive elements were precisely what she was working against, she says. But at the same time, Miller was drawn to the aesthetic: "I wanted to get into the belly of the beast. It turned out to be a great place to make theater. I'm always interested in places to make theater."
Her shtick is physical comedy and rapid-fire vaudevillian commentary, with erudite references thrown in for good measure. "Hello, my name is Zenobia" runs her opening spiel. "I'm a woman with a beard. You know, the woman with the beard. Not the bearded lady. Why? If I said I was the bearded lady, I'd be saying I was the one, the only woman with the beard in the world. And that can't possibly be true." The monologue concludes with Miller juggling knives. She can also eat glass, swallow fire, and escape a straitjacket of locked chains.
Miller, who will be launching an academic career this fall as an associate professor of humanities and media studies at Pratt Institute, says that as much as she would like to see the mainstreaming of sideshow performers in theater and film, "the sideshow would lose its place as a folkloric form. It's a great place for people who have been shunted by the society to reclaim their space and have a voice."
Insectavora can't imagine a time without the sideshow in her life. "I want to be the oldest tattooed fire-eater," she asserts.
In that sweltering Coney Island world at midday, in a place that doesn't feel fully real, her ambition has the ring of possibility.