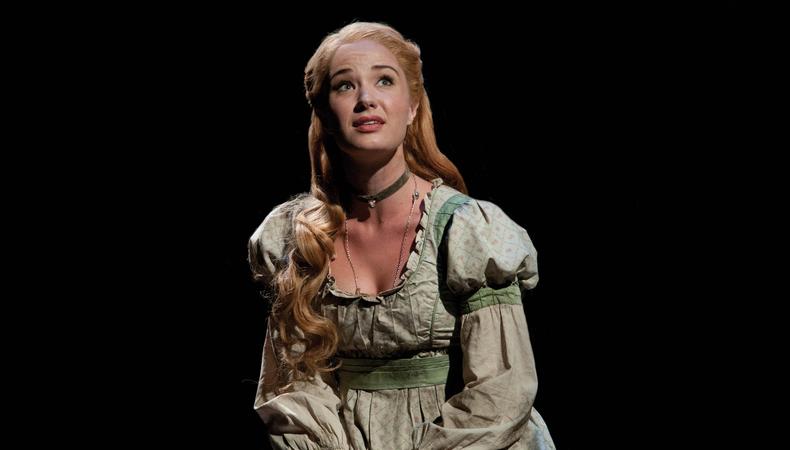 Sierra Boggess is going back to where she started, in more ways than one.
The actor began her professional acting career as the understudy for Cosette on the "Les Misérables" national tour, and now she's on round two with the show, this time as Fantine at the Queen's Theatre in the West End.
"There was something about London. It's almost like I've been here before," Boggess says. "I've lived another life here. There's something about it that just speaks to my soul."
Past lives aside, Boggess has performed in the U.K. before in this lifetime. Her first foray was originating the role of Christine in "Love Never Dies," Andrew Lloyd Webber's sequel to "The Phantom of the Opera." Boggess worked with Webber when she starred in the Las Vegas production of "Phantom" in 2006, and she participated in a reading of "Love Never Dies" in London in 2008, at which time she was making her Broadway debut as Ariel in "The Little Mermaid."
She took a leave from the show to do the reading, and after the presentation she got news that would change her life.
"Andrew and [director] Jack O'Brien called me to come meet them at this bar, and they said, 'We want you to play Christine for wherever the show goes,' " she says. "It was the craziest moment. I just put my head on the table and started crying."
After "Love Never Dies" secured its first full production, Boggess gave her last performance in "Mermaid" on May 31, 2009, and then moved on New Year's Eve of that year to London, staying with the show from its opening in March 2010 until March 2011.
Working abroad wasn't on her radar this year, however. After returning to Broadway in "Master Class" last season, Boggess planned to open in the new musical "Rebecca" in spring 2012. When the show postponed its run, she signed on for the Broadway production of musical revue "Prince of Broadway," about the career of Hal Prince, but that show encountered financial difficulties and announced a delay in May.
Knowing Boggess was suddenly available, Cameron Mackintosh, the producer of "Phantom" and "Les Mis," invited Boggess to join "Les Mis," and Boggess debuted as Fantine in July after less than two months to move and prepare.
"With this economy and everything, it just worked out how it was supposed to," she says. "I really believe in everything happening for a reason. This is definitely one of those times."
That attitude has carried Boggess throughout her career. The Denver native, who grew up with dreams of becoming Barbra Streisand, learned the power of positivity from her voice teacher, Mary Setrakian, who is a "huge mentor."
"She's so unbelievably positive," says Boggess, who met Setrakian at a summer camp in Breckenridge, Colo., at 17. "You have plenty of teachers who will tell you not to do this for a living because it's so hard and so awful. Everybody tends to get so negative. Meeting her at that time in my life was the best thing for me because it set me off on this path of 'I can achieve anything.' That shaped me so much as an artist."
Boggess studied with Setrakian for two summers in high school and continues to train with her today. Now, when Boggess teaches classes and meets aspiring performers, she offers the same wisdom.
"If it's what you desire, it's power of intention, really," Boggess says. "Everything conspires in your favor as long as you're putting out good stuff into the world, as long as you do your work and are passionate about what you do and sure of what you do."
Coming into a new culture can be intimidating for even the most confident, but Boggess says she immediately felt welcomed into London's artistic community.
"Because I was coming in and going straight into this show and not coming here and trying to make it or anything, I didn't feel like an outsider," she says. "I never felt anyone was like, 'Who's this American girl that's over here taking jobs?' And if they did, they didn't say. I wouldn't want to treat anybody like that, so I guess I didn't notice if they are."
While working in London presents a few cultural differences—all the tea and beer drinking, for one—Boggess finds the level of talent and the performing environment the same, though she cherishes the city's slower pace of life. "I just feel a bit more grounded here," she says, adding, "Because I'm not on my home turf, maybe I can be more playful and try new things."
She's likely to keep returning, as she's engaged to "Les Mis" co-star and fellow West End vet Tam Mutu. And with each homecoming, Boggess continues to gather a flock of fans from around the world. Boggess performed at the Royal Albert Hall for the Rodgers and Hammerstein Prom in August 2010, and she played Christine for the third time in the 25th-anniversary concert of "The Phantom of the Opera," also at the Albert, in 2011. The performance was filmed and released on DVD.
"London is a place that's so much more accessible," she says, adding that her international followers from places such as Norway or Japan are more inclined to visit the West End, where they often wait for her at the stage door.
Coming out that door, however, is still a surreal experience for Boggess. In 2002 while studying in London, Boggess attended a performance of Susan Stroman's "Contact" and took a photo with star Lee Zimmerman at the Queen's Theatre stage door. A decade later, Boggess is on the other side of that doorway.
"I feel so happy being able to work on Broadway and the West End," Boggess says. "If that's my career forever, that will be so thrilling to me."