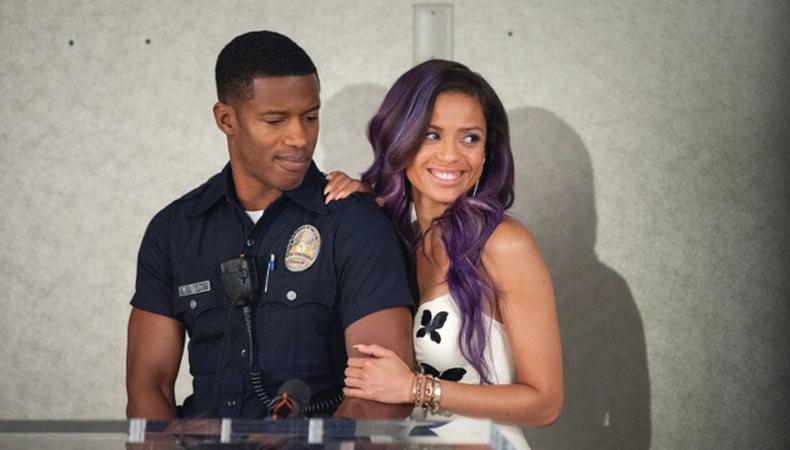 Gina Prince-Bythewood isn't one to give actors notes like, "Be sadder." Great directors make films using action, not adjectives, so orchestrating an elaborate scene for her cast during rehearsals seems more her style. "This is now the second film where I've done something pretty big to help the actors get into character," she says.
Prince-Bythewood's latest project, "Beyond the Lights," sits on the darker side of fame and the music industry as it traces the budding relationship between superstar singer Noni Jean, suffocating beneath her glamorous veneer, and police officer and aspiring politician Kaz Nicol. When he saves her from jumping off a balcony, a careful romance begins.
To build character and palpable chemistry between the lead actors—Gotham Award nominee Gugu Mbatha-Raw and Nate Parker—Prince-Bythewood arranged a live improv scenario.
"I wanted Gugu to understand what it's like to always have to be on, always have a camera in your face, and for Nate, what it's like to be thrust into a world that's so foreign and aggressive," she explains. To do this, Prince-Bythewood picked a restaurant with outdoor seating and had her leads go to lunch in character.
"To Gugu I said, 'Don't take off your sunglasses,' and to Nate, I told him, 'Do whatever you can to get those sunglasses off,' so they thought that was the exercise," she recalls. "They're having a dialogue, getting to know each other in character, and suddenly someone walks up and asks for Noni's autograph. Then three guys walk up, stand next to them, and start taking pictures, and then five more people show up."
The scene escalated until about 40 people were snapping pictures and provoking the actors. Parker and Mbatha-Raw were forced to hide in the restaurant's kitchen until they could sneak out the back.
The stunt shows how Prince-Bythewood helms her films, which include "The Secret Life of Bees" and "Love & Basketball," with a learn-by-living approach that also saw her writing questions for her actors (including Minnie Driver and Danny Glover in supporting roles) to ask each other in character during their two-week rehearsal process.
To write the film, Prince-Bythewood focused on "mining from my personal life for inspiration." At the time, she was facing issues with her birth mother and the painful circumstances behind her adoption; "Lights" is, in part, her imagining what it would have been like to grow up in a home where love wasn't unconditional.
"Every studio turned this film down twice, but having the knowledge that I just need one 'yes' from early on in my career has really fueled me with the courage to keep fighting," says the woman who, after being rejected from UCLA's film program, wrote a letter to the head of the department explaining why they'd made a mistake. She was then accepted. "It's been the mantra of my career to overcome 'no.' "
With this film, Prince-Bythewood had to overcome big noes when it came to her casting. "Your talent is in your choices and unfortunately, every single studio that I went to thought [Gugu] was great, but they said, 'She's not a star,' " she says about the role she initially considered giving to a big-name musician. "With people of color there are no farm systems, so it's very hard to develop stars because there are very few films that are made with us in leading roles. But I knew I just needed one 'yes' "—and it was Relativity Media that finally gave one.
The project stands alone as a moving love story, but Prince-Bythewood also hopes it provides a place to begin a dialogue about perceptions of celebrity lifestyles as well as the increasing hypersexualization of female stars. "A recurring theme of my work is women finding their self-worth, which is something I've struggled with," she says. "I love the films that can move me and change my thinking, and my hope is that I can do that for someone else."
Inspired by this post? Check out our audition listings!