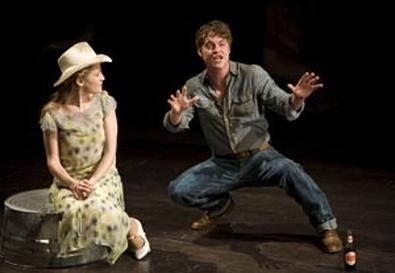 Just in time for its 20th anniversary, the Signature Theatre of Arlington, Va., received the 2009 Tony for outstanding regional theater. "The Tony's wonderful for the theater and also for the city," enthuses artistic director Eric Schaeffer. "It's amazing that with over 60 theaters, the last time a Washington, D.C., theater was recognized was 1976," when Arena Stage received the first award.
Nominated for 275 Helen Hayes awards (the D.C. equivalent of the Tony) and winner of 69, Signature has served as an incubator for 15 world-premiere dramas and 10 musicals. In addition, Signature has become a mecca for musical theater legends. On its stages, John Kander and Fred Ebb premiered
Over and Over
, and Stephen Schwartz re-envisioned
Working
. Kander and Ebb's
The Visit
starring Chita Rivera and George Hearn played there during a celebration of the team's work in 2008.
Schaeffer, who previously earned his living as a graphic designer, has been acclaimed for his bold reinventions of classic musicals. Next season, he will direct an intimate restaging of Oscar Hammerstein and Jerome Kern's
Show Boat
, featuring a new overture and orchestrations by Jonathan Tunick.
Schaeffer's longest enduring collaboration is with Stephen Sondheim. He struck up a correspondence with the composer in 1989, when he and Signature co-founder and actor Donna Migliaccio produced
Sunday in the Park With George
for the Arlington Players, a community theater group. The relationship flourished, and Signature has honored Sondheim with 17 critically acclaimed revivals and concerts.
Observers might think Schaeffer has a clone, given his impressive résumé of national and West End directorial credits: "I have the best of both worlds. Signature is the perfect sandbox."
Of course, not all the sandcastles hold up. Last season's
Glory Days
, an original tuner by locals Nick Blaemire and James Gardiner, directed by Schaeffer, transferred from Signature to Broadway's Circle in the Square Theatre and folded after opening night. "Around here, we call it
Glory Day
, because it only lasted one day," jokes Schaeffer. "But you have to take risks. If we didn't, we'd be like everyone else." The show will find new glory this month, when it is produced in Japan, featuring an 'NSync-style Japanese boy band.
Born in a Garage
Founded in 1989, Signature made its first home in a former bumper-plating factory, located on an industrial strip in Arlington. "I remember the move into the Garage," in 1993, says Schaeffer of the 136-seat black-box space. "Actually having the nerve to say, 'We can turn this dump into a creative hothouse.' " Schaeffer has relied on such collaborators as choreographer Karma Camp and music director Jon Kalbfleisch.
In 2007 the theater relocated to a glistening $16 million structure, built in partnership with Arlington County. The facility shares the first floor with a branch of the public library and provides the cultural anchor of recently gentrified Shirlington Village. Nearby amenities include free garage parking, accessible public transportation, and a choice of trendy restaurants. Out-of-town actors can be comfortably housed in adjacent apartment buildings.
In 2006, Signature received a $1 million grant from the Shen Family Foundation, in part to fund the American Musical Voices Project.
Giant
, which closed last month, was a world premiere with score by Michael John LaChiusa, one of three project grantees offered the opportunity to create a fully staged production. (Sybille Pearson wrote the book.) "It would have been so easy, moving into this building, to become more conservative in our programming," says Schaeffer, discussing the ambitious four-hour, three-act musicalization of Edna Ferber's novel. "If anything, we've pushed it even further. We've stayed true to our mission."
Despite loyal subscribers and donors, Signature is not immune to the recession. Schaeffer says the theater has cut next year's budget by $2 million, bringing it down to $6 million. "We're going back to the Garage mindset, where we do more with less." Although Signature will maintain a six-play season, in addition to a five-show cabaret series, "next year we'll be hiring 60 fewer actors," he says.
Signature's managing director, Maggie Boland, was lured away last year from Arena Stage. She explains, "I had hoped to come on board and be part of a gigantic fundraising effort that would help us to take advantage of this gorgeous facility, but our short-run plans are more modest."
"One of the biggest differences between budgeting at Signature and a larger venue like Arena Stage is seating capacity," notes Boland. Signature boasts two state-of-the-art black-box theaters: the Max with a seating capacity of 275–360 and the Ark with 99–150. "Even when you have a hit, once the tickets are gone, they're gone."
How does Signature cast its productions? Associate director Michael Baron, who is in charge of casting, explains, "I think of all the actors in Washington as a company from which I can choose. It's rare an actor gets his choice of projects, but in D.C. many do. Every theater in town is clamoring to use the same talent, although the pool is stronger for dramatic than musical theater actors. Next year, because of the expense of bringing people in from out-of-town, our ratio of local actors will be even higher."
Performers are also selected from the Overtures Musical Theatre Institute, a two-week intensive workshop for emerging performers, which is one of Signature's numerous educational and outreach programs.
Which isn't to say that out-of-town actors should abandon hope. Actors are welcome to submit headshots and résumés. The theater also advertises in Back Stage and holds an Equity season open call, as well as scheduling a yearly non-Equity open call.
Shows are cast from New York, when it's cost-efficient.
Giant
was cast in New York by Stuart Howard Associates because the director, as well as the creative team, was based there, and the seven-week rehearsal period exceeded the five scheduled weeks of performance.
"Even before the Tony," says Baron, "we had national media attention and could easily recruit exceptional talent. Many actors will figure a way to take a hiatus from their Broadway shows to come down here to do a new version of
Les Misérables
. New York agents are happy to have their clients work with new composers who eventually will have their shows produced elsewhere."
Schaeffer attends most auditions. "The young actors," he says, laughing, "come in and go, 'Oh God, there he is! We thought it would just be the casting director!' "
Occasionally, actors play a role in planning the season. "We're producing Claudia Shear's
Dirty Blonde
next season," says Baron, "in part because Emily Skinner wanted to play Mae West and we thought she'd be terrific."
Local Talent
Tracy Lynn Olivera is a D.C.-based actor who also teaches voice at the Catholic University of America. Since 1999, she has been cast in 13 productions at Signature and has performed under Schaeffer's direction in the Sondheim Festival at the Kennedy Center and
Meet John Doe
, a musicalization of the Frank Capra movie, at Ford's Theatre. Next season, she will play Heidi in Hunter Bell and Jeff Bowen's [
title of show
].
"Signature has a good reputation," she enthuses. "Everyone wants to work there, although it does not pay as well as a larger house. They do really good, interesting work for small audiences and offer a chance to work with significant artists. Eric puts a lot of trust in his actors. He doesn't micromanage. Even when he's not directing, he's around, very present."
Area actor Channez McQuay, a Signature veteran of seven shows, looks forward to playing the Beggar Woman in
Sweeney Todd
next season. McQuay's husband, Rob, has also performed at the theater, and she "cherishes" her relationship with Signature. "When I was away for six months," she says, "and returned to rehearse
Les Misérables
, I felt like 'Hello, Dolly.' Everyone hugged me. The welcome was so sweet and genuine. It's wonderful that despite their growing renown, the theater has maintained its sense of community."
She remembers the first time she created a role in a new play at Signature. In 2006, McQuay was cast as Muddy, the mother of Edgar Allen Poe's young wife, Virginia, in
Nevermore
, a world premiere musical. Composer Matt Conner and book-writer Grace Barnes based their impressionistic biography on the life and times of the poet. "It was a wonderful experience," says McQuay. "We did lots of table work, talking about the characters and the story. Eric always allows you to become an integral part of the creative process."
She observes, "Eric is always at the top of his game. He likes to work with not only talented people but also people who like to have fun. He reminds you of why you went into this business in the first place. He's a visionary who likes to have a good time."
Click here for more on
Signature Theatre
.