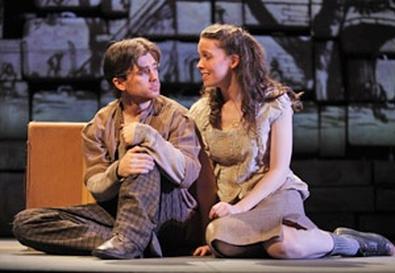 In "Signs of Life," a new musical depicting life in Hitler's "City for the Jews" concentration camp of Terezin, Czechoslovakia, Amas Musical Theatre seems to place its desire to educate above all else. As a result, the tone is preachy, and the characters serve dramatic purposes but mostly have little depth.
In the supposed cultural center, an artistic woman named Lorelei, her brother, and her grandfather find their lives intertwined with a cabaret singer, a young activist, and an aristocratic wife. Lorelei (a saccharine Patricia Noonan) is coerced into drawing idealized pictures of the terrible conditions she faces, so that the Nazis can show images of the town to the Red Cross. When she illustrates reality instead, they threaten to transport her out of Terezin. She finds inspiration to covertly portray the truth through the guidance of Simon (an energetic Wilson Bridges), an impossibly awkward young man whose perpetually inappropriate tumbles of words irritate rather than charm.
Meanwhile, Berta (a histrionic Erika Amato), whose husband kicks her out of the house for having Jewish blood even though she has converted to Christianity, fights loneliness and witnesses the plights of Polish children. Former celebrity Kurt Gerard (a vivid Jason Collins) is forced to weigh self-preservation against the lives of others.
If budding love affairs and untimely deaths feel inevitable, the relationships have compelling moments. Jeremy Dobrish's direction is notably sensitive. But Peter Ullian's book and Len Schiff's lyrics are full of clichés, and the story is too reliant on Judaism Cliffs Notes: dutifully included scenes of preparing a Seder, a reference to Yom Kippur, a Kaddish, and the like.
The most intriguing contribution comes from composer Joel Derfner, whose music is always memorable and thoughtfully conceived, especially a moving number for the German officer Heindel (an affecting Allen E. Read) that builds from hymnlike simplicity to full fury as he stakes out his morals.
Presented by Amas Musical Theatre in association with Snap-Two Productions at the Marjorie S. Deane Little Theatre, 5 W. 63rd St., NYC. Feb. 25–March 21. Tue., 7:30 p.m., Wed.–Sat., 8 p.m., Sat. and Sun., 3 p.m. (Tue., March 2, and Thu., March 11, performances at 11 a.m.) (212) 352-310, (866) 811-4111, www.theatermania.com, or www.amasmusical.org. Casting by Carol Hanzel.