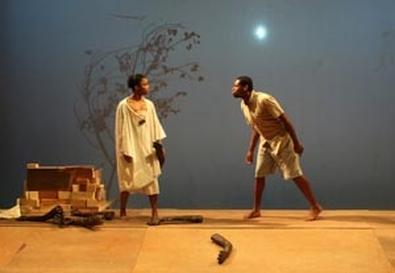 It's been more than eight years since the civil war broke out in Sudan's western region of Darfur. Rebel factions retaliated against the central Sudanese government for oppressing non-Arab Darfuri. The government's militia, the Janjaweed, in turn attacked the civilian populations of Darfur who were sympathetic to the rebels—cutting off their water, livestock and other food supplies, leveling entire villages and torturing, raping and murdering unarmed citizens. Hundreds of thousands were killed and millions more fled to live in vulnerable camps in Darfur and neighboring Chad.
Jon Kern's 90-minute play "We in Silence Hear a Whisper" attempts to cover many aspects of this ongoing genocide, including China's role as arms supplier to the Sudanese government, the population's enduring Muslim faith (even among non-Arabs), and America's inaction in response to the crisis.
This all proves to be a lot of work for a little girl. Halima, an adolescent refugee in one of the camps, has a series of encounters—many of them violent—with an apt but unlikely bunch of characters. These include a Chinese vice-minister, a French citizen Doctor Without Borders, and a Janjaweed fighter with his horse. The production is blessed by a memorable central performance by Keona Welch as Halima, who manages to keep running and mostly smiling, in the face of unspeakable horrors. She begins the play searching for her murdered brother's detached arm to bury. But the play proves to be merely a series of set pieces, albeit some of them striking to look at.
Director Melanie Moyer Williams keeps those pieces moving along, even when they seem not always logically connected. Most of the actors, including Matthew Park and Stephen Conrad Moore, do well in multiple roles. But it is the designers and puppeteers who claim much of our interest. Katherine Akiko Day's minimalist set design, often employing silhouettes on a white scrim, evokes the African plane in war and peace. Elizabeth Barrett Groth's costumes and life-sized horse puppet design are equally arresting. Marie Yokoyama's lighting and Colin J. Whitney's sound complete the ambience. Hansel Tan vividly embodies the horse puppet. Finally, the play's lovely title evokes at least a hint of hope amid the direst of circumstances.
Presented by The Red Fern Theatre Company at The Theater at the 14th Street Y, 344 E. 14th St., NYC. Oct. 8-23: Thu.-Sat. 8 p.m.; Sun. 3 p.m.; additional perf. Mon. Oct. 17, 7 p.m. (866)811-4111 or www.web.ovationtix.com.