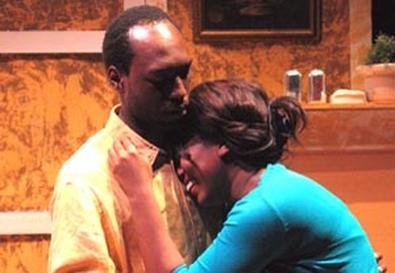 In the Silence of the Heart
is a marriage of direction and writing made in hell—both courtesy of Joanna Chan. Originally conceived for the inmates of Sing Sing prison, her new production retains a lingering amateurish quality that does her earnest, implausible script no favors.
Set in a New York suburb over one Labor Day weekend,
In the Silence of the Heart
examines the loyalties of one extended multiethnic family. After his firefighter father dies, Ming (Bruce Le) is taken in by his father's African-American partner's family, to be raised with Lance (David Brandon) by Lance's mother (Tamala Baldwin) and grandfather (Hector L. Hicks), while Lance's father mysteriously disappears for a decade.
As the bonds among this diverse family are tested by their new neighborhood and an act of theft committed by Lance and Ming, Chan finds plenty of time for Disneyfied looks at today's urban youth. Ming and Lance's friends from the projects all drop by for pizza and soda, teasing one another in between spontaneously—and implausibly—bursting into show tunes. And when she's not revealing herself as someone totally unfamiliar with teenagers, Chan, in increasingly clumsy attempts at exposition, forces her characters to tell each other stories that they all already know.
The sole saving grace of
In the Silence of the Heart
, which plods along for almost three hours, is a remarkable performance from Dennis Johnson as Bruce, the one kid from the projects who rolls his eyes at the Rodgers and Hammerstein sing-along. Ranting about the injustices he's lived through to a self-righteous Ming, Johnson manages to inject a moment of real emotion into the canned after-school-special lessons—though Chan almost ruins the moment by directing Johnson to deliver most of his monologue to the audience, his back firmly to Ming. But the moment is fleeting, and by the time the show shudders to its contrived happy ending, real human suffering has been brushed away by an improbable reprise of "There Is Nothing Like a Dame." In Chan's vision of the world, there is nothing like a show tune for curing all the problems of modern living, no matter how grave.
Presented by and at Theater for the New City
,
155 First Ave
.,
NYC
.
May 30
–
June 14, Thu
.–
Sun
.,
7:30 p.m
.;
Sun
.,
3 p.m
. (
212
)
352-3101
, (
866
)
811-4111, www.theatermania.com, or www.theaterforthenewcity.net
.