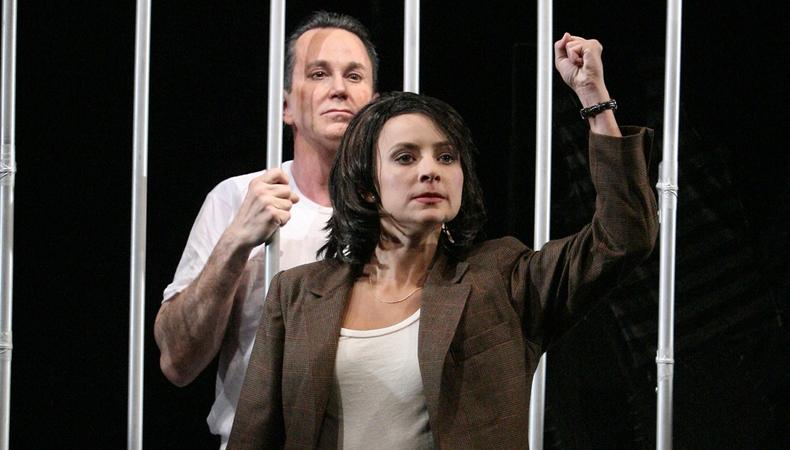 The impending "Book of Mormon" notwithstanding, it's unlikely that Angelenos will see anything more scabrous or ham's-holiday funny than "Silence! The Musical" at the Hayworth Theatre. This "unauthorized parody" of the Oscar-winning thriller is receiving a take-no-prisoners L.A. premiere and in the process decimates its source and the audience.
A smash at the 2005 New York International Fringe Festival and a still-running Off-Broadway hit now in its 15th month, "Silence!" breaks no new ground, except perhaps for having been first conceived as an Internet parody. Indeed, composer-lyricists Jon and Al Kaplan came to major prominence with their Web spoofs of various Arnold Schwarzenegger vehicles. They won't be unseating the Stephens Sondheim or Schwartz any time soon, but their motivic tunes underscore some ruthlessly chosen direct quotes from Jonathan Demme's film version of Thomas Harris' bestseller. Primary among these are the soaring romantic ballad and galvanic 11 o'clock number delivered respectively by cannibalistic Dr. Hannibal Lecter (the scenery-devouring Davis Gaines) and human skin-suit tailor Jaime Gumb, aka "Buffalo Bill" (originator Stephen Bienskie, an absolute hoot). Neither number has a title suitable for print; both certainly make a vivid, um, impression.
So does the marvelous Christine Lakin, who as FBI trainee Clarice Starling skewers Jodie Foster's dusky lisp, deadpan nervousness, and Sapphic overtones with inspired precision, starting with her jogging appearance during the opening title number, surrounded by floppy-eared, tube socks–hooved lamb choristers. They embody the show's undeniable coup: the esprit de corps of its players. Whether it's wonderful La Toya London tearing into her late-inning rebuttal of her small role as Ardelia Mapp, loopy Jeff Skowron having a foolhardy field day as sanitarium maven Dr. Chilton, or the titanium-voiced Kathy Deitch as both Buffalo Bill's victim Catherine Martin and her senatorial mother, this is a triple-threat travesty ensemble that could make the Groundlings and the Troubies extremely nervous. Melissa Sandvig, Karl Warden—outstanding as Dream Clarice and Dream Hannibal in the crotch-happy ballet accompanying Lecter's obscene love song—John Kassir, and the indescribable Jeff Hiller complete a demented roster.
Such fearless moxie, coupled with the inventive work of director-choreographer Christopher Gattelli—who rips off Bob Fosse, Agnes de Mille, Michael Bennett, Jerome Robbins, grade-school pageants, fraternity shows, and more—sells this garage-show epic. That's lucky, because Hunter Bell's book, compressed to one act from the original two, is a self-commenting, reference-ridden sketch-show parade more reminiscent of "The Real Live Brady Bunch" than such legit predecessors as "Urinetown" or "Spamalot." Performance overdrive outstrips the skin-deep conceit well before the musical's frenetic final quarter. That won't matter a fava bean to rabid fans of the film, and the management should prepare for theatergoers ready to rip each other's faces off to get tickets.
Presented by Theater Mogul/Oskar Eiriksson and MagicSpace Entertainment at the Hayworth Theatre, 2511 Wilshire Blvd., L.A. Opened Sept. 8 for an open run. Thu.–Sat., 8 p.m.; Sun., 3 and 7 p.m. (866) 811-4111, www.theatermania.com, or www.silencethemusical.com. Casting by Cindi Rush Casting.
Critic's Score: B+