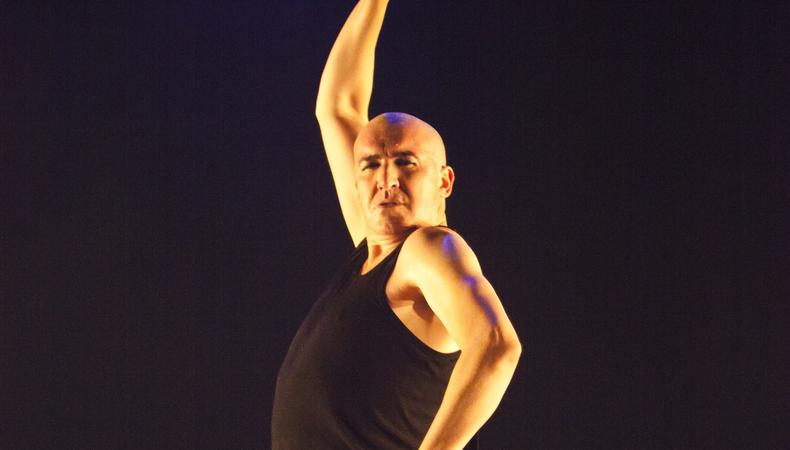 Imagine the story of a man destroyed by guilt over his gay brother's suicide. It's a simple story, really, though one rich with the detailed imagery and poetic language that Tennessee Williams might have used had he been born an Irishman. Now imagine that story told with all the ingenious stagecraft that Julie Taymor would utilize for a sweeping historical pageant. That's an approximation of what you get from playwright and solo performer Pat Kinevane and director Jim Culleton in "Silent."
Kinevane portrays Tino McGoldrig, a homeless man in Dublin suffering from alcoholism and mental illness. In the play's earliest moments, Tino reaches out to individual members of the audience with a generous and perfectly sane-looking smile. But as Tino tells his story, his demons congregate—and flashy demons they are, full of theatrical flair.
Tino was named after film star Rudolph Valentino, and when he describes the various failed suicide attempts of his brother Pearse, he steps into a silent movie. Here Kinevane moves and emotes with the exaggerated gestures and facial expressions of actors from early cinema. Pulling one strap of his tank top down from his shoulder, he creates the character of Tino and Pearse's monstrosity of a mother. This gesture becomes a stronger emblem of the woman's grotesque coquetry each time it is repeated. Kinevane is a fine dancer, and he moves with precision and fluidity. His voice commands, whether he is whispering or bellowing or mimicking the tale's supporting characters. He is also an artful puppeteer, turning a bunched blanket into the person of Tino's ex-wife. I marveled at how, with a few gentle tugs, Kinevane gave this fabric both life and a kind of personality.
For a story in which cinematic elements are so central, the use of light and shadow is essential. Kinevane and Culleton have devised a bold lighting design that helps to create an underwater sequence at one point and the frenetic ambience of a disco at another. Denis Clohessy, who composed the evocative music and fashioned the intricate sound design, contributes enormously to the overall effect. At points Tino's story is picked up by Kinevane's recorded voice, which is integrated seamlessly into the mix.
The cruel humor in "Silent" calls to mind that of Martin McDonagh. Pearse's various failed suicides contain comic elements. Even when the self-destructive act is accomplished, there are droll macabre touches: a train window opened at a highly inopportune but poetically just moment, the bizarre presence of a thieving lemur.
Maybe it was this dark humor that worked to limit the emotional response I had to "Silent." Or perhaps a protagonist with such enormous psychic damage isn't a character with whom most people can relate. Evoking empathy may not even have been part of Kinevane and Culleton's aim. In any case, I went away from "Silent" dazzled by the brilliance of Kinevane's artistry yet largely unmoved by the plight of Tino McGoldrig.
Presented by Irish Arts Center, in association with Georganne Aldrich Heller and Fishamble: The New Play Company, 553 W. 51st St., NYC. Sept. 9–30. Wed.–Sat., 8 p.m.; Sun., 3 p.m. (212) 352-3101, (866) 811-4111, or www.irishartscenter.org.
Critic's Score: B+