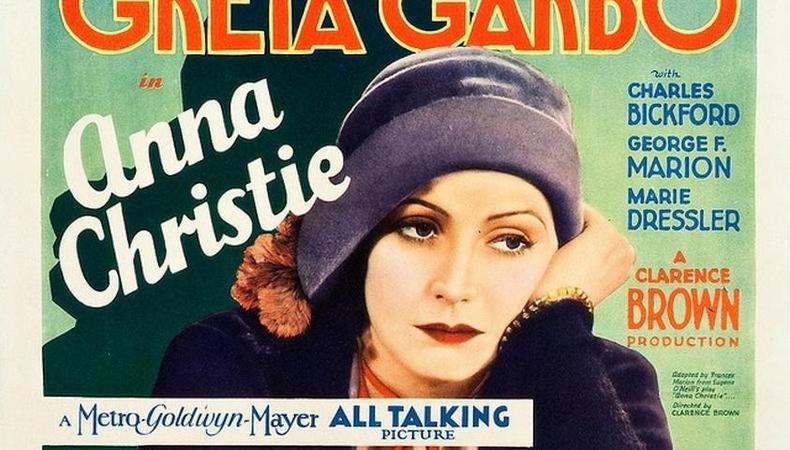 The shift from silent films to talkies was a huge deal for actors in the late 1920s. Many silent film stars found it difficult to "find their voice" and place in this new Hollywood medium, which completely changed the game of on-screen performance. But while the talkies ended a lot of careers, here are seven actors who succeeded—and prospered—in the transition.
Greta Garbo
Starring in films such as "Flesh and the Devil" and "A Woman of Affairs," the Swedish actor was loved by critics and audiences alike, making her one of the biggest box office draws of the silent era. As sound hit film, MGM was afraid that her accent would be the end of her career, but they were wrong. Her low, husky voice was the perfect match for her cool and mysterious personality. Garbo's first talkie "Anna Christie"—(marketed to audiences as the film in which "Garbo speaks!")—was the highest-grossing film of 1930 and earned her one of two Oscar nominations for best actress that year (the other being for "Romance"), helping to solidify her success throughout the decade and overall stature as a film icon.
John Barrymore
Yes, that Barrymore. Decades before his granddaughter Drew played Gertie in "E.T.", John Barrymore was an extremely renowned and accomplished actor, considered by many to be the greatest of his generation. On Broadway since he was a young man, Barrymore established himself as a prolific stage talent, excelling in comedy and Shakespeare. He was a natural fit for the screen, and after a string of popular silent films like "Dr. Jekyll and Mr. Hyde" and "Eternal Love," Barrymore's booming stage-trained voice made him a force to be reckoned with in talkies as well, starring in huge hits like "Grand Hotel" and "A Bill of Divorcement."
Joan Crawford
Before her vicious portrayal in "Mommie Dearest," Crawford's name was pretty much synonymous with "film starlet." With insignificant roles like "Party Guest" and "Ballroom Dancing Extra" at the start of her silent film career, Crawford quickly launched herself to stardom by embracing her free-spirited flapper persona. She would soon win over audiences completely in "Our Dancing Daughters" and become a symbol of the modern woman in the '20s. Sound only elevated her impact. She sang, danced, and showed that she had real dramatic chops in talkies such as "Letty Lynton," and starred alongside Clark Gable in eight films.
Stan Laurel and Oliver Hardy
The most famous comedy duo in the silent era, Laurel and Hardy were incredible physical performers whose on-screen scenarios were hilarious, violent, and brilliantly complex. Laurel, the sweet and simple little guy, and Hardy, the mean and grouchy big guy, are the archetypes on which most comedy duos are built. Because their films had always been visual, they easily made the leap to sound and became successful in using the new medium as an effective comedy tool. Whether it's Hardy's famous (and sassy) "Well, here's another nice mess you've gotten me into," Laurel's signature whimper-cry whenever he's bullied, or a perfectly used cat sound effect, the duo became even more popular in their talkies.
Carole Lombard
First appearing in silent slapstick comedies in the late 1920s, Lombard would become an Academy Award-nominated leading lady and the highest-paid star in Hollywood by the 1930s. She was discovered by "King of Comedy" Mack Sennett, who put her in 15 short films and exposed her to the genre in an impactful way. With a quick transition to talkies, starting with "High Voltage" in 1929, Lombard's eventual success hung on her energetic and eccentric performances in comedies like "Twentieth Century," "Hands Across the Table" and the classic "My Man Godfrey," for which she was nominated. Critics praised her as being a "comedienne in the first rank."
Boris Karloff
Before becoming immortalized in pop culture as Frankenstein's Monster, Karloff began his career in silent film serials like "The Masked Rider" and "The Hope Diamond Mystery," in which he was typecast as Arabic and Indian villains, despite being British. Throughout the '20s, he would appear in roughly 45 silent films as a character actor. After breaking into the talkies with more significant roles, it was eventually "Frankenstein" in 1931 that made him a star. His most famous character is generally silent, yes, but his subtle, sad, and powerful performance spoke volumes to the audience. Karloff would maintain his success in horror classics including "The Mummy," "The Old Dark House," and "The Comedy of Terrors." Perhaps his most heard performance, however, is as the narrator and Grinch himself in the animated classic "How The Grinch Stole Christmas!"
Inspired by this post? Check out our film audition listings!