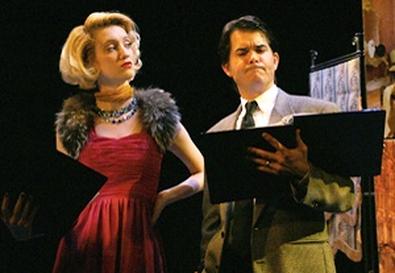 It's fashionable these days to bemoan the tendency of Broadway producers to present musical versions of popular films that merely drop songs into a pre-existing property. It was different in the Golden Age, right? Well, perhaps. But as early as 1955, Ernest H. Martin and Cy Feuer did exactly that with "Silk Stockings," a largely lead-footed adaptation of Ernst Lubitsch's classic film comedy "Ninotchka." The show had a famously troubled out-of-town tryout that saw legendary adapter-director George S. Kaufman sacked (along with his wife, Leueen McGrath, who was his co-adapter) in favor of Abe Burrows (book) and producer Feuer (director). Soubrette Yvonne Adair was also replaced, at the 11th hour by newcomer Gretchen Wyler. Cole Porter kept churning songs out to replace discarded ones, and the final patchwork lumbered into the Imperial Theatre, where it held on for just over a year's run, largely on the strength of the underlying property and Porter's name. It was enough to turn a profit but no more. Despite a subsequent MGM film version, "Silk Stockings" lived on mostly as a cast recording notable for the Porter standard "All of You." The score is unfailingly pleasant, but it was a disappointing Broadway swansong for the songwriting giant, and Musicals Tonight!'s inelegant concert presentation fails to mitigate history's verdict.
The famous story tells of Nina Yakushova Ivanoff, a stern Russian communist—luminously played by Greta Garbo in her first comedy—who comes to Paris to retrieve an errant classical composer and learns to be a woman under the tutelage of American show-biz agent Steve Canfield. He is repping the longhair, planning to turn the Russian's "Ode to a Tractor" into a splashy musical starring bubble-headed American aquatic sensation Janice Dayton (read Esther Williams) in her first nonswimming picture. Three bumbling apparatchiks sent ahead of Ninotchka provide comedy of an even lower variety.
Feuer and company never found an equivalent for the famed Lubitsch touch, and director Thomas Sabella-Mills is even less successful in getting his actors to understand the requisite style for serving this sort of fluff. Best is Kate Marrily in the lead role. She understands the deadpan humor required for Nina but is less successful transitioning into the radiant Ninotchka. She also has a tendency to lose her Russian accent while singing ballads. She's not helped by Kevin Kraft's inadequate Canfield. Kraft seems very unsure of himself, hardly an asset when playing a brash American agent and romantic operator. He fumbles dialogue, sings incorrect lyrics, and lacks any trace of sexual chemistry with his co-star. He delivers the poignant title song with all the ardor of an accountant. Oakley Boycott's rapacious movie star is a miscalculation. She seems not to understand that the joke of the character is how cheerfully brainless Janice is. As a result, Boycott boycotts nearly all her laughs. Jacob L. Smith never finds a satisfying take on the Russian composer and fades into the background. Carl Danielsen, Jody Cook, and Jason Simon work hard as the apparatchiks, but they are saddled with hoary jokes that undoubtedly landed by themselves in the middle of the Cold War but today seem hopelessly stale.
Indeed, "Silk Stockings" suffers considerably from its 1950s provenance. Any musical that has its heroine sing: "With love/What is a woman?/Serene contentment/The perfect wife/For a woman to a man is just a woman/But a man to a woman is her life" is going to have a hard time of it in 2009.

Presented by Musicals Tonight! at the McGinn/Cazale Theatre, 2162 Broadway, NYC. Nov. 3–15. Tue.–Sat., 7:30 p.m.; Wed. and Fri., 2 p.m.; Sun., 3 p.m. (212) 579-4230 or www.iseats.net. Casting by Stephen DeAngelis.