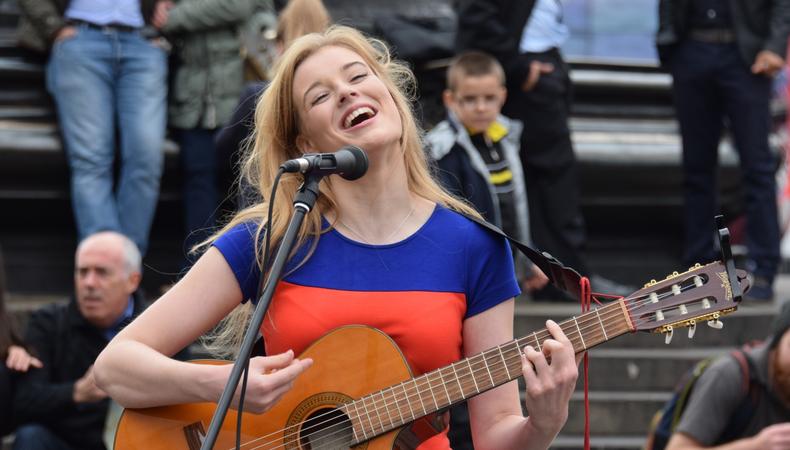 Summer is coming to a close and one of my favorite things to do here in Los Angeles during the season is go to concerts at the Hollywood Bowl. I love the Bowl for many reasons: hearing amazing music under the stars on a balmy evening with a gourmet picnic and a great glass of wine—there's not much else that can beat that in my book.
But I've also realized that the Bowl actually plays a huge part in what I teach and how I sing, and that makes me love the Hollywood Bowl even more!
You see, so many singers suffer from a brassy or nasal resonance in their sound. But how do you sing without a nasal sound? How do you fix a brassy resonance? You guessed it: the Hollywood Bowl!
READ: A Tool to Get Unstuck + Stop Struggling With Your Singing
In today's video, I explain how the Hollywood Bowl can help you sing without a nasal sound and rid your resonance of an overly brassy timbre. The ideas in this video were game-changing when I first learned them, and I'm really excited to share them with you now. You will learn:
The single most important body part which effects your timbre the most.
How to change the shape of your anatomy to sing without a nasal sound.
How chocolate brownies and breathing can change a brassy tone.
How to use your ears to maintain an open resonance.
Once you've had a chance to watch, let me know which insight meant the most to you and why.
Arden Kaywin is a voice teacher in Los Angeles pioneering work with singers in a four-month intensive training that uses mindfulness to eradicate tension and up-level singing technique.
Check out Backstage's musicals audition listings!
The views expressed in this article are solely that of the individual(s) providing them,
and do not necessarily reflect the opinions of Backstage or its staff.