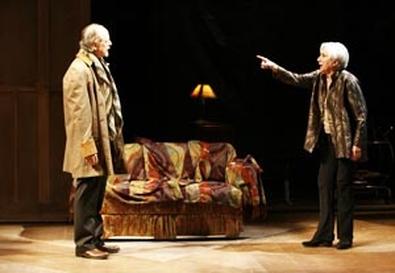 ; "There are no coincidences" is not just the mantra of Craig Lucas' dense and deeply felt
The Singing Forest
; it's also the three-act play's organizing structural principle. That leads to one of the most unusual instances I've seen of dramatizing theme through form. The play is a bracing, unflinching attempt to accept that the damage human beings do to themselves and one another is often permanent and ever-present. Learning to live successfully with that and each other is the task we all face.
The story unfolds in the recent past, New York City of 2000, and the more distant past, Vienna of 1933–38 and London of 1940. Loë Rieman, a disbarred but brilliant psychiatrist who was once analyzed by Sigmund Freud, lives in an apartment crammed with the belongings of her well-off Viennese family. She drinks too much wine and uses a phone-sex business as a pretext to continue practicing her craft. Her children, Oliver, also a psychiatrist, and Bertha, his twin, are estranged from her. Her wealthy grandson, Jules, whom Loë has never met, has hired a young unemployed actor, Gray, to impersonate him to shop for a psychiatrist. Gray finds Shar, who once studied with Oliver. Shar's ex-boyfriend, the much younger Laszlo, has left him for Oliver. Laszlo works at Starbucks with Beth, who lives with Gray.
Lucas initially lets his audience piece together the characters' connections. Then the past breaks through, intermingling with the present as we learn the toll events have taken and watch everyone grapple with it. Act 2 climaxes with a sequence in which Lucas momentarily accelerates the play into farce as all the "coincidences" pile up, bringing everyone together. The switch in tone dramatizes the theme: Everyone arrives because of something he or she has done that then affects somebody else. No coincidences. The silliness of the sequence reflects the foolishness of the characters' belief in their autonomy. We are all connected.
Everyone plays two roles, one in each time period, except Olympia Dukakis, who is Loë. She mixes compassion and selfishness in a commanding and affecting central turn. As Oliver, the psychiatrist with boundary issues, and Martin, Loë's controlling father, Mark Blum offers deliciously effective contrasting work. Jonathan Groff is radiantly inexperienced as Gray and maturely composed as Walter, Loë's gay brother. Susan Pourfar intriguingly differentiates two complicated contemporary women: Beth and the young Loë. Louis Cancelmi does well with two quiet young men, the confused Jules and the careful Simon, Walter's lover. Deborah Offner finds off-kilter comedy in the paralyzed Bertha and idiosyncratic acceptance in Freud's daughter Anna. Randy Harrison knows what to do with Lazslo, who is reminiscent of Justin, the role he played on
Queer as Folk
, then shows considerable range as Gerhardt, a young Nazi officer. Rob Campbell creates a humorously narcissistic Shar and an empathetic Dr. Max Schur, Freud's physician. Pierre Epstein is elegantly understated as Freud and entrancingly vulgar as Bill, an ex-con suitor of Loë's.
Mark Wing-Davey's intricate staging enhances clarity. John McDermott's set design brilliantly embodies Lucas' theme, with the detritus of Loë's life crowding in and providing a physical embodiment of the emotional damage always lurking beneath the surface of these lives.
At one point in
The Singing Forest
, which takes its title from a tale of Nazi atrocities, Loë sits drinking as she listens to Mahler's setting of a Friedrich Rückert poem that begins, "I am lost to the world/With which I used to waste so much time." This enveloping, passionate play is Lucas' plea to all of us that we not do the same.
Presented by and at the Public Theater
,
425 Lafayette St
.,
NYC
.
April 28
–
May 17. Tue
.,
7 p.m
.;
Wed
.–
Fri
.,
8 p.m
.;
Sat
.,
2 and 8 p.m
.;
Sun
.,
2 and 7 p.m
.
(
212
)
967-7555 or www.publictheater.org
.
Casting by Jordan Thaler and Heidi Griffiths
.