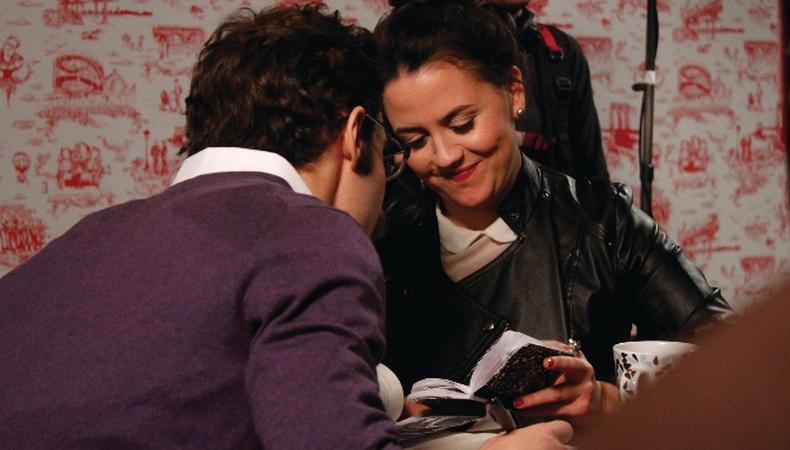 Some people choose to share their dating adventures with friends, while others prefer to lock them away in a tiny box in their brains and repress, repress, repress. Alexandra Kern is taking a different approach. After going on one bad online date after the next, the comedian-actor decided to share her dating experiences with the world and created "SingleDumb," a New York–based Web series that lays it all out there.
With training from the New Actors Workshop, Chicago's Second City, and Upright Citizens Brigade, Kern says she began sharing her dating stories via standup, thinking they were too funny to keep to herself. "I really found that I loved the process of writing these stories out and I really loved creating my own content," she says of the series' inception.
Craving something more comprehensive, Kern "looked around at the landscape and the way we consume entertainment" and noticed the quality of today's Web offerings. As a fan of "Broad City" before it was picked up by Comedy Central, Kern was inspired by the young showrunners Ilana Glazer and Abbi Jacobson. "I saw these girls and they have complete creative control and had so much style in their videos and they were so hilarious!
"I just thought there was something in Web series and that it was a wonderful platform to showcase your writing, acting, producing, and directing. So I saw a lot of opportunity and I wanted to capitalize on that," she adds.
"SingleDumb" premiered Oct. 21 with new episodes airing every Tuesday, each named after one of Kern's dates. In "Simon," Kern has her guy spend the night. After deciding to not take off his jeans before bed, we flash back to Simon's day as he wipes excess food, mysterious train station goop, and his unwashed bathroom hands all over his pants—all the while not knowing whether to laugh or cringe.
But Kern admits that not all of her dates have been bad. "Maybe down the line with 'SingleDumb' there will be second dates or third dates or relationships, but for now it's just [about the dates] that provide great comedic relief," she explains.
In creating a Web series, Kern says the biggest challenges for her were not having a writing partner to bounce ideas off of, and making all the decisions on her own.
And though getting started was hard, she says, "When you do find the right person [to work with] it's like the heavens open, and I feel very fortunate to have found a really wonderful producer, Alex Bach, who has really helped me get 'SingleDumb' to where it is now."
In the future, Kern says she would eventually like to do a city tour. "I think it'd be really neat to have 'SingleDumb: L.A.,' 'SingleDumb: Austin,' 'SingleDumb: Chicago'—I get the sense that the dating dynamics in cities are very different and I think it'd be very interesting to see those play out."
But for now she's focusing on writing a second season, meeting new people—and getting new material for the show.
"I think it's important to date a lot 'cause it's like a muscle. It's a little bit like auditioning. You want to put your best foot forward. You want people to like you, but I think ultimately—I know this sounds clichéd, but it's important to be yourself."
Inspired by this post? Check out our audition listings!